Neverwinter Beta Key Giveaway [Finished]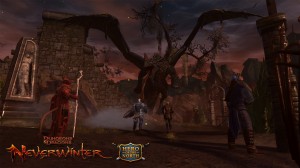 Perfect World's Neverwinter MMO will be the latest game in the much beloved Dungeons & Dragons franchise. Fans of Ding! will have heard the team talk about this MMO extensively, and may have caught one of our live-streaming sessions during the beta weekends. The third beta weekend event is about to take place, and we'd like you to join us in game. We have a whole bunch of keys to give away to our community, but they go quick – so grab them while you can!
Beta Weekend #3 takes place from Friday, 22nd March at 8pm GMT / 12pm PT and lasts until Sunday 24th March at 7:59am GMT / 11:59pm PT.
[Update] Sorry folks, we're all out of keys now. To those of you that were lucky enough to grab one while stocks lasted – see you ingame!
Here's what you can look forward to in Beta Weekend #3:
• New Class: Great Weapon Fighter
• New Content: Pirates' Skyhold and Icespire Peak Adventure Zones
• 10 More Levels: Up to Level 50
• PvP: Fight against other players for the first time!
If you were lucky enough to take part in any of the previous beta weekends, you'll find there's a lot of new content to explore, as well as of course, Player-vs-Player combat – which isn't easy, believe you me!
[keys id=111330]
To redeem your key, simply sign-up or login to your Perfect World account at www.playneverwinter.com, and enter your key here. Then it's just a case of downloading the game, and you're good to go!
You'll be playing along with other beta testers, members of the press, and gamers who have purchased the Founders Pack which grants VIP access to all beta weekends as well as a whole host of other features, including 18 ingame items such as companions, mounts, and even an exclusive race.
[nggallery id=1392]