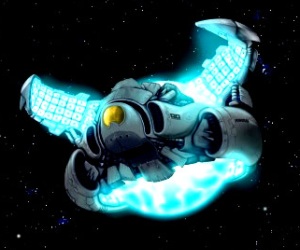 We love Futurlab here at GIAG Towers. You may remember I waxed lyrical over their brilliant PSP Mini, Velocity, last year, and we took a look at Surge in a recent edition of Mobile Monday. Now the Brighton based studio have kicked off this year with some terrific news – the acquisition of a new Head of Technology in the shape of former Black Rock Studio dude Hussain Sheikh.
Hussain started his career in the games industry at Black Rock Studio, where he was involved in the development of the AAA off-road racer Pure. As part of the technology team, he developed the rendering techniques used to bring the environments of Pure to life, and after Pure joined the team for Split/Second as the Lead for Visual Effects, where he was responsible for communicating the magnitude and intensity of the Hollywood-style explosive moments. After Black Rock, Hussain moved on to Relentless Software as the Lead of Technology, overseeing the development of technology for the innovative Microsoft Kinect title NatGeo TV.
James Marsden, FuturLab's Managing Director said:
Our goal is to give gamers something they can cherish, and whilst a large part of that requires world class design, we also recognise that technical excellence is of paramount importance. So we're delighted to announce that Hussain will be joining us immediately, bringing a great deal of experience and leadership to our technical team. His ability to create very pretty visual effects should keep our fans happy too!
Hussain Sheikh added:
I am thrilled to be joining FuturLab as they possess enormous creative energy, and have achieved some great success over the past few years. I am looking forward to contributing to their growing success, sharing lessons I've learned working on AAA titles. It's going to be an exciting mix of art and technology and I can't wait to get started.