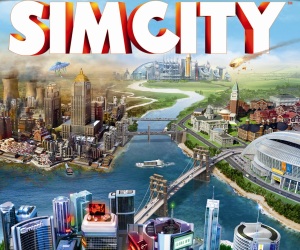 The new re-imagining of the long-running and world famous Sim City franchise will be unleashed in just under two months, and developers Maxis have shown off the introduction video from the game to help build anticipation for the title just a little bit more.
The video demonstrates such new features as Multi-city play, and we get some dramatic aerial views of the city, before taking a glance at the different methods of power that cities can utilise – whether it be coal power, nuclear or wind power. We also get to see the Great Works – which are special buildings players can construct for meeting certain pre-defined criteria.
One of the big things in the new game is the GlassBox Engine – which allows the game to model up to 100,000 individual citizens in each of your cities, and it can not only create a single city, but players can work with up to 16 cities at once – making this the biggest and most detailed Sim City ever. For the first time ever it will also include multiplayer, where players can both compete and co-operate to work towards achievements.
Maxis are obviously trying to evolve the Sim City experience and change what we expect from these city management simulations, and it will be exciting to see just how well this is pulled off – it has been a long wait since the last title in the series, so fans will have high expectations for this entry.
See the intro video below:
SimCity will be available March 8th 2013 for Windows PC and Mac