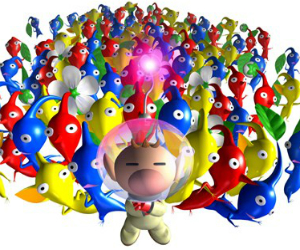 Miyamoto's latest goes "back to basics".
Pikmin 3 has been a long time coming, but when you're waiting for a game by Shigeru Miyamoto, you have all the time in the world.
In an interview with GamesMaster magazine (and reported by the website of their fellow Future publication, Official Nintendo Magazine), Miyamoto talks about how he didn't agree with the decision to make Pikmin 2 a less stressful game for the player.
To rectify this, he promises that Pikmin 3 will be going back to basics and will play much more like the original GameCube title, as a more strategic game:
"Our main aim in Pikmin 2 was to get rid of any stress as much as possible, so that it would be very user-friendly. Well, I myself couldn't agree with that direction perfectly. That kind of nature of Pikmin 1 was exactly what I wanted to reproduce and I was actually intentionally doing so, so that Pikmin 1 could be a strategic game."
I played Pikmin 3 last June and as someone with little exposure to the series, I feel that it's shaping up to be a must-have Wii U game.
Pikmin 3 will be released during the second quarter of 2013, exclusively for Wii U.