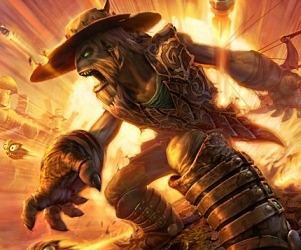 After the megaton PS4 announcement last night, games devs and companies are all coming out of the woodwork to announce their intentions of creating stuff for Sony's forthcoming console.
The latest firm to speak out on such matters are Yorkshire-based Oddworld merchants Just Add Water, who were included on the list of developers confirmed to be involved, and who had the following to say on their blog:
It's been a while since we've done a proper update about JAW on the blog. We've been quietly building a team we're proud of, finding the best talent to give Oddworld the care and attention it deserves. In the last year, JAW has doubled in size, upgraded to bigger offices, released four games and the best is yet to come. You can see from our new team page how much talent and passion there is from this group of people.

By now you'll have eagerly lapped up all the information from the Sony PlayStation announcement. You'll have seen our name in the list of confirmed developers. We're delighted to finally be able to tell you that JAW are developing for the Sony PlayStation 4. We can't talk about what we're working on just yet. Just be assured it'll be worth the wait.