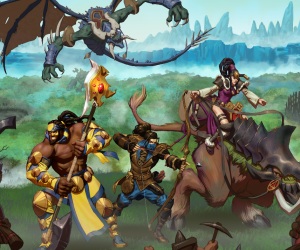 Deep Silver and Southend Interactive have revealed details about the third of four playable characters in upcoming side-scrolling hack 'n' slash Sacred: Citadel.
A side-story to Sacred 3 (currently in development for Xbox 360, PC and PlayStation 3), Sacred: Citadel retains some of the series' RPG sensibilities but transplants the action onto a 2D plain.
The Khukri Shaman and Safiri Warrior have already been revealed, and the Ancarian Ranger now joins them – with the fourth and final protagonist yet to be announced. The Ranger is, unsurprisingy, a ranged class, and the press release gives this account of his battle prowess:
While the action is moving back and forth on the battlefield, no side seems to get the upper hand. That lasts until a group of fierce flying beasts swoop down on our three heroes from the high cliffs. The Khukuri Shaman cannot evade this attack and gets hit by one of the spikes, flung by one the beasts. The fluttering wings of these insects creates a terrible noise on the battleground. The Ancarian Ranger silently draws his bow, takes aim and rapidly launches his shots against these winged enemies, taking them down quickly.
In addition to an array of ranged attacks and the ability to dual-wield melee weapons, the Ancarian Ranger also carries a "trap-box" and is able to lay down all manner of deadly contraptions with which to disable his foes. Check out the character trailer below.
Sacred: Citadel is scheduled for releaese on Xbox 360 (via XBLA), PlayStation 3 (via PSN) and Windows PC (via Steam) in 2013.