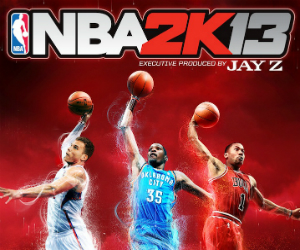 NBA 2K13 is an astonishing game in many respects. It looks phenomenal, underpinned by lavish, Jay-Z endorsed production values.
It plays a mean game of b-ball, too – with a level of detail on display that is staggering when you figure just how far basketball simulations have come in the last 25 years. Where once I marvelled at the Mode 7 thrills of NCAA Basketball, or the arcade simplicity of an NBA Jam, NBA on NBC or even Arch Rivals, now the popular sport is rendered on our television screens in a manner more akin to an interactive high-definition sports broadcast. And while it wasn't the huge leap from the 2012 instalment that I had hoped for, 2K games still crafted easily one of the best sports videogames of the year, which was a fine vintage to say the least.
The NBA season is now in full flow. Jigga's Brooklyn Nets are going pretty well in a conference led by their rivals the Knicks, whilst Oklahoma are looking ominous once again in the Northwest. To celebrate another rollicking season of going-hard-in-tha-paint action, what better than to fire up 2K's Wii U interpretation of their killer franchise, and see how things work out using the extra screen?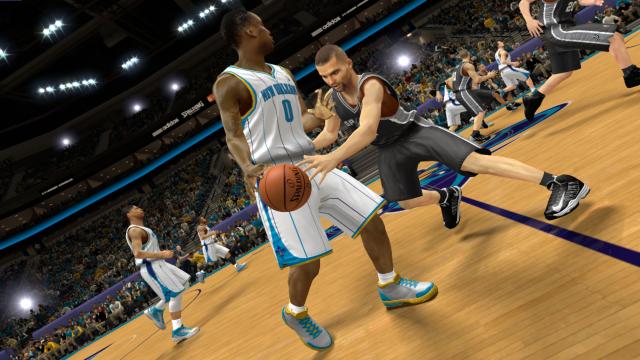 Graphically, 2K13 is one of the most dazzling looking sports games ever seen – from the ultra-realistic character models, correct from LeBron's sweatband all the way down to the smallest tattoo on Deron's bicep, to the way adverts and talking heads pop up on the screen in an emulation of how the telly companies like to do things – this is a stunner. And don't sleep on Jay-Z's involvement, either – his choice of tunes is spot-on, and his presence in the game is completely appropriate and non-intrusive. Wii U owners need not fret – their port of the game is pretty much indistinguishable from the Xbox 360 and PlayStation 3 versions, with only a few minor glitches and missing animation frames (the jerseys appeared a little rigid to me).
It doesn't stop there: the Wii U version has nearly all of the content enjoyed by the other formats – the only noticeable omission I can see is the lack of the All-Star Weekend mode. My Career is present and correct, with the same Virtual Currency earning, grinding-fest. You can still use the incredible 1992 Dream Team in friendly match-ups, select a number of other legendary teams (now including the surprising and pleasing likes of Allen Iverson's superb 2000 76ers), design your own Nike kicks, or dabble in the oddball card-based minigames. There is a wealth of stuff to see and do, whether you fancy a relaxing one-on-one with a mate, or embarking on some online matches. Sure, the servers aren't as heavily populated as Xbox Live or PSN, but when I did find a match, the online code was solid and I was able to hear my opponent breathing heavily and swearing into my Mad Catz headset (sold separately).
The question most people will be asking, however, is why you would want to purchase the Wii U version of Visual Concept's title, as opposed to those already on the market. First and foremost, this is hands down the best basketball game ever seen on a console bearing the Nintendo name. Absolutely no question about that. It is refreshing to see a game that, unlike the standard Wii version (released at the same time), is not a hacked-to-bits, inferior, compromised version of the proper grown-up game. Then of course you factor into the equation the GamePad. It is employed in a few different ways here – most obviously as a controller, which is perfectly comfortable with a number of customisation options in how you map the buttons. Navigating the menus, which I found cumbersome in the previous version I reviewed, is also made ten times easier thanks to being able to use the stylus to select options, make trades, switch rosters around and all the other stuff that is a necessary part of any sports sim.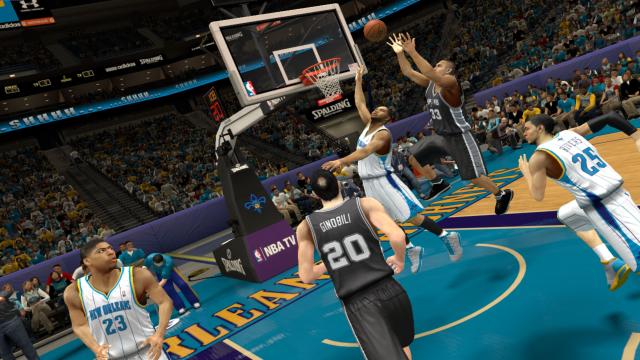 You can play the game solely on the smaller screen, which is absolutely brilliant – it loses nothing in translation, and you get to play a proper, bells and whistles sports title on the tablet whilst your other half settles down to tuck into some Emmerdale. It is very convenient and darned impressive to boot.
A bit more outlandish is the product placement-tastic Gatorade Biometric Scan, which is also operated using the GamePad. It may sound like some kind of futuristic medical test, or something you get asked to do when entering the Church of Scientology – however in reality it is a fun feature that allows you to tilt the pad in order to display the on-court players in colourful thermo Predator-esque glory – showing you when a particular player is "hot" and more likely to convert a field goal or ace a play.
Best of all is the way the second screen can be used to call up plays or view in-game statistics while you play. Tapping the screen can change plays in real time, which can really make a difference in the fast paced, incredibly in-depth world of on-court NBA 2K13 action.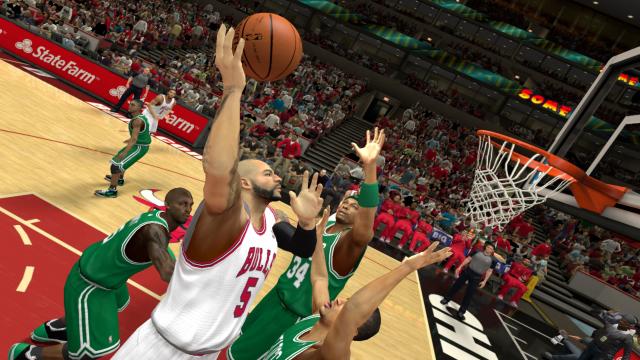 Should You Buy It?
I could not justify recommending that you purchase this title for your Wii U if you already own it for the Xbox or PS3 – unless the convenience and appeal of being able to use the GamePad controller to play is an overriding factor. The lack of online activity may be a crucial factor too – and it is fairly obvious that the Wii U version is going to lack the tens of thousands of regular online gamers, given the fact that this title was a later release with many NBA fans having probably already scored their basketball fix elsewhere. It remains a stellar sports title, however, with an attention to detail that is sometimes almost overwhelming to behold – whether it is the lavish presentation, kicking hip hop soundtrack, killer voiceovers, multi-layered shot stick controls or just the anatomically correct NBA superstars that you get to play as.
Read our original NBA 2K13 review here.