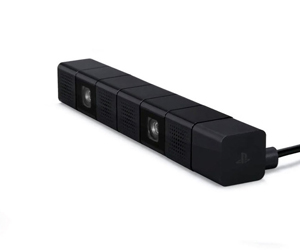 After the bombast of Wednesday's PlayStation Meeting, little tidbits of information are constantly coming to the fore about Sony's forthcoming, next-gen hardware. Recently, Sony Worldwide President Shuhei Yoshida spoke with Engadget and gave some more details on what the new PlayStation Eye will do for the PlayStation 4.
Firstly, those two lenses you've been seeing will recognise two different things. One of them will focus on capturing the player's environment and space around them, whilst the other will act as a motion-tracking unit for gamers and other peripherals like the DualShock 4 or Wonderbook. Both cameras' maximum resolution is 1,280 x 800, the Eye will contain four mics and have an 85 degree field of view.
As is known already, the bar across the top of the new controller "…works like a PS Move," said Yoshida."It's an extension of the PS Move technology that we incorporated into the DualShock so that the camera can see where it is."  Sony are also hoping that PS4 owners will be able to capture 3D photos and video, with the new peripheral.
Yoshida was apparently tight lipped about how those four microphones would impact the PlayStation experience, but he did say that that the functionality would make its way into games, just like Kinect voice commands have done on 360.
Exciting times ahead as we continue to learn more about the PlayStation 4.