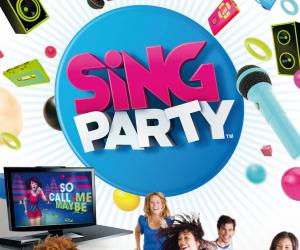 Game: Sing Party
Developer: Freestyle Games
Publisher: Nintendo
Available on: Wii U only
Every major player in the console market has a decent karaoke game. Sony fans have Singstar, Xbox owners can warble on the sparkly-microphoned Lips; even the humble Wii has the technically rock solid series of ace We Sing titles, which provide a wide range of singing fun, albeit without the benefit of a downloadable track function. Karaoke games are popular. Even the most mild-mannered individual can be dangerously likely to burst into song when intoxicated, and we all sing to ourselves when nobody is around, right? Well, I do anyway. In fact, we all do it. And karaoke is one of the true survivors of old-school, working class pub entertainment. Pubs don't have arcade machines, shove ha'penny, or a bloke coming round selling seafood anymore. But they do still have karaoke nights, because it pulls in the punters. People love it. It is escapism, a laugh, makes you feel good if you don't take it too seriously.
FreeStyle Games, who have splendid previous form in the shape of DJ Hero, have tried to tap into the kind of buzz you get from having a sing song with your mates down the boozer, or with the family at home – in what is the debut game of its type for the fledgling Nintendo Wii U. How does it compare to its illustrious forebears? Well, it has a pretty wide selection of licensed tracks, which lean towards a younger, pop-savvy audience. All of the songs included in the game are fully unlocked from the first playthrough. There is no incentive to play the game competitively, really – there is nothing to unlock, no reason to take on the challenges it presents. But there are lots of songs. You get your Katy Perry, Justin Beiber, Jason Mraz and the Wanted, sitting alongside classic party anthems like "Y.M.C.A", "Le Freak", "The Shoop Shoop Song" and Queen's immense "Don't Stop Me Now". My main gripe was that apart from an inclusion from the woeful Nickleback (the lumpen "How You Remind Me"), most of the tracks are peppy, high-register affairs.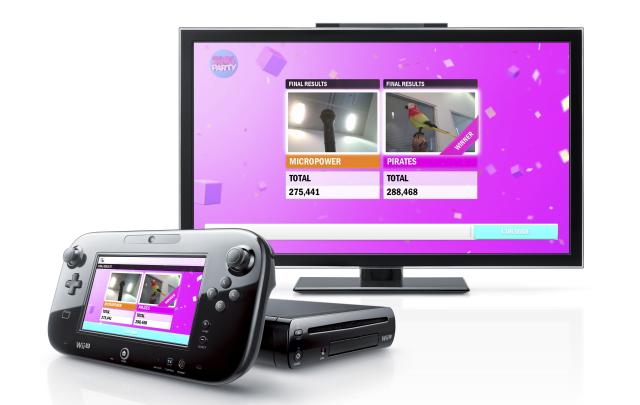 The majority of the tunes are best suited to a female singer – which is fine, but given my deep, manly tones I felt myself screaming for a bit more to work with other than "New York, New York" or James Brown's magnificent "I Got You (I Feel Good)" which is just about manageable without having to up the octaves too much. A bit of Elvis would have been nice, even a bit of Marvin. I am simply not physically capable of sounding like young Justin, and I would not disrespect the Beliebers by attempting to do so. Likewise, anyone who has heard me speak on Saint & Greensie or indeed outside of the internet will find it impossible to picture me attempting "Firework". All joking aside, it does have Summer 2K12 mega-smash "Call Me Maybe", which speaks to the hidden pop music connoisseur within us all. Who doesn't know the words to that one? Whilst nothing is in place at the time of writing, the game does connect to the Nintendo Network, which may see access to future downloadable tracks. Quite frankly, it would be a travesty if this is not the case, as a wider selection of styles and tracks would give the game a lifespan that could potentially rival its Sony and Microsoft cousins.
Visually, the game features a competent enough dashboard, but don't come expecting official music videos a la Singstar or We Sing – which is a thorough disappointment. The game compensates for this by providing some vaguely psychedelic swirly patterns, meaning that to look at it is really no better than a functioning karaoke CD-G player down your local.
The main, unique gimmick that Sing Party offers is the closest thing I have seen to a genuine freestyle karaoke experience, shorn of the scoring and pitch emulating stuff that you get from other titles, or indeed other modes within this very game. Party Mode isn't really a game at all – it allows you to sing unencumbered by having to worry about your score, whilst facing your family or friends – as the song lyrics are displayed on the Wii U Gamepad. On the tv, the game will sometimes encourage audience participation – which is a fun touch – but the focus is on the singer, and it makes perfect sense. Strangely, rather than take this idea and run with it, Sing Party abandons this use of the Gamepad for the rest of the game modes, instead utilising the USB microphone bundled in the package. The mic is another oddity – it is weighty and of fine quality, yet I was at a loss to work out why it has an on/off switch, particularly when the game actually functions with any other USB microphone you care to throw at it, including the Logitech peripherals I own for Nordic's We Sing.
Elsewhere, you get modes that fit more to the conventions of other music and rhythm action titles. Sing Mode sees you going for glory as you attempt to rack up high scores for emulating the track that plays out on the telly. There is a meter on screen that measures pitch, which is very handy, and there is a degree of "audience" interaction here, too. A friend or acquaintance can diddle about with things using the Gamepad – changing the sound levels being a particularly cruel trick. You can also hand other participants a Wiimote which they can use to provide (often unwanted) musical/percussion accompaniment. These inclusions can be highly amusing if you want to completely mess with someone when they are trying to work their way through a song, however most will find it the wrong type of annoying – put it in a different context (i.e. the pub), and interference during a karaoke performance could result in physical confrontation. Here is no different. In my eyes anyway. Kids will love being able to make annoying noises to put people off, incidentally, but then they don't take their 'oke as seriously as I do.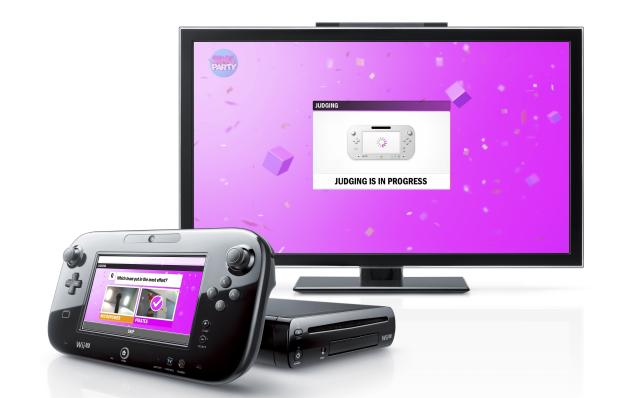 Being a Sing Party, there are other party modes on offer. Team Mode sees you take snapshots of each "team" with the Gamepad camera, before running the gauntlet of a multitude of singing based minigames. A frantic group mode sees the whole party singing into the Gamepad microphone, Relay does a good job of a "pass the mic" scenario, even allowing non-singers to vote on the performances in a kind of X Factor style, only with the prize being the award of some bonus points as opposed to being offered a lifetime contract to act as Simon Cowell's whipping boy.

VERDICT: Sing Party is an adequate, at times innovative, title that is easy to pick up and play, providing a competent voice recognition scoring system, a nice microphone (baffling switch aside!) and a wealth of songs to attempt, even if I would have liked a few earthier joints. As a starting point, this is a good one – however in order to compete in today's market, Nintendo are going to have to make sure that some online features and a downloadable marketplace are implemented – and quickly.