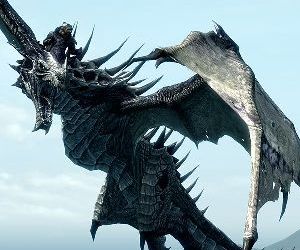 Fans of Skyrim who happened to be playing on PC will finally be able to get hold of the latest DLC, Dragonborn today.
It'll cost you £13.99 in the UK or €19.99 in the rest of Europe, and you can read our review of the content here. Mick seemed to really enjoy this DLC, scoring it 9/10 and saying that "Bethesda have finally struck gold with this one".
Here's the official information on Dragonborn:
With this official add-on for The Elder Scrolls V: Skyrim, journey off the coast of Morrowind to the island of Solstheim. Encounter new towns, dungeons, and quests, as you traverse the ash wastes and glacial valleys of this new land. Become more powerful with shouts that bend the will of your enemies and even tame dragons. Your fate, and the fate of Solstheim, hangs in the balance as you face off against your deadliest adversary – the first Dragonborn
So get on it, grab the DLC through Steam via this link.
The Elder Scrolls V: Skyrim is available now for Windows PC, Xbox 360 and PlayStation 3.