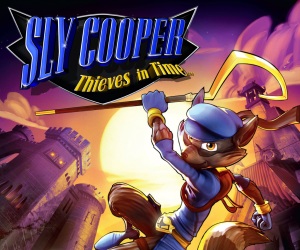 Following the announcement of the European release date, news has hit the PlayStation Blog that a playable demo of Sly Cooper: Thieves in Time will be available on the PS3 and Vita from February 20.
It's excellent news for fans in the UK and Europe who were disheartened to learn that they'd have to wait all the way until March 29th before they could get their hands on the title – now you've only got a few weeks until you can sample the gameplay in all its cartoony glory.
You can also play the "companion game" Bentley's Hackpack, available now on PSN. It's a collection of three minigames that utilises the same cross-buy system as the full game, meaning that whether you buy it on the Vita or the PS3, you'll get the other version free. The game is comprised of Spark Runner, Alter Ego and System Cracker, and for the paltry sum of £1.59 provides a total of 60 puzzle-centric levels featuring cameos from the Sly Cooper cast. Check out the trailer for Bentley's Hackpack below.
After an 8-year hiatus, Thieves in Time sees Sly and the gang travelling through time to save his family legacy, featuring the series' trademark combination of stealth, strategy and platforming. We revealed the latest trailer a little while ago, and you can check it out here.
Sly Cooper: Thieves in Time will be released on PlayStation 3 and PlayStation Vita in the UK and Europe on March 29.