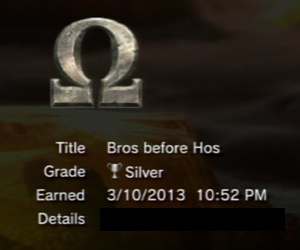 In a week when gaming's top female icon topped the charts and found new success, misogyny in gaming has reared its ugly head once again.
In Sony Santa Monica's upcoming God of War: Ascension there is a sequence in which the player, as the perpetually miffed Kratos, beats a woman to a bloody pulp from a first person perspective.
Once she is dead the player is "rewarded" with a trophy called "Bros Before Hos", as seen in the picture to the left captured by JoyStiq.
It is the trophy's name which is at the centre of this, the most recent of God of War's many controversies.
The series has always been unflinching in its violence, particularly in God of War 3's climatic showdown with Zeus, but this misjudged attempt at humour has landed its developer's in hot water once again.
An upcoming patch will rename the trophy.
"We have created and will soon push out a patch for God of War: Ascension that alters the title of one of the game Trophies. The text was offensive to some members of our community and impacted their enjoyment of the game," read a statement from Sony Santa Monica sent to Joystiq.
"We are endlessly committed to ensuring that our community can fully enjoy the experiences the team has created. As such, we've addressed the feedback and amended the Trophy in question."
It isn't the most grievous of sexist offences this industry has committed, but it it is yet another indication of an archaic culture within gaming.
Lessons have been learned however and the problem will be remedied, so let's just chalk this one up to stupidity.