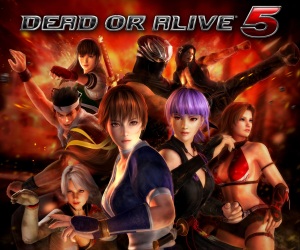 Developers Team Ninja have announced that when their new portable version of their popular beat-em-up series – Dead or Alive 5 Plus – comes to PlayStation Vita, there will be a comprehensive Demo made available for players to sample its gameplay.
The Demo will be quite comprehensive, allowing players to battle across eight stages, such as; Scramble, The Show, The Tiger Show, Coming Soon, Zack Island, Dead orAlive, Arrival, and Dojo. Gamers will even be able to transfer their game progress from the demo version to the full version if they decide to purchase it later, unlocking extra costumes etc will all be carried across. They will have access to four of the classic series fighters; Kasumi, Hayabusa, Eliot, or Tina, whilst battling against any of the in-game opponents.
Some of the new features announced for the PS Vita version are:
The unprecedented amount of move detail available in DEAD OR ALIVE 5 PLUS will allow players to break down the results of each attack in real time. Move details show the damage output, effects, and other info to give an instant, detailed analysis of each move to allow players to increase their skills.
In DEAD OR ALIVE 5 PLUS players will for the first time be able to set background music for each character to set the proper tone for each fight. All characters, including new DOA5 characters Rig and Mila, have their own selectable theme music.
Players can replay scenes from Story mode at any time in the game's movie theater to revisit their favorite moments or watch the story play out all at once after it is unlocked.
The first-person perspective Touch Fights can be played with downloadable costumes. The close-up view and variety of character reactions available in this mode make it the ideal way to check out favorite costumes.
New Tutorial and Combo Challenge modes provide the ideal opportunity to hone the combat skills necessary to come out on top in any situation. This makes DEAD OR ALIVE 5 PLUS not only the ideal game for serious fighters but for novice players as well.
This will bring the deep fighting action of the Dead or Alive series to gamers on-the-go, and the new features will allow it to be played like never before. Stay tuned for the GodisaGeek verdict on the game, upon its release.
See the new trailer and screenshots below:
[nggallery id=1372]
Dead or Alive 5 Plus is due for release on March 22 on the PlayStation Vita.