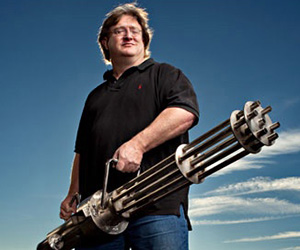 Valve boss Gabe Newell has revealed to the BBC that prototype Steam Boxes will be ready for testing within four months.
He revealed the news after receiving the Fellowship at last night's BAFTA Video Game Awards in London.
Valve's Steam Box console spearheads a movement by the company to make PC gaming accessible to new audiences via television sets.
"We're working with partners trying to nail down how fast we can make it," he said.
"We'll be giving out some prototypes to customers to gauge their reactions, I guess, in the next three to four months.
"There are noise issues and heat issues and being able to [deal with] that while still offering a powerful enough gaming experience is the challenge in building it."
The huge success of Steam already makes the device hotly anticipated and puts a large amount of expectation on the PC gaming giant.