More characters have been revealed for Deadpool's first game, much to his chagrin.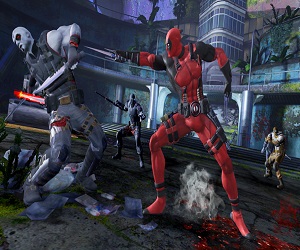 Deadpool is a man of many, many personalities and many, many enemies.
With a character who has interacted with many of Marvel's most famous characters, cameos galore should be expected in Deadpool's first game. While there will assuredly more to be confirmed, Activision announced Mister Sinister and Psylocke will be appearing in the game. Cable, Domino, and Death were previously announced and the Xbox 360 achievement pointed to a Wolverine appearance as well.
Not without an opinion, Deadpool continues to break the fourth wall by complaining about other characters appearing in HIS game. It looks like Wade Wilson wants to pull an Eddie Murphy and play ever character.
Sooo, uhhhh, APPARENTLY there are characters in my new upcoming Activision game, DEADPOOL, who are not Deadpool! Right?? I thought it was pretty clear when I said I wanted a true Deadpool game that it would star Deadpool…in every role! My star power shouldn't be limited to the central protagonist. I should be playing the hero, the anti-hero, the villain who eventually changes sides to join forces against the TRUE villain (me), the romantic interest, the quirky best friend, the comic relief, and at least 8 other characters in fat suits! Is that too much to ask?! But…I've been talking to my therapist…and she says it's important that I not allow the existence of other people who are not me to determine my own self-worth. I just have to be the best unhinged mutant mercenary I can be. So, here's a look at some of the…other…characters you can meet in DEADPOOL…
Needless to say, we here at God Is A Geek are anticipating the video game adaptation of one of our favorite characters.
Deadpool will be released for Xbox 360 and PlayStation 3 on June 25.