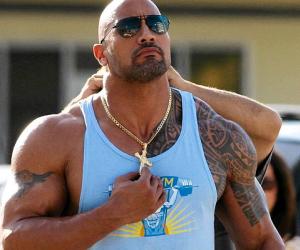 Wrestling fans in the UK will be pretty tired today, as Wrestlemania was last night, but hot on the heels, Stephanie McMahon has Tweeted that the cover star for the first WWE game under 2K's supervision, will be Dwayne "The Rock" Johnson.
Although it's not come from 2K officially, Stephanie McMahon's Twitter profile reads that she is "WWE's EVP, Creative, responsible for overseeing creative development for all WWE", so…yeah, I'd say that was pretty concrete, in terms of legitimacy. I'll be honest though, despite not following WWE as much as I did in my youth (when it was called WWF, and WCW existed), I thought The Rock was more of a movie-star nowadays!
Here's hoping they can fit those GUNS onto the box art, because…yeah, dude is PUMPED. Who else do you think might appear on the cover?
Colm reviewed last year's effort and it was pretty good, but was let down in a few places. Here's hoping this year's game is even better.