When you hear the game name 'Call of Juarez', it's usually followed by an audible groan. The previous three games in the series have just never lived up to the heights promised by Techland and Ubisoft.
This was always made all the more frustrating by the fact that there have always been glimmers of hope in each of the games. A reason why it could have been good if just a little bit more work had gone into the final product. All of that culminated with last year's hugely underwhelming Call of Juarez: The Cartel, but there could have been a nice little silver lining in a game which a lot of people dismissed almost as quickly as they put the game into their devices; it forced the developers to drastically rethink their strategy for any future Call of Juarez games going forward.
The first game in that change of direction for the series is Call of Juarez: Gunslinger, a game that won't be seeing a disc-based release, instead finding its way onto digital download platforms, obviously at a reduced price and with game modes involved that will get people to at least take a cautionary glance at the title. However, what they find may actually surprise them. I'm here to tell you that, after my hands-on with a preview build of Call of Juarez: Gunslinger, Techland and Ubisoft have not only managed to put together a game that's playable, they've created a game that's enjoyable and a huge amount of fun too. I know; I was shocked too.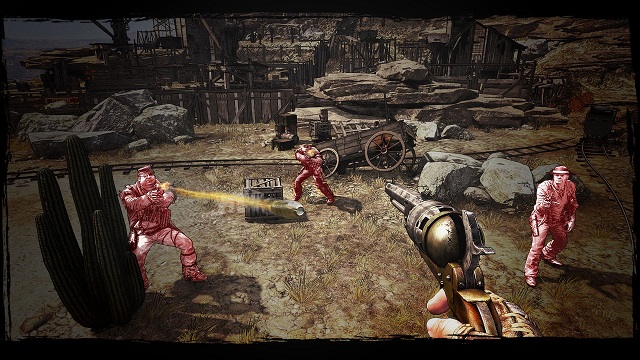 Call of Juarez: Gunslinger follows the life of Silas Greaves, a bounty hunter who hasn't had the best time of late. He's made his way back to Abilene in order to take care of one final piece of business. He steps into a saloon to partake in a small drink, but in that bar he finds a couple of locals who aren't just not scared by the fact that Silas kills people for money, but actually want to sit and hear about some of the many stories our friendly neighbourhood killer-for-hire has collected over his many years. This leads to the first interesting aspect of Gunslinger; the fact that the entire game is told through Silas' narration of past events that you are able to play. Throughout the game you'll get to meet many famous faces of the Wild West – Billy the Kid, Doc Holliday and Pat Garrett are just a couple of the people that Silas has come into contact with over the years, and who you'll get to meet during just some of the missions in the game.
Gunslinger contains three main game modes: Story, Arcade, and 'Duel'. Story mode allows the player to shoot through various stages of Silas Greaves' life, while collecting experience points for killing the enemy – as well as bonus points for killing them in more interesting ways, such as using the environment. Once you've levelled Silas up using these experience points, you will be awarded a skill point which you can assign to one of three talent trees: Gunslinger, Ranger, and Trapper – each of these will significantly changes the Silas' abilities and, therefore, will change the way that each player plays the game. There are also collectibles to find throughout the game called 'Nuggets of Truth' which, when collected, will give the player an accurate insight into the real lives of the people they're interacting with in the game. The fact that these collectibles are actual facts – some of which are genuinely interesting – make you actually want to collecting, instead of being something that you're doing for the sake of the obligatory achievement.
Arcade Mode is exactly what you'd expect. Players are given a selection of levels, asked to do the best they can on each of them, and are graded out of three stars based performance. Combos are the secret to getting those elusive three stars, something which I learned after quite a few attempts – and failing all of them – to get more than two stars. Killing the oncoming enemies in quick succession is what will keep the combo going, and in order to do so it helps to know where the players are going to come from, and how many of them there are going to be – which is where playing the level over and over again comes into it. The addition of connected leaderboards, allowing players to compete directly with any of their friends in each of the Arcade Mode levels will add an extra level of replayability. All told, it's fair to say that people will be playing the Arcade Mode just as much as they will the Story Mode.
The final game mode that will be available in the finished product is the Duel Mode. Unfortunately this wasn't in the scope of the preview build, but it's obvious to see what the mode will entail through a quick look at the list of achievements and a look at the 'Help' screen. There will be many points during the Story Mode where the player will be asked to take part in duels, and the Duel Mode extends this experience even further, allowing the player to take part in a series of duels, attempt to achieve a high score and then move on to the next. Replayability is possible through attempting to beat your own high score but, hopefully, the final version of the title will also include an online leaderboard to extend this replay value even further, and allow the player to compete with their friends.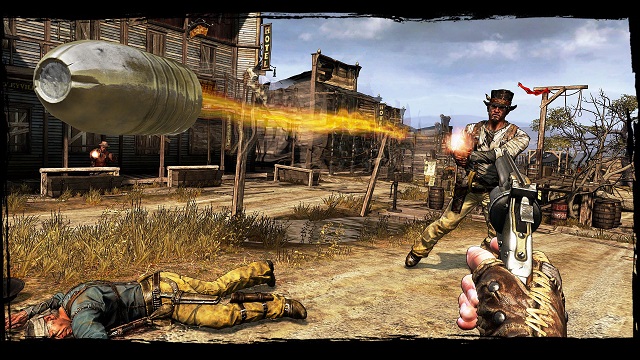 Call of Juarez: Gunslinger is a genuinely fun game to play and I, for one, can't wait to get my hands on the final version of the game later this month. The cheaper price point, the digital distribution and the lighter art style all serve to make the entire game much more appealing to the general gamer and hopefully the game is received as well as I received the preview build. Techland and Ubisoft have gambled everything with this final attempt at Call of Jaurez, and there's every chance that it's actually paid off; it's about time too.
Call of Juarez: Gunslinger will be released digitally on May 22 for Xbox 360, PlayStation 3 and Windows PC.