The premise of Disney Infinity is simple: Disney plan to take your favourite animated film characters, and make them into toys. Physical toys and virtual toys, combined on an almost limitless sandbox playground.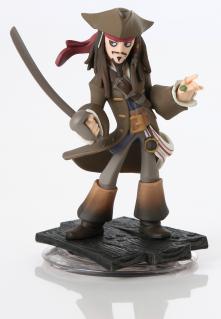 This isn't Disney's answer to Skylanders, that suspicion is wiped away the moment you see this game in action. Sure, they use the same hardware, but that is where the similarities end. According to the developers, work started on this project shortly after Toy Story 3. The idea has always been to provide a way for children to play with their favourite cartoon characters, but as virtual toys. The physical toys evidently came later, and they only emphasise the 'toy' premise. By placing a physical toy character onto the Infinity Base (a la Portal of Power), your character appears in game – in a virtual world.
There are two main game modes to play in. There's the movie tie-in campaign "Play Set" mode, and the more creative sandbox "Toy Box" mode. In Play Set mode, everything is kept "true to property", meaning you choose a Play Set tied to one of the movie franchises (for example Monsters University), thus all of the levels will be influenced by that universe, and you'll only be able to use characters from that same universe. This mode will feature a storyline guided by missions. As you progress through missions, you'll find plenty of collectibles throughout the game world, which unlock extra features for both game modes. So while you're playing in a Play Set, you'll also be unlocking extra features for your Toy Box. As well as the main story-arc, and the additional side quests, there are a number of challenges in Play Set mode, which change depending on which character you're using, and which mount you're riding. So there may be a car race, or a horse-riding obstacle course, for example. There's a bit of a LEGO-game feeling too, when your character repairs broken buildings, and when you collect coins by breaking barrels and such. Coins can then be used to purchase toys from the toy store.

Toy Box mode, however, is where the game really comes to life. This is the creative sandbox where your imagination is the limit. Here you can use any character from any Disney/Pixar movie, so long as you own the collectable toy. The player is given a number of tools to design a world of their creation. There are influences from Second Life and Minecraft here, and the implementation works well. The options are plentiful, without being too complicated. The "style" of your world depends on the tile sets available to you. There's a slot on the Infinity Box for tile-set cards, and placing one down can alter the texture tiles of everything in your game world. You can instantly change the look/feel from, say, Toy Story, to The Nightmare Before Christmas. It's quite something. Once you've built your world, it's time to play!
The game has two player split-screen, or 4 player online, and how you choose to play is up to you. You can play co-operatively, and help each other build great things, or you can play competitively, by fighting your friends with paintball guns, rockets, you name it. Griefing could definitely become an issue here, when you're trying to re-create the Black Pearl, and your friends keep drawing their swords on you. But that's all part of the fun.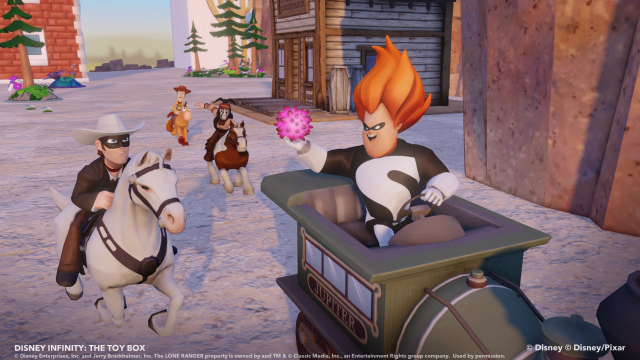 The Starter Pack contains three Play Sets, and additional Play Sets will be released after launch, for each IP. All additional characters will be sold separately. The Disney-rep we spoke to hinted at possible Star Wars and Marvel Play Sets in the future, too. As of right now, the current known Play Sets are: The Incredibles, Pirates of the Caribbean, The Nightmare Before Christmas, Monsters University, Toy Story, Wreck-it-Ralph, Cars, The Lone Ranger, and finally, Phineas and Ferb. From what we know, at least 6 of these Play Sets will be included on the original disk, although not available at launch – so players should be "sorted for a year". These include Monsters University, Pirates of The Caribbean, and The Incredibles, which are all part of the Starter Pack, then Cars and The Lone Ranger, which, although it is being included on the original disk, will only be accessible with the purchase of the toys. At the time of writing, Disney haven't yet figured out how they're going to release further play packs, whether it be via downloadable DLC, or new disks.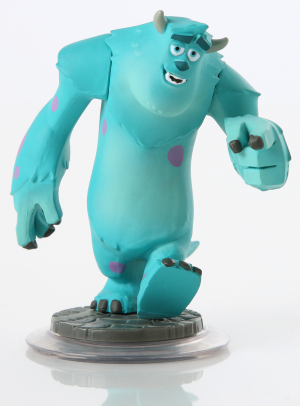 The Starter Pack includes Monsters University's Sully, Mr Incredible, and Captain Jack Sparrow. Quite a diverse range of characters to start with.
As well as the characters and Play Set Pieces (texture tiles), there are also Power Discs and mounts for the Infinity Box. Power Discs include health buffs, increased economy, power, or speed. They work by placing the tile under your character, and you can use 2 per character. The mounts include air, water, land vehicles – as well as animals. For example, you could ride in a car from the movie Cars, or jump on Abu from Aladdin's back, in elephant form.
There are so many mechanics throughout both modes that are going to keep players entertained, and the key here is that each play pack offers yet more mechanics. For instance, in the Lone Ranger Play Set you can customise the train, when you're not busy helping damsels in distress, and in Monsters University you can decorate Frat Row, when you've had enough of pulling pranks over at the Fear Tech Campus. Lone Ranger is a western, horse-riding cowboy game, whereas Monsters University is a stealthy, prank-pulling frat-boy environment. The Play Sets totally transform the game modes into different experiences. For that reason alone, Disney Infinity stands well among its competition.
Disney Infinity will be released for all current gen consoles, plus PC. There will be a release for next-generation consoles some time next year. We tried the next gen versions at E3, and the only difference on the Wii U as far as we could tell, was that the HUD is displayed on the game pad.