When I think of the word "Mad Max" I think of Mel Gibson in the iconic role. I think of Tina Turner belting out the words to 'We Don't Need Another Hero (Thunderdome)' and I think of the desolate wasteland that those series of films were set in.
One thing I didn't think I'd see, was an upcoming, next-gen, video game from the people that brought us the hugely fun (if not really that great) Just Cause series of games. Seeing the announcement of Mad Max, the video game, at the Sony press conference during this year's E3 was a shock to everyone. People were thinking they were going to announce a new Fallout game, perhaps a new Killzone or just generally something that we're used to seeing. The moment the words "Mad Max" appeared on the screen there was a combined sense of excitement on wonder. It could be a good game, if done right, but its entire existence seems to come out of nowhere, especially – as we were told during a hands-off presentation on the last day of E3 – since it has absolutely nothing to do with the films that came before it, nor does it have anything to do with the upcoming film, starring Tom Hardy in the title role.
The new Mad Max game from Avalanche Studios appears to be a game of two halves. There's the half of the game where you're driving around the wasteland scavenging for objects in your car (the Magnum Opus) destroying anyone that gets in your way, taking part in races, and all other variety of activities that you can imagine doing in a car that's kitted up to the nines with offensive and defensive armaments.
Then there's the other game, which starts once Max gets out of the Magnum Opus, a game which involves sneaking up to bandits and taking them out in whichever way you see fit at that moment in time. Want to kick them off of a ledge? Go for it. How about a blast in the face from Max's trusty shotgun? No problem at all. Mad Max looks, at least at this moment in time, like a true open world game. There's a story running though it all, but if you just want to play around in the game's world having fun and not doing anything too specific, then you can do that just find too. To be honest, if that's what you're looking for in a game, then you can't ask for a better developer. Creating massive open-world games where the player is just allowed to have fun in whichever way they see fit is almost Avalanche Studios' calling card at this point.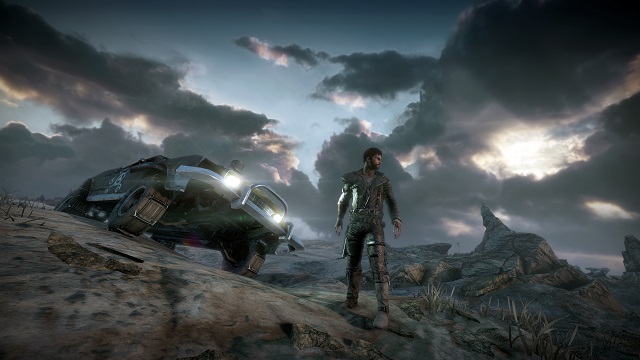 The hands-off demo that we were shown at E3 this year showed just how good the game is going to look when people finally get their hands on it. The most impressive thing to me was that fact that when the Magnum Opus drove over rocks (which is something that players will have to do a lot), the underneath of the car will start to break in realistic ways due to the weight of the car itself. This is something that we normally don't get to see, and certainly adds a lot to the immersion of the title on the whole. The wasteland in Mad Max is a little bland at the moment, just being mile after mile of nothing, I'm sure that's just the location that we got to see during the demo though, and I have faith that the actual game is much more interesting to look at and drive through than what small part we were privy to.
The Magnum Opus isn't just a one trick pony though, Mad Max has a fully featured upgrade system which allows the player to add just about anything they could ever need onto the car. There's a catch though: everything that you add will affect the weight of the vehicle and will have to be compensated for if you want to maintain the power and speed that you're used to. The example in the demo required for a battering ram to be attached to the Magnum Opus in order to get through a barricade to finish the level. Adding this battering ram attached a significant amount of weight to the car and, in order to keep the power going through the car, the entire engine also needed to be upgraded. It's this kind of in-depth upgrade system which will see a lot of people tinkering about with the game much longer than they initially though. It could also see a lot of exploration added to the game too, as perhaps the best car modifications are a little off of the beaten track and you're going to have to go searching for them if you're going to want to add them to your own personal version of the Magnum Opus.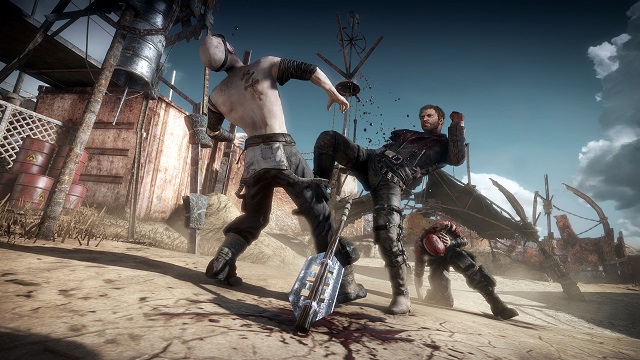 Mad Max definitely looks like an interesting open-world game. It has the potential to have a good story, and as long as the vehicular combat, along with the hand-to-hand combat, lives up to what was shown in our hands-off demo then it could be a game that's extremely fun to play too. There are certainly worrying factors about the title that leave me wanting to see more in order to find out if it's a game worth picking up straight away, I want to know more about the open-world, what there is to do; I want to know about the social connectivity of the game (something which the next-generation consoles seem heavily concentrated on but nothing was mentioned regarding Mad Max) and, more importantly, I want to make sure that the wasteland isn't just a vast expanse of nothing. Having a couple of ships dotted around make things a little interesting, but that could get very old, very quickly.
Let's just hope Mad Max hasn't gone too mad.