Having licensed players and likenesses, and hearing the famous Champions League music to kick off a game is all very well, but for as long as we have been playing football video games, all we've really wanted to do is genuinely emulate our on-pitch heroes. To feel the subtle nuances and the identity of the players we watch week in, week out. To be able to employ their brilliant skills vicariously on our television screen. For going a long way towards allowing us to accomplish that, PES 2014 deserves enormous credit.
Employing perhaps the most identifiable player for a first run-through, Zlatan Ibramhimovic actually plays like the real life Swedish maverick. The way he can toe-poke the ball brilliantly to slot it away into a far corner, the propensity to score spectacular volleys and, of course, his baffling, almost awkward dribbling style. Comparing the way he feels to the last time you played PES is noticeably different. Over 100 marquee players have been given real attention to detail in this manner, so when you are playing with the cream of the crop and living out your Champions League or Copa Libertadores fantasies, you will notice things like this. In PES 2014, the superstars of the beautiful game – and indeed the teams they play for – are instantly recognisable thanks to some thrilling AI.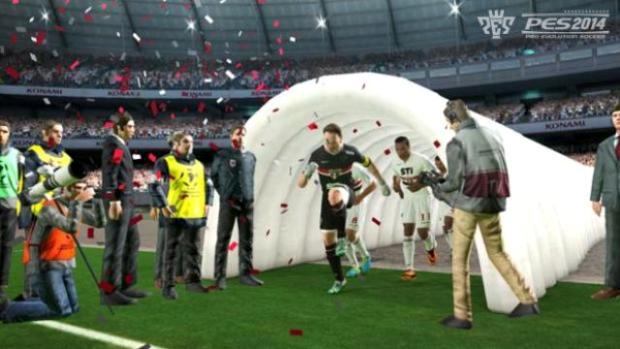 You wouldn't necessarily make the link between Solid Snake and Southampton FC – but there is one, in that the excellent PES 2014 employs the same Fox Engine, created by Kojima and his crew, for the latest version of Konami's ongoing soccer franchise. The differences that this makes when compared to last year are not merely cosmetic, although the way shirts are separated from the torsos and the additional facial details do look very nice; nice enough, in fact, that some of the likenesses are just downright eerie.
A few niggles persist in Konami's quest to make PES look as pretty as its rival – most notably some jerky animations during celebrations. But look past that and the simple fact is that the latest contender to the footy throne also plays extremely well. The ball is now a separate 3D entity, and everything about your player is taken into account – height, weight, skill level – but the ball is the focal point, and it's up to you what you do with it. Konami have been banging on about this a lot pre-release, but what does it mean when put into practice?
For starters there is an increased physicality. You can hold up play and gleefully watch as your teammates make runs awaiting timely use of the through-ball button. Shielding the ball becomes part and parcel of building up moves, with the excellent AI and programmable, easily accessible Combination Play (real-time tactical changes for things like overlapping wingers) helping you pull off some devastating attacks. Gone are the days when you could simply leg it past opponents or use a cheap-ass cut-in manoeuvre to outwit opponents. You can feel the physicality of the match-ups, and there is more of a sense of engaging with your opponent rather than simply running around them in an unrealistic fashion. The tactical shifts can be set in motion by double clicking on the L2 button, and there are a wealth of options from basic overlapping wing-backs to going on all-out attack.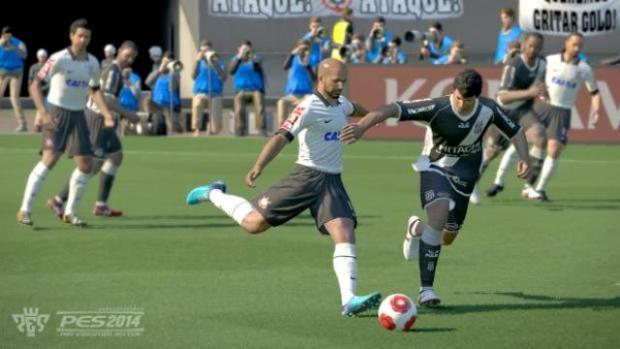 The tricks and skills you learn, which can be honed in the superb training mode that leads you gently through the myriad techniques at your disposal, actually feel meaningful and worth learning. Of course, just as in any real-life football situation from Hackney Marshes to La Bombonera, you aren't going to be able to just showboat your way through every game, scoring for fun. But if you have that special player in your ranks, the Ronaldo or Messi or Rickie Lambert, then the measured use of an "Ole!"-eliciting bit of magic just feels insanely rewarding. It is a noticeable improvement on last year, with players feeling significantly different and unique in their movements and abilities. Pacy, tricky wingers play as such, whereas a hard-case defender like a Chiellini or a Vidic will play with the same kind of no-nonsense ability to brush off a smaller opponent like a fly, if employed correctly. The ages-old battle between defender and attacker feels more significant here.
How you perform also has a bearing on the performance of your whole team. Pull off a trick and the crowd will get behind you, rallying the other players around you. Similarly, if your player is having a shocker, your teammates will react around you accordingly, to compensate for your ineptitude. If you are getting a hiding, the fans will even start emptying out of the ground. Depending on where you are playing, the crowd will react to different things. In Latin America, flair makes the punters lose their minds, whereas a crunching tackle will go down better in a Stoke vs Fulham stinker. This "Heart" system sees to it that, for the first time in recent memory, the mental state of your player is taken into consideration, and does not seem to unbalance the gameplay particularly.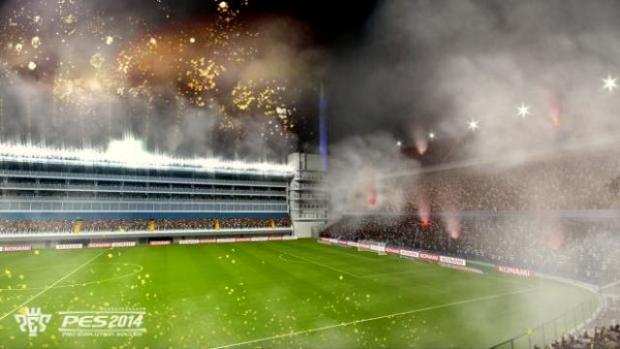 It is all very clever, with the M.A.S.S Motion Animation Stability System putting player contact in the same league as the superb EA NFL and NHL franchises, right down to the fact you can even perform an NFL-style hand-off to knock into your opponents, or the fact that trick manoeuvres are now set in motion using intuitive right-stick flicks rather than the somewhat unwieldy inputs from last year. Given that this instalment of Pro Evo is only going to be available for the current generation of consoles, and with rivals already promising as-yet-unsampled new game engines of their own, this is a big step forward for PES.
Passing and shooting is also much improved on last year. Shooting is weighty, satisfying, and better than ever. Nobody does powerful worldies like PES. There is a tweakable assistance mode for passing, but regardless of this you can only pass the ball as well as the player you are controlling, and need to be sensible and methodical about where you pass and to whom. A "hospital ball", as formerly popular race-controversy pundit "Big" Ron Atkinson would refer to it, is simply not an option unless you are using a maestro like Pirlo, to give the ball the perfect amount of oomph. You have to pass the ball intelligently, and with all manner of chips, through-passes and manual controls in your arsenal there is much to learn. You can put curve and spin on the passes, but at the same time the ball – which is an independent entity, don't forget – can be redirected by a defender stretching out a leg or getting in the way.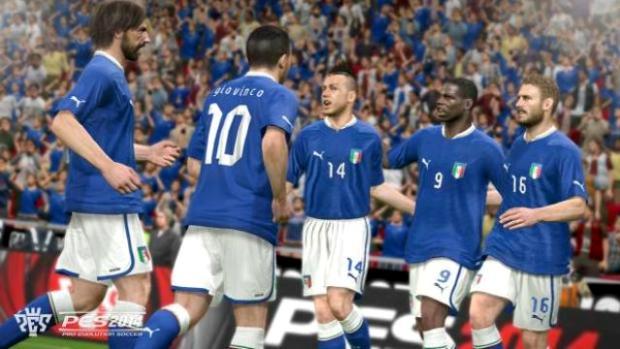 As great as the new features are, the free kicks and corners are still haphazard, and there are still some goalkeeping clunkers. But when the game is such a fun and fluid representation of the sport we know and love, it is easy to forgive. Coupled with the numerous modes – including a returning league mode and the impressively deep Football Life mode – there is much to enjoy. Training is comprehensive and unforgiving, limiting progress until you work through and learn each individual challenge, and will take you a little while if you are a newcomer.
Who cares about it not having all of the official gubbins, when a welcome focus on genuinely interesting divisions like the AFC Champions League, the latin cauldron of the Argentinian and Chilean leagues, as well as the always spine tingling Libertadores and UEFA Champions League, are in the mix? Fans will rejoice at other smaller tweaks, like the ability to switch teams in Master League mode, import your own badges and logos, and even bring in your own crowd chants.
VERDICT: It was a bold move to keep PES current gen and not take the yearly installment to the PS4 and Xbox One. Sadly it is likely to be a move that sees it get eclipsed by its closest rival yet again – which is a crushing disappointment, given that this is a clear improvement on last year, and genuinely one of the most enjoyable, intuitive and clever soccer simulations of the generation. It deserves a wider audience, with Konami clearly having a corking engine on their hands in the Fox. Still, minor issues aside, this is a great way for the series to bow out on the current hardware.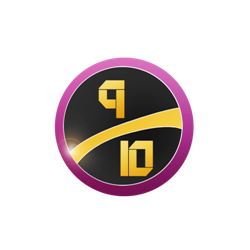 SUPERB. This is the mark of greatness, only awarded to games that engage us from start to finish. Titles that score 9/10 will have very few problems or negative issues, and will deliver high quality and value for money across all aspects of their design.