Motocross in itself looks like some kind of crazed videogame version of a motorsport. Brightly coloured bikes scrambling and leaping through the air, mud spraying all over the show. On their last dalliance with the FIM Championship, Milestone chose to ramp up the inherent arcade aspects of the source material, but this did the sport a bit of a disservice. MXGP sets to redress the balance with a fine recreation of the MX1 and 2 that eschews the stylized nature of MUD and gives fans a much improved simulation to speed, leap and scrub their way through. Completely engineered from the ground up, this is the sort of tie-in that MX fans have been crying out for, and while it is not the finest racing game we have ever seen, it is another impressive showing from the increasingly-reliable Milestone.
The more serious tone manifests itself in the presentation – the menus are functional and easy to navigate, and there are some superb real-life motocross facts to flick through during loading times. If you are unfamiliar with MX, these snippets give you some background information and introduce you to some of the stars of the show. There is a comprehensive tutorial mode that teaches you how to get to grips with the controls, and shows you what to expect from the MX experience. You control the action using the two analogue sticks – left looks after standard bike controls, with the right being used to shift the momentum of your rider. These controls can be customised to your heart's content, and there's also an option to ride with manual or automatic transmission.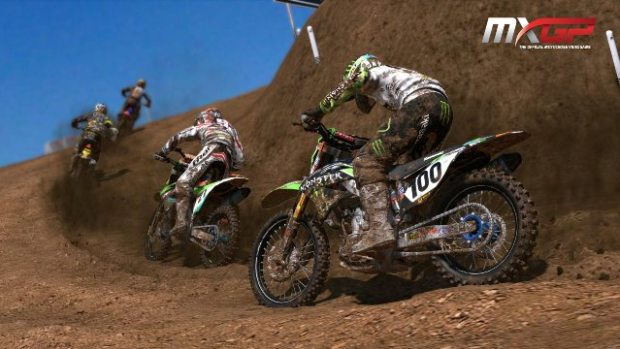 The tutorial is definitely essential for first-timers, as having the additional stick is very different from burning through a Need For Speed or a Mario Kart. It's a system we last saw in MX vs ATV, and provides a far more realistic feel than the single stick controls from MUD. The tracks are twisting, turning horrors, laden with jumps, and featuring terrain that changes over the course of each race. The terraforming-by-bikes is extremely realistic and affects how you approach each bend. Whether you are tearing it up around Matterley Basin or Beto Carrero, all off the famed circuits are available and they all look superb. Fans of MX will be absolutely thrilled by the licensed tracks, riders and recognisable advertising logos on offer.
There are plenty of modes to tinker about with, too. Quick race allows you to jump straight in and is a good way of practising once you've worked through the tutorial. Championship allows you to choose a rider and take on the official MX1 or 2 calendar, whereas Career sees you create your own rider (from an admittedly limited palette) and work your way through the world of motocross, from a lowly wildcard entrant to eventually challenging the plethora of Belgian and Italian dudes who seem to dominate the sport as its champions. The Career mode is great fun, particularly when you start winning and attracting the attention of the big name teams. Just like in real motorsport, the best teams offer the best chance of success – so getting looked after by Red Bull here is going to improve your chances of eventually overtaking the likes of Antonio Cairoli.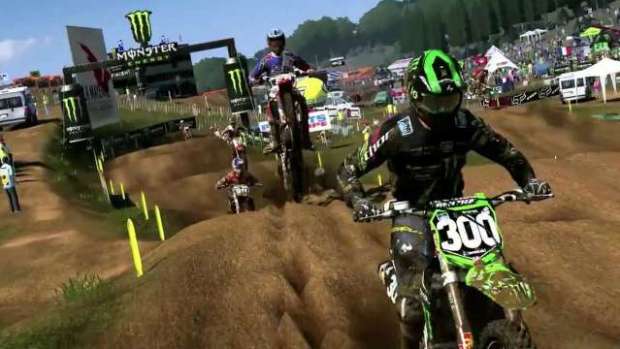 There are a few issues with the graphics and animation, particularly where the riders and humanoid figures are concerned. They move with the limp physicality of a rag doll, which is a disappointment when the rest of the visuals – including the faithfully realised tracks – are presented with no shortage of panache.
VERDICT: Small niggles aside, MXGP is a fun, well-presented simulation of an exciting sport, which does for the mud-splattered 500cc bikes what Milestone have already accomplished with their fine MotoGP efforts. There is much enjoyment to be had out of the Career mode, or from simply learning how to play, full-stop – shifting your rider about to negotiate the extremely tortuous bends is a real challenge, particularly when you start using the much pacier MX1 bikes with their increased acceleration. As such it can be recommended not just to fans of MX but for those who like the challenge of taking on a racing experience a little different from the norm.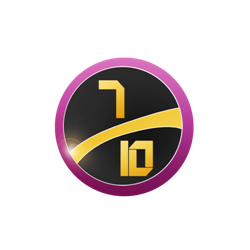 GOOD. A game that scores 7/10 is worthy of note, but unworthy of fanfare. It does many things well, but only a few of them incredibly well and, despite a handful of good qualities, fresh ideas and solid mechanics, it fails to overwhelm.
Review code provided by by publisher.