Usually known for producing high quality microphones, Blue recently unveiled their innovative Mo-Fi headset, complete with their trademark futuristic design and a few stylish tweaks to a standardised accessory. Coming in at around £250, the Mo-Fi headset won't do much to revolutionise the future of audio equipment, but they are pretty fine set of cans all the same.
To begin with, they come with built-in amplifiers and huge 50mm drivers. As a result the sound quality you get from even a basic set-up is impressive, and you don't need to use any additional hardware to increase the power or audio quality. I used them primarily to watch movies and YouTube videos on my laptop and listen to music through my phone and iPod, and the crisp, clear sound literally speaks for itself. In fact, it's almost too clear if you have the volume turned up too loud with this headset – it will blow the top of your head off thanks to those integrated amps, so use them responsibly. You can toggle the on/off switch to a third setting, designated "On+", which subtly increases the bass in whatever you're listening to. The difference is often relatively slight, but given that wonderful clarity it's always noticeable.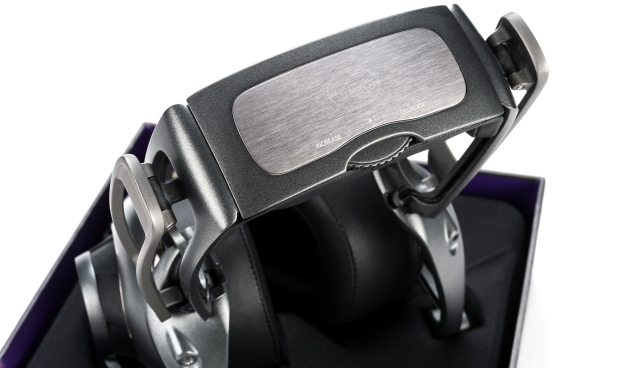 Leaving the headphones in the passive OFF setting causes them to draw sound directly from your laptop or iPod, but you won't notice much of a difference in quality at lower volumes; it only becomes really apparent once you start ramping up the volume on your device. Switching the source volume off and flicking the amps on improves the clarity to a surprising degree. The battery will last around 12 hours if you're running them from a device with a standard jack – you'll have to plug the USB cable in to your device if you want to charge them. They do come with a clever auto-off function, though, so if you sling them on the desk and go down for dinner without remembering to turn them off, they'll deactivate when the cans touch.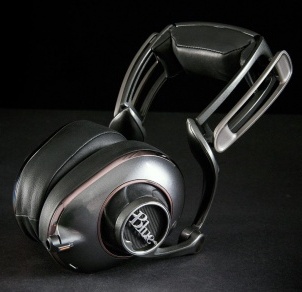 I didn't test the Blue Mo-Fi headset while out and about purely because the design – while incredibly slick – is pretty cumbersome. The cans are connected by a spring-loaded frame that adjusts to your head-shape to the point that, if it weren't for the weight, you'd forget you were wearing this headset at all. Despite the size, it's a ridiculously comfortable piece of equipment that not only feels good but looks like something beamed back in time from the distant future. The dark chrome finish and black leather are gorgeous, and they just look so expensive that wearing them in public would be hugely satisfying. They're just too damn heavy. Sitting at a desk with your feet up, listening to music or playing games, they're some of the best cans around, but you wouldn't want to walk around all day with them weighing down on your neck.
While the sleek, futuristic design looks amazing and the built-in amps take the sound quality to another level, the undeniable weight and hefty pricetag could put some people off. Quality is one thing, but do you want to spend over £250 on a headset that you'll only use at home? Blue have created a fantastic piece of equipment here, without question, but it might not tick all the boxes for those who want to take their music or their gaming out and about.
Review unit provided on loan by Blue.