It's no secret that multiple members of our team loved PES last year. It easily won our best sports game of the year and many of us are still loading it up as our choice of football game today. So I'm sure the team at least will be pleased to know that despite only playing a couple of matches, I can report that PES 2016 felt even better than last years effort.
Initially it felt incredibly similar, bar the improved visuals it felt almost like the same game – but after a few minutes some of the new aspects of the game started to creep in. The first thing I noticed was that challenging for a header was much harder, as you can manually jostle for position when the ball is in the air, instead of waiting to jump. This makes winning the ball when in the air much harder as your opponent will be trying to use the same tricks as you.
Another detail that seems incredibly small but is in fact a big deal, is the new stumble animations. Instead of instantly losing the ball and that player being out of the game for a few seconds when they stumble they can now recover, and keep going in ways that seem incredibly natural. When playing as Juventus, Tevez was knocked around on multiple occasions when running against a defender, but usually managed to keep going after the stumble, prolonging the attack.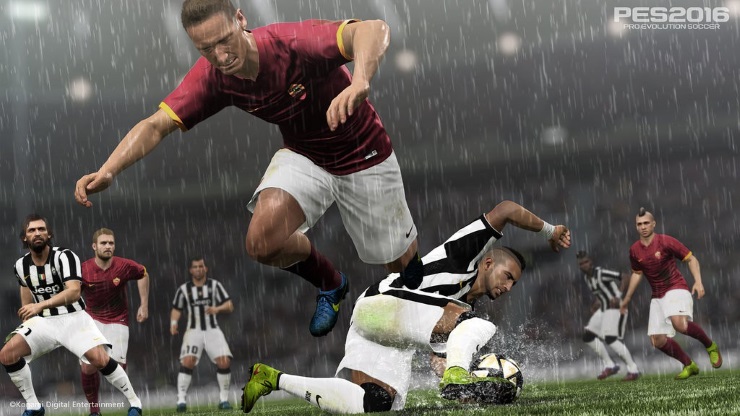 There were still a few issues that have carried over from last year. Slide tackles, although nowhere near as bad as they have been in years gone by, still don't feel quite right with regards to timing and were the reason I ended up giving away a penalty. While cross-field passes felt difficult to perfect, unlike in FIFA where they can be performed with relative ease.
Fortunately, the way of playing is very similar to last year. Building up from the back into the midfield, before carving out that killer final ball is still the way to go, as it is in professional football. In my second match, after winning the ball almost instantly from kick off, a quick one-two down the right hand side allowed me to whip in a cross low along the six yard box that was met with a incredibly well animated and natural diving header that forced out a brilliant save. While it was the build up play that created the opportunity, the header was the best part of this move. In the replay you could see how the player adjusted his head to meet the ball perfectly and try to position is shot into the corner, while diving across the defender to get there first.
The keepers have once again seen some improvement, with more one-handed and acrobatic (yet still natural) saves occurring. The save from my diving header would have been rated as a world class save, thanks to the keeper's incredible reactions to stick out a hand and turn it past the post. Their positioning was also always on point, out of all five goals I conceded, none of them were their fault they were all unstoppable shots or sweaty goals.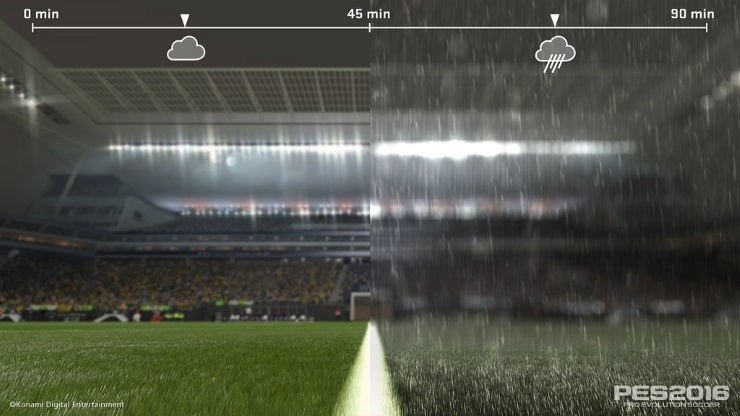 Off the pitch the players look better than they ever have done, especially during the close up intro shots. Only a hand full of teams were on offer and I only saw four in action – all of which had received the full visual treatment, but they did look impressive. Players were instantly recognizable and genuinely looked very close to their real life counterparts.
Just what the big new marketable features of this PES are, I'm not entirely sure, but I do know that the gameplay felt even better than last year thanks to the small little improvements I noticed during my short hands on. While it is certainly too early to call, with these tweaks and the addition of matches in the rain, I can honestly see PES once again being the best sports game out this year, I just hope all you are easier to beat online than the Konami PR rep was at the booth, the utter bastard.