So the E3 conferences are out of the way, with all the major announcements and new footage shown off. That leaves things to our troops on the ground to get their hands-on and behind the scenes previews, but in the meantime, those of us back home have picked the games the conferences have gotten us most excited about.
Dan M – South Park: The Fractured but Whole.
This years E3, save the awful Monday conferences, was pretty fantastic, with lots of surprises and moments that really did make me feel like a giddy child again, overcome with exuberance. Whilst Sony's conference gave me the most of those spine tingling reveals, their games aren't really ones that interest me all too much; I'll certainly play them all, but I've not been waiting years for them. Therefor, the game I'm most hyped for after the conferences came from Ubisoft's presser, something I never expected at all. I would have been happy enough with just a remake of the first game, but to discover that a SECOND South Park game is on the horizon was absolutely wonderful. Being written by Matt and Trey again, having the best video game title ever, " The Fractured but Whole", and already being funny in the trailer. Give it me now!
Rich – Dark Souls 3
I would have been happy enough with a remaster of Dark Souls, but to find out that not only are we going to get another chance to sword and board, but that Miyazagi himself directing makes this game the one that I will be keeping tabs on until it comes out next year. I really couldn't have asked for anything more to confirm that this E3 has been a stormer of a show.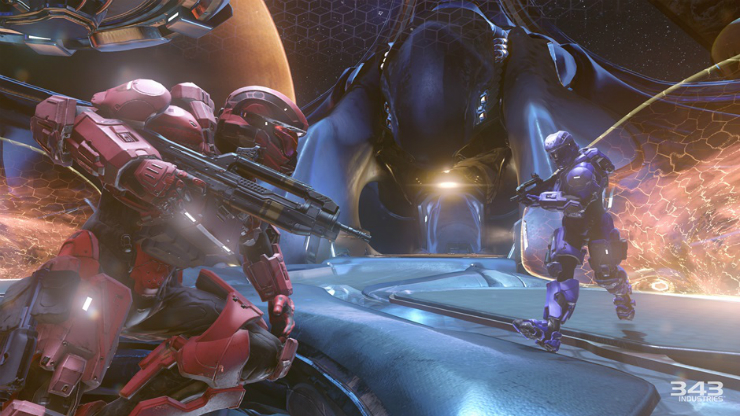 Jonny – Halo 5: Guardians.
Call me boring, or mainstream or whatever, but Halo 5 looks brilliant. The multiplayer beta had me drooling back in December, and the footage coming out of E3 this week has me salivating all over again.
It's just more Halo, right? Well yeah, but look at it, with your eyes, 5 looks like a massive step up in terms of visuals on previous outings – this is next-gen Halo, baby, and it will be the game that brings regular multiplayer back into my life thanks to Warzone and the epic sounding co-op campaign options. Bring it on.
Mikhail – Fire Emblem Fates.
Fire Emblem If launches in Japan next week, but we only got a taste of the English version with a new trailer at E3. Finally being able to see a trailer with English voice overs for and the fact that there was a lengthy demo at Nintendo Treehouse gives me hope that they'll be no delay. Fire Emblem Awakening on 3DS is one of my favourite games of all time and I'm all in for the newest entry in the franchise. I look forward to taking a few days off when it releases to binge play it.

Nick – Kingdom Hearts 3
While it came from what is regarded as one of the poorer conferences, I have to say I am really excited for Kingdom Hearts 3. It looks glorious, and while some of the enemies in the original games were massive, in KH3 they're looking bigger than ever before, plus the sheer scale of the locations seems grander too. It's made me excited to be a Kingdom Hearts fan again, although, I do hope they start to tidy up some of the story threads.
Dan N – Star Wars Battlefront
My emotions for this game have been all over, from the high of the first announcement followed by the dip when they announced it is multiplayer focused. Seeing it in action though has dispelled my doubts: it looks glorious. That Hoth battle looked like playing the films, exactly what I want from a Star Wars game. Sure there's the argument that this is just Battlefield with a Star Wars skin, but so what? Is it a bad thing that it combines one of the most popular universes with one of the best multiplayer shooters around? I certainly don't think so.