Missed Bethesda's E3 livestream? Just want to revisit everything you saw? Fear not, we've got you covered.
Quake: Champions
The publisher kicked things off with a promo video for a reboot of first-person shooter Quake, announcing the game for PC. Bethesda hopes that Quake will become a focal point of eSport gaming in the future, with more details coming at this year's QuakeCon.
Skyrim: Special Edition for PS4/XBO
A highly anticipated remaster of Bethesda's last-gen classic Skyrim was announced, making its way to PlayStation 4, Xbox One and PC on October 28. The console versions will support mods, similar to that of Fallout 4. For more details, see here.
New Fallout 4 DLC and VR support
Following the release of three DLC packs earlier this year, Bethesda announced three new packs to be released later this year. Two of these are workshop bundles, titled Contraptions and Vault Tec, and will bring new building features such as conveyor belts and gun racks. The latter will also allow players to build their own vault. A larger expansion, Nuka World, will see a new area, weapons and enemies introduced. More information on release dates and availability here.
As well as announcing new DLC, Bethesda also confirmed that Fallout 4 will be making its way to HTC Vive next year.
Prey 2 returns as Prey
Bethesda also showed off their Prey sequel, first announced in 2011, now titled solely as Prey. It will follow Morgan Yu in the year 2032 as he boards the Talos 1, a spaceship which is invaded by a strange alien life force. Prey is a reboot of the franchise, and will be available on PS4, Xbox One and PC in 2017.
Dishonored 2 gets lengthy gameplay demo
The publisher also showed off Dishonored 2 at length, displaying a variety of gameplay features and missions during a live demo. This was followed up by a fresh new gameplay trailer. Dishonored 2 launches November 11.
DOOM 'Unto the Evil' DLC pack
A first look at DOOM's debut DLC was shown, titled 'Unto the Evil'. The DLC will introduce three new multiplayer maps, new equipment, a new weapon, and the Harvester — a new player-controlled demon. A free update will also bring new tools to SnapMap and Hell visual themes, as well as introducing fan favourite multiplayer modes such as Classic Deathmatch, Capture the Flag and Capture and Hold. DOOM will also get a VR version sometime in the future, as well as a free demo — launching tomorrow for this week only.
The Elder Scrolls: Legends campaign trailer
As well as showing a retrospective on the success of The Elder Scrolls Online, Bethesda also showed off the campaign trailer for their upcoming card strategy game The Elder Scrolls: Legends. Rich in Elder Scrolls history and lore, players take control of priest Kellen and embark on a papercut-filled adventure. Trailer above.
Wolfenstein: The New Colossus tease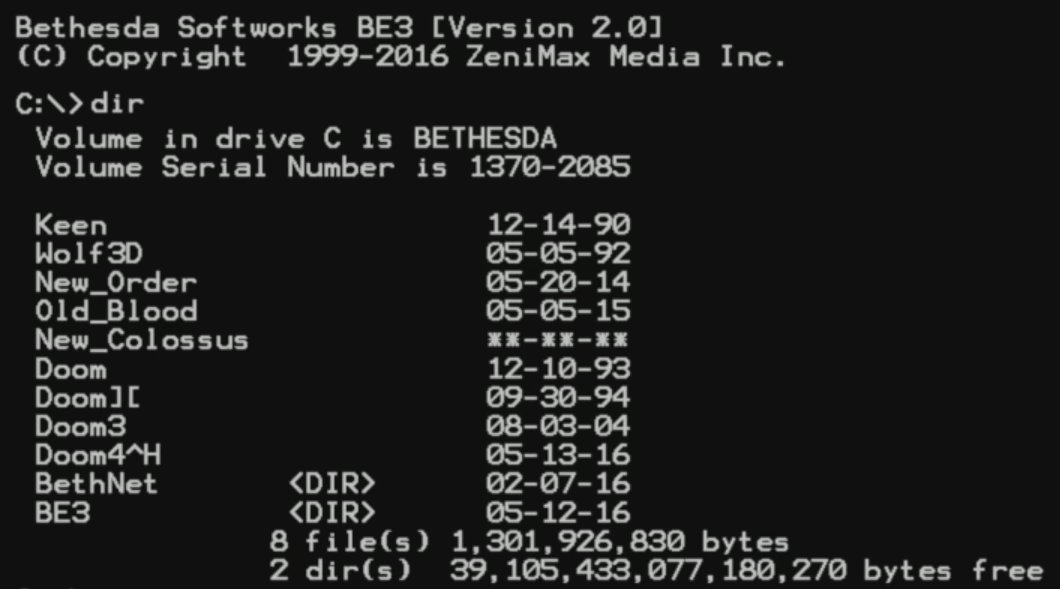 While many expected BSoft to announce the new Wolfenstein game, it was not to be. However the publisher did tease the existence of the game in the first seconds of their conference, during their start up sequence PV. All other details about the game are unknown, but it was a near little trick.