This might sound distinctly like lightning striking twice, and you may well roll your eyes at the following statement and mutter something along the lines of "you said that last year", you'd be right, but that doesn't make this next statement any less emphatic: Pro Evolution Soccer 2017 could be the greatest football game ever.
Now I say "could be" because even though the build may be perfect now, there is no telling what changes could be made before the September release and whether they'll be detrimental or not but, honestly, I played PES 2017 for an hour and it utterly blew me away.
Aside from some minor flaws, I didn't think last year's edition of PES could have been improved upon that much, but the polishing of existing mechanics and the innovations in other areas, that I had never even considered, got me very excited and giddy like an infatuated child.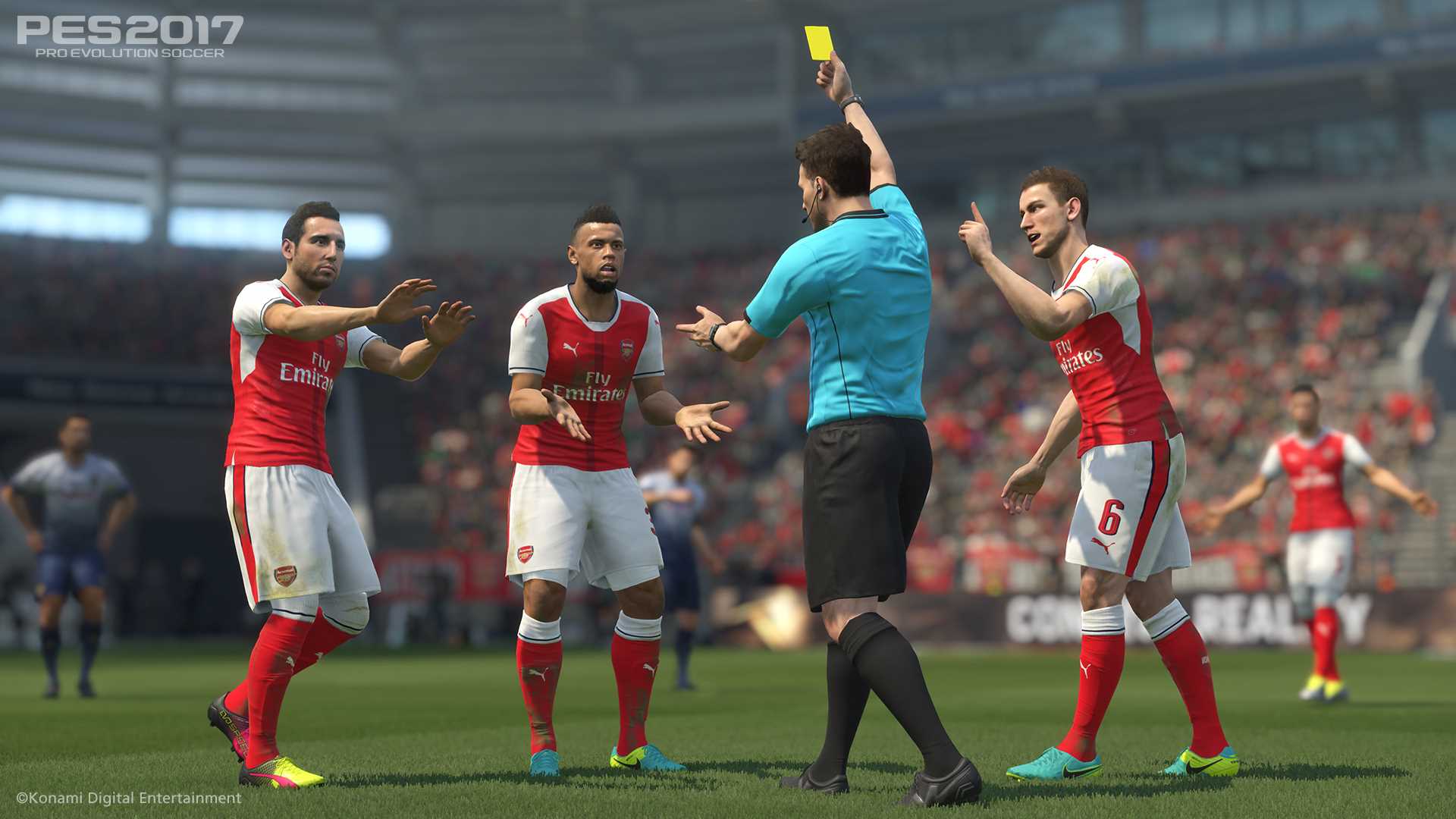 The developers wanted to make it explicit to me that they've listened to the fans of the series and taken their feedback on board when creating this year's PES, and improvements have absolutely been made with them in mind. Referees are a whole lot less lenient now, and you can no longer get away with crunching half-way line tackles that nearly send the victim back in time. You're going to see cards for that sort of behaviour now. The passing has been finely tuned even more, shaving more seconds off that time it takes from you inputting the command to it coming to fruition, meaning the passing and movement is a lot more responsive and feels so authentic. Goalkeepers have also been given the upgrade treatment, in PES 2016 they were often sloppy and had a tendency to palm shots right into the six yard box, laying it on a plate for the prowling striker. While goalkeepers in PES 2017 are still able to make mistakes (they are goalkeepers after all), they have been improved tenfold. They're a lot quicker off their feet after making a save, meaning double saves are much more likely, they're faster and more effective when coming off their lines and they tend to catch crosses rather than punching them clear. One final change, that will definitely make PS4 players cheer, is that now all kits can be uploaded in a single file. Yay!
Now, lets get on to the proper good stuff. There are two innovations in PES 2017 that truly make it stand out against the rest of football games and, without sounding too hyperbolic, did blow my mind quite a bit.
The first of them being Player ID. Now, we all know that PES is great at making the footballers actually feel unique, with each player being distinct from one another and easily identifiable, not because of the hair cut, but because of the play style and their physically. Instead of just being a load of arbitrary numbers dressed up in a football kit, the footballers in PES 2017 feel like footballers. Paul Pogba, Mesut Ozil, Toni Kroos, Oliver Giroud, Alexis Sanchez, and Antonine Griezmann (just for example) all feel vastly different, meaning you can play to their strengths and styles. Player ID takes this idea even further, by making the players as closely resemble their real counterparts as possible.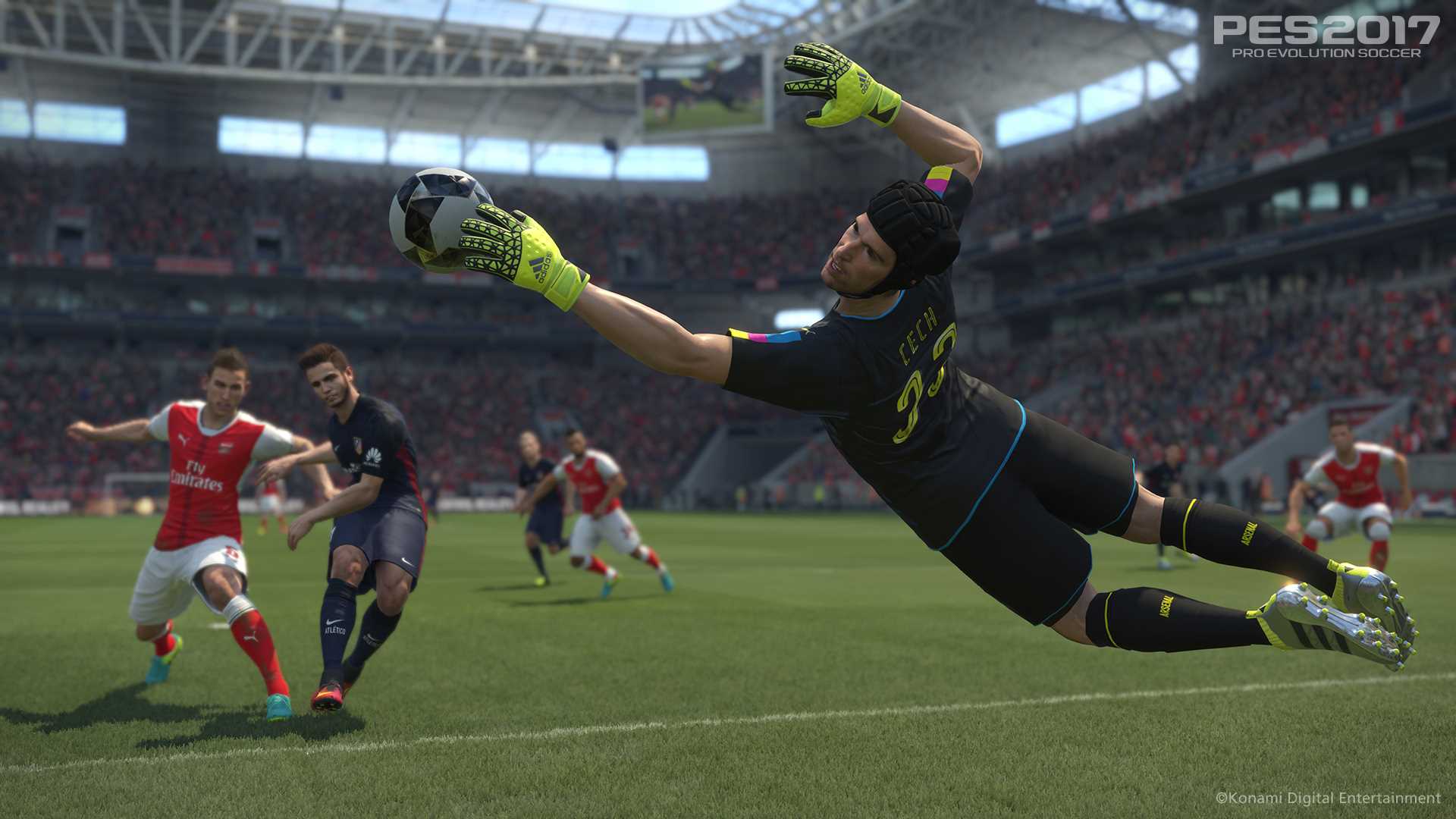 I wasn't just told about Player ID, I first realised it when I was playing as Germany and my opponent had slipped through my backline and was rushing in on goal. I quickly pressed triangle to bring out my goalkeeper and in a blink of an eye he was there to clear away the ball and dispel the danger. The reason my goalkeeper got their so quickly was because my goalkeeper was Manuel Neuer and, as is his way, his starting position was a lot further forward than the goal line, meaning he was out in an instant to clear.
That's just one example of how PES 2017 is giving the footballers their real life attributes and making them come to be within the game, making it to be, potentially, the most realistic football experience other than kicking an actual ball. I was also told that David De Gea would be weak at his near post, so you know they've got it spot on.
The second innovation is Adaptive AI, which could well be another game changer. Adaptive AI is pretty simple: as you're playing against the computer your opponent will react in game to your own tactics. So if you're constantly attacking down the wing, they'll double up on that side. If you have a playmaker pulling all the strings in the middle of the park, they're going to stick a man on him. If you're going long they may sit back, if you're passing; they may pressure you, they may try and pin you back, or they might just be happy to let you mess around with it and then hit you on the counter. The possibilities are endless and it just makes the game feel dynamic, real, and it makes you think about potentially switching up your style of play.
They're just two of the innovations, and there may well be more to uncover yet, which has me excited. It's all I've wanted to play since E3, and I need it now.
In my hour with PES 2017 there must have been around 20 goals scored, and every single one of them was different. Even the two different freekicks I netted varied, one being a dipping shot into the top corner and the other being hit hard and low into the bottom one. From stuffy rebounds and goalmouth scrambles to absolute wonder strikes from 30 yards that had me going "phwoar", the goals looked and felt wonderful. So, rest assured, PES 2017 very much still has the "goal feel", too.
PES had me beaming while I was playing and discovering the new touches, improvements, and mechanics that have been added to the game. I now hope you've stopped eye rolling and think that PES 2017 sounds pretty fucking cool, because it sure is.
Listen to Dan talk more about his time with PES 2017 in this podcast, as well as this one.

Article originally published on July 7, 2016.