E3 2017 was filled with lots of great stuff, so David, Nicola, Gary, and Chris from the God is a Geek team decided to share with you what their favourite announcements and trailers of the event were.
John Vanderhoef
John is our man on the floor this year, so got hands-on with most of the games you're seeing that we've previewed. He appears courtesy of GameCritics. Thanks, lads!
Outreach
This game invents the first-person floater genre. It's a great indie narrative adventure that oozes atmosphere and presents itself as an historical fiction that highlights the tensions of the 1980s Cold War while taking place on a desolate, abandoned space station orbiting the earth. I've played all the latest iterations of the known franchises, and this game easily stands out as an example of an original voice, which is all too rare in game development today. It has something to say, and it says it with an original, enduring setting, narrative, and gameplay loop.
Minit
With so many games doubling down on popular genres and mechanics, Minit offers players a breath a fresh air. In 60 second intervals, players have the chance to explore a minimalistic, dense 2D world that offers puzzles, unique characters, and areas that lend themselves to the mechanics of this game. It's a unique experience that promises to challenge and intrigue players, and it comes from a transitory coming-together of some of the rising stars in video game development today. What at first glance might look like a weekend gam jam submission proves to be a game worth paying attention to, especially for players looking for something different this year.
David Hunter
Given that we're limited to picking only three games from the vast number shown at E3 (Thanks Chris) and I'm hyped for so many of them; Super Mario Odyssey, Spiderman and Ori 2 to name a few, I've opted to narrow my choices down to new announcements only to make the decision a bit easier.
Pokemon Switch
My favourite announcement from any of the conferences has to be Nintendo's reveal that a Pokemon for Switch is in the works. Not just a gimmicky spin-off either, a full on core series RPG on a home console for the first time. Even though it's a ways off yet and we learned almost nothing about it, we at least know that it's definitely coming now and can start looking forward to learning more.
Skull and Bones
Everyone knows the best bit of the best Assassin's Creed: Black Flag was sailing the seas, battling other ships and claiming their loot. Makes sense then that Ubisoft would take that aspect, ditch the assassins and turn it into the online multiplayer, pirate showdown extravaganza that is Skull and Bones. The gameplay shown looks like great fun and reports from those who got to play it on the show floor are equally good so I can't wait to get my hands on it whenever it launches next year.
Anthem
The initial announcement of Anthem, at EA's press conference, was a tad underwhelming but since we got more information and saw some gameplay at Microsoft's event, I know I'm not alone in my excitement for Bioware's new IP. Flying around that open world, Iron Man style, exploring and battling its monstrous residents both alone and teamed up with friends sounds awesome, not to mention the whole thing looks absolutely gorgeous. I just hope the final product ends up being as enjoyable to play as it was to watch, but I have faith that Bioware can bounce back after the mediocre reception to Andromeda, earlier this year.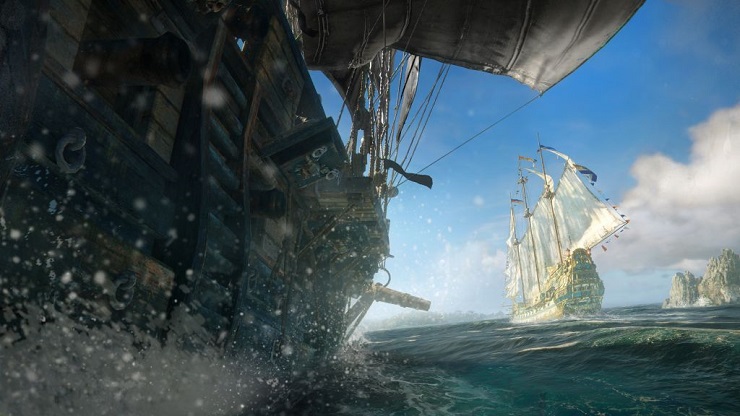 Nicola Ardron
Look, obviously one of my most anticipated games from E3 is the stunning looking new Bioware IP – Anthem. It looks incredible and I can't wait to find out more about it, but it is an obvious choice for me to go for as one of my most anticipated so I thought I would throw a curveball and go for a couple of other titles that were shown. That, and Chris is only letting me pick three, the mean bastard.
Sea of Thieves
I'm still holding a torch for this one. I'll admit to not really knowing much about what you actually do in it, and the trailers and gameplay stuff we have seen so far on it don't really help make that any clearer. But… IT'S PIRATES!
I've always wanted a pirate game, and with Rare at the helm I am hoping that this is going to be a fun, whimsical game to enjoy with my friends. The fact that it is largely a multiplayer co-operative game actually makes me more interested as being a fan of co-op there has been a dearth of good games that allow this recently. Time will tell if Sea of Thieves manages to deliver. Microsoft seem to be pushing it hard as one of their platform exclusives and I remain hopeful that it will be a fun filled game that I'll enjoy for many months.
Monster Hunter World
So, I've never played a Monster Hunter game, but they always look like the kind of title that I would like to try. Watching the reveal during the Sony presentation I got a real sense of Dragon's Dogma from the trailer shown, a game that I utterly adored on my Xbox 360. I know that the games are completely different from each other, but one of the bits of Dragon's Dogma I really enjoyed was fighting the creatures and I got a real sense of that same challenging battle. Plus it is multiplayer co-op which I love and I do get very hooked into grindy games. I have already tentatively tapped up one of my friends to see if he is interested in it as well, so I will definitely be keeping my eye on it.
A Way Out
There is a bit of theme running here, but I am mad keen on A Way Out not just because it's co-op (although that is what initially piqued my interest!)! After watching a few clips and reading a few of the preview pieces various outlets written from the show, it's definitely a game I am intrigued by and can't wait to see how it works in practice.
I played Brothers: A Tale of Two Sons a while back and enjoyed it a lot. I wasn't quite as enamoured with it as some were, but I really liked the control element and how that neatly worked into the story that Brothers told. A Way Out won't play in the same way, but I am interested to learn that it is exclusively a co-op experience which has my mind racing as to how that translates into the story and experience that Fares, the write and director, wants to tell.
There were plenty of other titles that caught my eye as well, Days Gone looks interesting, a lot of the ID@Xbox stuff got me interested as well, and surprisingly Ubisoft showed a few titles that piqued my interest, Far Cry 5 has a dog that fetches you weapons so that's probably a day one, and it's great to see that the much loved Beyond Good and Evil is FINALLY getting a follow-up. It's a great time to be a gamer!
Gary Bailey
Despite some of the moaning and online criticism of the most bizarre things, this year's E3 showings were mostly great. We got a new console (well, sort of), we saw the long-awaited return of Samus and we were shown an awful lot of games, some new and many we'd seen before. But what excited me the most? Well, plenty really, but here are just three that I was happy to see:
Forza Motorsport 7
You all knew this would be on the list, didn't you? I've wanted this game for a while now, as Forza 6 is genuinely my favourite racer, and I even wrote a piece about what I'd like to see in the game – some of which has been confirmed since its announcement.
New disciplines, dynamic weather and realistic passage of time, and this is before we even know what cars and tracks will be in the game, beyond the few that were demoed at the show. With a new career mode that seems to offer more of a realistic championship model, this could be a game that I will sink another six hundred hours into. It's also a nice showcase piece for Microsoft's new console upgrade.
Anthem
Well, I didn't get Dragon Age 4 this year. I'm not bitter about that at all. Nope, not at all. Aaaanyway, Bioware and EA did soften the blow somewhat with the introduction of this absolutely gorgeous-looking new IP. Looking to take cues from Destiny, Mass Effect, Titanfall and even Avatar (the James Cameron film, not the one with the bald kid), I was instantly reminded of Bioware's quality.
If the multiplayer element works as well as Destiny or even the current build of The Elder Scrolls Online, this could be great for players like me. The more laid back nature of simply meeting players in the wild, without obligation or social pressure, is perfect for a solo gamer like myself. Yep, I got a little serious for a moment there.
So…moving on…
The Crew 2
Another multiplayer one, Gaz? After what you just said?
I know, right? In all honesty, I didn't expect to be bothered by The Crew 2. The first game was alright and had potential, but its daft story was unnecessary and its handling just wasn't good enough to sustain a full game. But by removing the silly story and focusing on the racing and exploration, especially with the inclusion of planes, Ubisoft Reflections might well have found a game that could possibly rival Forza Horizon 3. It also looks much better now, after ditching Xbox 360 to focus solely on the current generation of consoles, and of course PC.
Definitely one to watch.
There are so many others I want to mention, but I'd be here all week…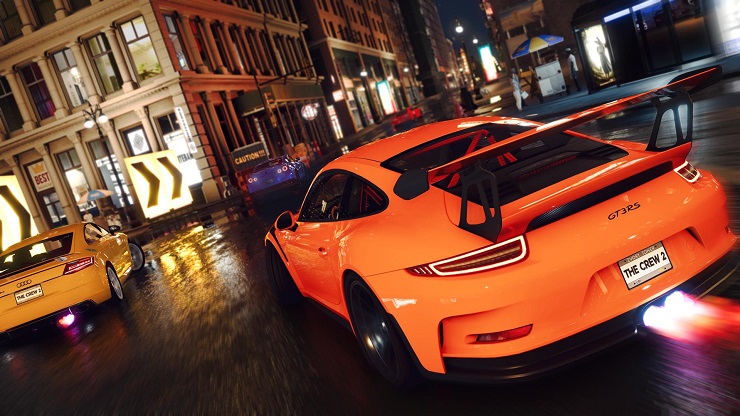 Chris White
By restricting the other 3 writers to just 3 games, I have restricted myself, and that was a rather foolish error. E3 2017 didn't reach the heights of last year's, but there were still a lot of games that got me excited for the coming few years, and it's been a struggle trying to whittle my hype list down. I've been mulling over my favourites since it ended, and I'm pretty sure my top 3 have changed from day to day, but when I really, really think about it, there are only 3 games that truly stand out for me.
NBA Live 18
Look, I know the last NBA Live game wasn't the best, but I'm glad to have the series back. I adore the 2K series, but I always think that every great game deserves a rivalry, much like FIFA and PES. When Kendrick Lamar's 'DNA' started playing during the EA conference, and NBA Live 2018 was revealed, I got goosebumps (and not just because it's a phenomenal tune). The One sounds like an excellent mode, allowing you to rise through the ranks and play basketball all over the place, including the NBA itself, the Drew League, and even on the streets. The only thing I want is tighter controls and an excellent move set that makes playing basketball fluid and stripped back. If they incorporate the EA in-game tutorial I'm sure the game will blow up; it'll help everyone learn the system as you play, allowing you to get good fast, and enjoy everything it has to offer. From the few real NBA players in the trailer, likeness seems to be paramount as well, with players like James Harden, Paul George, and Steph Curry all looking lifelike. Yeah, I'm all in. NBA Live 2018 looks like it has the potential to take 2K's crown.
Assassin's Creed: Origins
I will forever be in love with the Assassin's Creed series, regardless of what people say about it. "It's mechanics are too repetitive," or "it's too similar to the previous entry." Well, naysayers, you're all wrong and I am right (please keep reading). Ubisoft do such a great job of building such exciting worlds, incorporating rich histories with beautiful locations; Italy, the Carribean, London – all incredibly fun to explore. Combat has always been intricate and dynamic, with your Assassin – whether Edward Kenway or Ezio Auditore da Firenze – flows, and it is thrilling.
Whether you can get past the main character's name being a Northern English phrase or not, Bayek sure looks cool, and the Eygptian setting looks like one of the nicest yet. The levelling up system seems to have been improved, and some of the combat featured in the E3 showcase looks like it has made further tweaks and fine tunes to make it damn near perfect. I for one cannot wait to get stuck into the story of the birth of the Assassins.
Far Cry 5
As 'Amazing Grace' begins, and a church full of people sing along, there is a tone of instant dread. Then, as the gameplay trailer is shown, we're introduced to some fucking crazy gunplay. First off, it's great to know you'll be playing the game with a group of characters, all with different abilities, including your ickle doggy named Boomer! He picks up guns for you, and bites the hell out of your enemies. Setting the game in Montana, where a murderous cult serve as the game's villains, certainly gets me excited. If it harks back to the chaos of Far Cry 3, I am all in.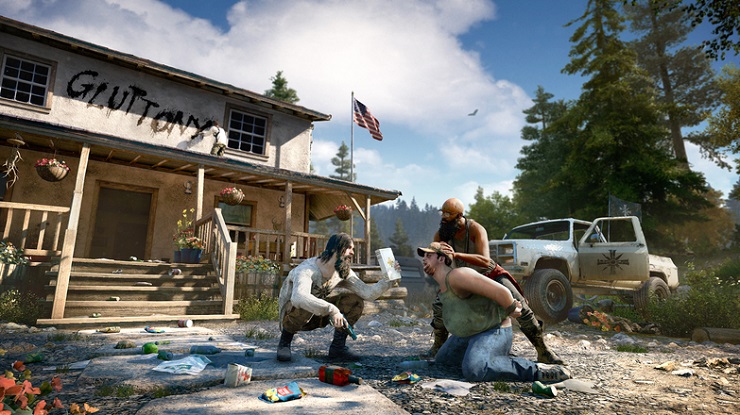 That's it for another E3; hopefully we get to play all of these games above in the next year, and delays are few and far between. Regardless, I think we can safely say the next year is going to be a busy one, and we couldn't be happier.