Release Date
March 23, 2018.
When A Way Out was unveiled at E3 2017, it felt like a breath of fresh air. Firstly, there are seldom prison escape games available, and secondly, games designed to be played solely via co-op are few and far between. Not only that, but the story seemed interesting, and with Josef Fares at the helm (the man behind Brothers: A Tale of Two Sons) it was surely going to be an interesting one.
You and a friend can play together in the same room, or over the internet courtesy of online play. For the majority of A Way Out, you are playing via split screen, with the occasional cut scene taking place along the way. Regardless of whom you're playing with, these cut scenes are watched in sync with your partner, and every second of the game is happening at the same time for both of you.
The story follows Vincent and Leo, two criminals in prison for different reasons. When a mutual interest ignites the spark for breaking out, an engrossing story unfolds, and you begin to learn more about them, and the paths they took to wind up in jail. It's a story that takes a while to get going, but after the initial few hours of getting to grips with the mechanics, things start to open up quite a bit, with an almighty twist and a moving ending that'll have you reaching for the tissues.
There are some well-crafted gameplay segments where you really do have to work together to progress, using both characters to solve multiple puzzles and get past some interesting scenarios. For example, there's a quest early on that has Leo attempting to steal a screwdriver from a workman who's sorting the electrics out in the prison's infirmary. As you attempt to sneak away, Vincent must distract the nurse in a multitude of ways until Leo gets out of the room. On the same floor, Leo needs to get past a prison warden, and it's up to Vincent to bang against the glass window behind his bed so that the warden will turn around and allow Leo to sneak past.
The game is filled with these types of situations, and actual communication between you and your friend is vital. Later on, in the 6–7 hour campaign, it opens up somewhat, showcasing Fares' Uncharted inspirations, especially Drake's Fortune. In fact, there are many caps tipped to Uncharted in A Way Out and knowing that alone should give you some hope in the work that Hazelight has put into this.
Many of the controls are repeated throughout: there's lots of pressing the right trigger at the same time as your friend to lift open steel grates, or pulling back metal fences, as well as pressing a button at the same time to bash open double doors, but it never gets repetitive. There's lots to do, and the action never slows down: there's always something around the corner. One of my favourite sections sees the two of you trying to escape a hospital, and it's in the sections that allows each player to have their own screen time, if only for 30 seconds at a time. You're both on different floors, and you're both struggling with different obstacles, but the directing in these scenes are something special.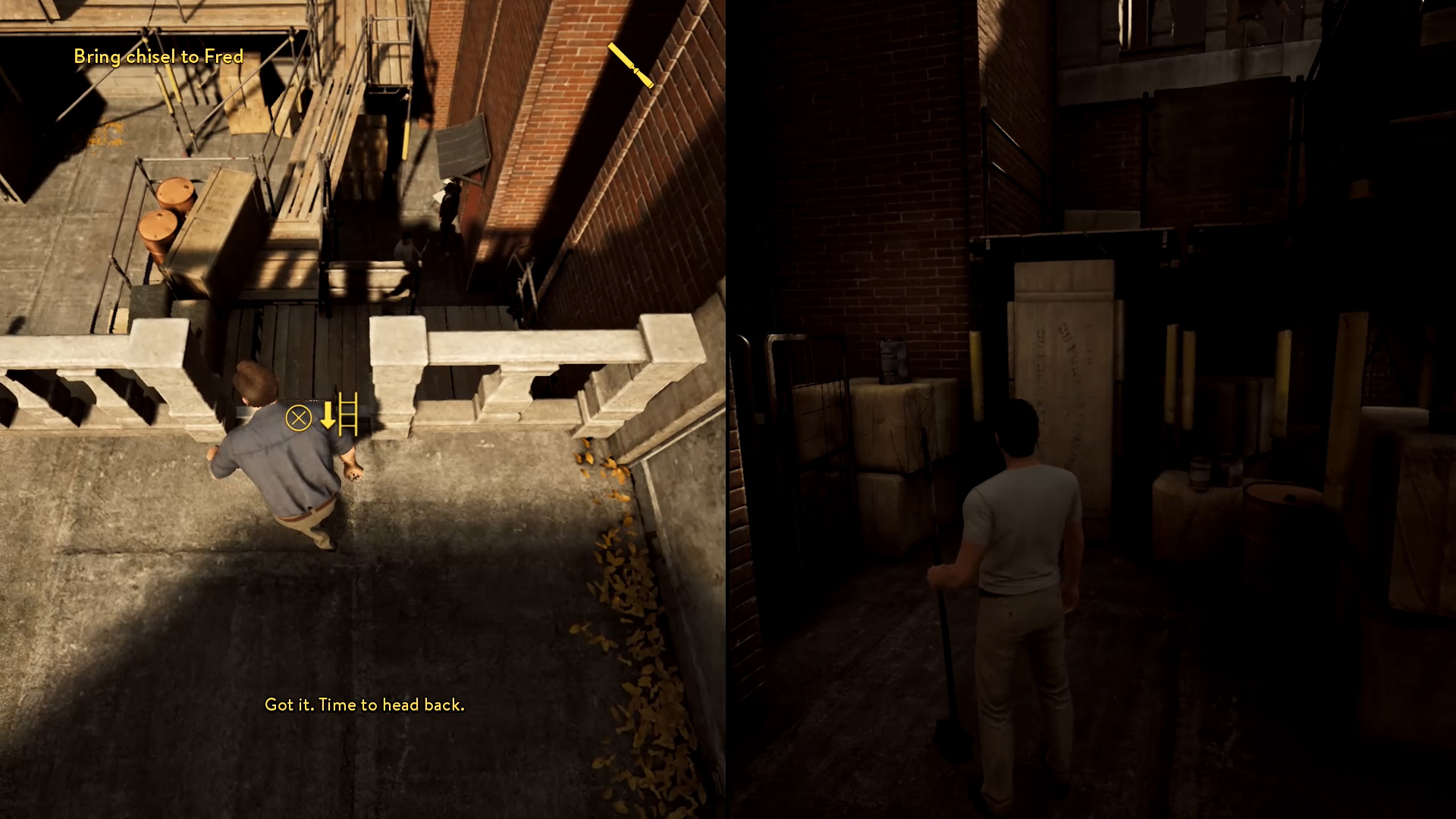 The linear nature of A Way Out serves the story well, especially with the pace of the game. There's never a time where you must get somewhere, do something, move on to the next thing, then travel back to previous locations. Instead, the game may have you watch a cut scene telling you you need to go to the prison yard, then a quick fade to black leads you to being in the prison yard without wasting your time walking there yourself. It may not sound like much, but these passages of time take out a lot of unnecessary travelling, allowing every story beat to impact you without lots of dillydallying.
I'm hugely impressed with A Way Out. The story is a slow burn, but once you're in the thick of it and you begin to care for Leo and Vincent it has some fantastic moments that really impact you. There's a lot to do when exploring specific locations, such as chin ups in the prison yard, and playing baseball, basketball, and a few games on an arcade machine. Some of the voice acting doesn't always feel natural, but it's not enough to leave you feeling distant from Josef Fares' tale of two brothers from another mother.
Positives
Fantastic twist
Emotional ending
Gameplay mechanics work well
Negatives
Takes a while to get going
A Way Out is a story worth sharing with a friend. There's plenty to do, with moments of intensity and emotion, and the ending is one of the best conclusions in video games.