This year has already been good to motorsport fans, with the likes of MotoGP '17, Dirt 4 and F1 2017 already out, and we've still got Project CARS 2, Gran Turismo Sport and even Need For Speed: Payback due over the next few months, plus the next instalment in Microsoft's flagship series, Forza Motorsport 7. Luckily, we got to ask Ryan Cooper, Executive Producer of Forza Motorsport 7 a few questions on how Turn 10 Studios' latest title is shaping up.
One of the most interesting features of the Forza series on Xbox One has been the introduction of its Drivatar technology, bridging the gap between online and offline play. So, how has that changed for the new game? "Since its inception in the original Forza Motorsport, we continue to learn about how players drive in our games. As a result, we continue to evolve the nuances of Drivatar behavior. Players have a choice of whether to race against their friends' Drivatars either in raw form or they can choose to filter out annoying behaviors," Ryan responds. "Your Drivatars as well as those of your friends will use the same cars, liveries and Driver Gear that they use when playing online, and will also exhibit the same driving tendencies that their real-life counterparts use. The result is a racing experience that makes each race more personal, and more fun, every time you go out on the track."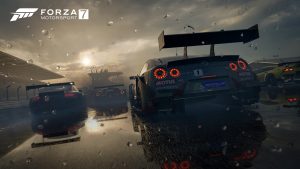 That should help keep Forza ahead of its rivals, but with all the big racers in 2017, we had to ask how else will Turn 10 set its game apart from the competition? "The Forza franchise is the highest-rated racing franchise of the last ten years and "Forza Motorsport 7" is the most comprehensive automotive game ever made. Players will be able to experience competitive racing at its limits, and the game has been built from the ground up to showcase native 4K gaming and HDR at 60 frames per second. Forza Motorsport 7 is also the most accessible and customizable Forza game yet, with new Assists and Mods designed to help players of all skill levels plus unprecedented tuning for veterans to dial in the game how they like. We're confident in our brand, vision for the franchise, and commitment to excellence, regardless of what others are doing."
It sounds like Turn 10 aren't worried about what the competition is offering, instead remaining confident in the wealth of driving assists and mods that worked so well in Forza Motorsport 6. But with the Forza Horizon series grabbing a larger audience, and people seeing it as the more fun game, how will Turn 10 convince players that Forza 7 isn't just another simulator? Ryan is quick to point out that both Turn 10 and Playground Games, developer of the Horizon games, are constantly sharing their knowledge and ideas with one another. "With Turn 10 Studios leading development for Motorsport and Playground Games developing the Horizon series, we are able to share our technology, creativity, knowledge and experience, which allows both teams to push harder and innovate more than we could do on our own. For Forza players, the benefits are enormous: two distinct "flavors of Forza" with Motorsport and Horizon, plus continuous development and improvement on the ForzaTech engine shared by both studios."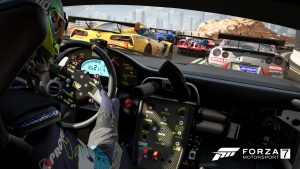 And with this year's game having the power of the new Xbox One X behind it, we asked Ryan if this will affect anything more than just visuals. He assured us that Forza Motorsport 7 is all about the complete experience of "sights, sounds and the feel of driving amazing cars." Of course, this will be achieved on any Xbox One, but Ryan continues, "using the power of Xbox One X, we're able to bring that experience alive to an unprecedented degree, with improved textures and lighting, car models rendered in unprecedented detail –all while running at native 4K and 60 frames per second. In addition to stunning visual performance, the Xbox One X also allows players to stream 4K content via our integration with Mixer, and provides faster loading times for players, meaning they're even closer to the action than ever."
That all sounds promising for those of you who have got your Xbox One X pre-orders placed, with less time between races. DLC is a big part of both Forza series this generation, delivering a wealth of new content throughout the year; what will Forza 7 offer to keep things fresh post-launch? Unfortunately most of those details are under wraps right now, but Ryan says that the information will be shared at a later date. He is keen to reiterate that Turn 10 has "a long history of supporting Forza games with add-on packs and car passes. Deluxe and Ultimate Edition owners will automatically receive access to VIP membership, digital-only pre-order bonus content and the Hoonigan Car Pack (available for digital bundles only) on release day, and Ultimate Edition owners will also receive the Forza Motorsport 7 Car Pass in addition to early access to the game on Sept. 29."
In addition to this, we asked about licensed motorsport series making an appearance in the game. Although no real specifics were given, Ryan did have this to say: "Earlier this month, Xbox and Forza partnered with professional rally and stunt driver Ken Block and motorsport-lifestyle brand Hoonigan to bring some of the most iconic Hoonigan cars to "Forza Motorsport 7" and "Forza Horizon 3." Fans who pre-order "Forza Motorsport 7" digitally will receive Hoonigan Car Packs for both games at no additional cost, which includes the videogame debut of Ken's 2016 Ford Focus RS RX #43 rally car in the "Forza Horizon 3" Blizzard Mountain expansion." Not too much given away there, but rest assured that we here at God Is A Geek will keep you updated on future DLC plans, as and when Turn 10 shares them.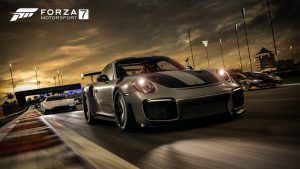 As we learned earlier, both Forza series' developers share their creativity between studios, and it looks like some of the Horizon driver customisation has made its way into Forza Motorsport 7. With the ability to customise your Drivatar's appearance along with the livery of your cars, we wondered how the customisation has evolved. The Executive Producer was happy to divulge a little about these features. "Players can personalize their Drivatar's appearances with our massive Driver Gear collection, including hundreds of options spanning decades of race history and pop culture," he responds. "In addition to tuning cars for performance improvements, players can also create their own custom liveries in the game. Returning players can also import their designs and vinyl groups from "Forza Horizon 3" and "Forza Motorsport 6." The livery creation tool is the most robust in the racing genre and has become synonymous with the Forza community, allowing artists of all levels to create amazing designs on their favorite cars with as much or as little detail as they prefer."
Finally, we moved onto some multiplayer details. Forza Motorsport 7 includes a new Adjudication system requested by fans, to ensure that online racing is more fair. But these kinds of systems aren't always a success. Ryan assures us that it will work, saying, "this system creates a consistent 'edge of track' definition that is equally applied to all tracks helping to better inform optimal racing lines. The result will help players when competing and create more consistent qualifying and rival competitions." No more corner cutting for all you naughty cheaters out there, then. You know who you are.
But will matchmaking keep things fair for everyone too, keeping players of similar speed and ability together? "Players looking to race with players of similar skill will want to play in Leagues Seasons," Ryan announces. "Leagues Seasons are a new multiplayer feature in "Forza Motorsport 7." Leagues Seasons are a strictly defined, scheduled series of events. League Seasons keep track of a driver's points and match them to other drivers in groupings called Bands. These Bands allow players to race against others of the same skill level, providing competitive matches to all drivers regardless of experience level."
With the growing popularity of eSports and indeed the Forza Racing Championship, it sounds like Turn 10 is committed to providing a safe and welcoming online space for us racing fans. All that remains is for us to thank Ryan Cooper for his time and his answers, and to ask him that age-old question: where does he keep his ketchup? Is he a fridge or cupboard man? "The refrigerator and pantry. I always double up on all condiments. One for daily use and one for back-up in the event that I run out." He's not taking any chances in this ketchup fight, folks.
Forza Motorsport 7 and its exclusive Porsche GT2 RS arrive on October 3rd, with the Ultimate Edition offering early access from September 29th.