Square Enix just announced limited and vinyl releases in addition to a regular retail release for Life is Strange: Before the Storm.
When the original Life is Strange had a retail release announced, I went ahead and bought every version. I'm a big fan of retail and physical releases and love Life is Strange so it was basically perfect. Before the Storm has surpassed all my expectations and I'm super excited to finally see a retail release announced. There will be three editions for all 3 platforms. The standard one will be available at all retailers. The Limited edition will include the standard game, an artbook, and a CD with the licensed soundtrack. The Vinyl edition includes the above with the licensed soundtrack on vinyl as well. Only the Limited and Vinyl editions include the bonus episode that releases the same day as the boxed editions. The vinyl edition is Square Enix store exclusive. Watch a trailer for the bonus episode below (assuming you have played the 3 main episodes):
The limited and vinyl editions include the follwoing in game content:
Mixtape Mode – Design your own playlist from the Life is Strange licensed soundtrack and listen to it alongside a cinematic scene from the game
Outfit pack – Change up Chloe's look with three new complete outfits. Includes Punk Doe, Hawt Dawg Man & Illuminati outfits
Episode 1 from the first Life is Strange season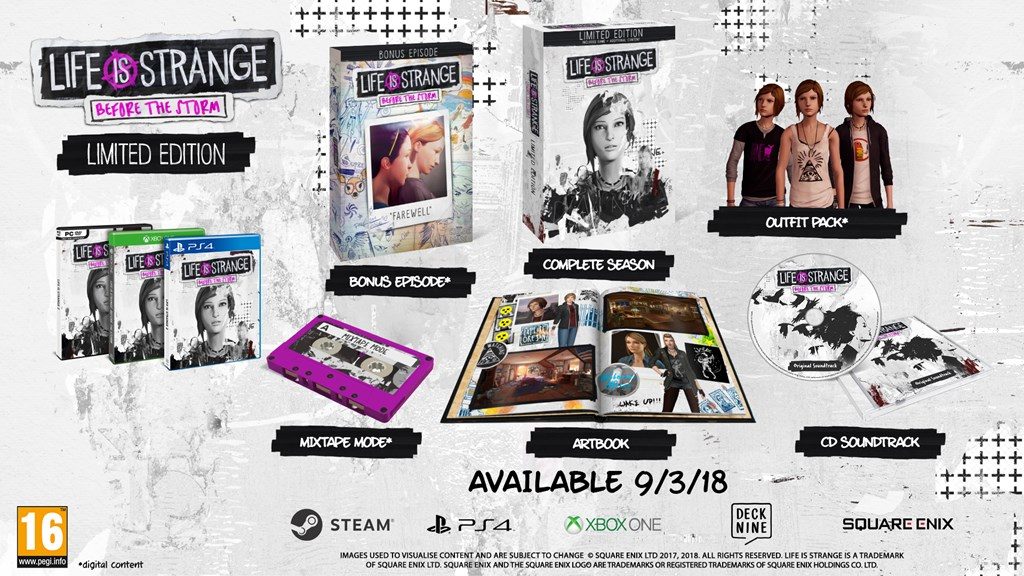 The licensed soundtrack song list is below:
Daughter – Flaws
Koda – I Don't
Daughter – Glass
Ben Howard – Black Flies
Daughter – Youth
Lanterns on the Lake – Through the Cellar Door
Daughter – All I wanted
Speedy Ortiz – No Below
Daughter – A Hole in the Earth
Broods – Taking You There
Daughter – Burn it Down
Wolf Alice – Bros
Daughter – No Care
Brody Dalle – Don't Mess With Me
Pretty Vicious – Are You Ready for Me
Life is Strange: Before the Storm physical, limited, and vinyl editions release on March 9. Pre-order the vinyl edition here.