The AverMedia 311-BO311 Live Streamer Kit is a one-stop shop for start-up streamers looking to get into the YouTube business. It comes with a PW313 Live Streamer Cam webcam, a USB AM310 microphone and a Live Gamer MINI capture card. It proclaims itself to be everything you need to get started as a streamer, but just how competent a package is it?
First off, I'm not much of a tech head. I know the basics, but I don't stream a lot and have only been producing videos for less than a year. That being said, I had this kit out of the box and set up to go with Streamlabs Obs in under 15 minutes. It was very easy to configure and, while I didn't stream with it, I did use the capture card and mic to produce the below video. Read on for a break down of how each component performed for me.
PW313 Live Streamer Cam
I'll start with the webcam because that's not in the video. I swapped my Logitech C920 HD Pro for the 313 and was actually surprised at how much easier it was to set it up with Streamlabs and how little delay there was. I usually have to tweak the Logitech cam a little, but I didn't with this one. It's a pretty lightweight piece of kit and I wouldn't expect it to survive a drop from a desk onto a hard floor, but it's very small and unintrusive so leaving it set up is no problem. It has a standard grip mechanism to clip it to the top of a monitor, or you can unscrew the base and mount it on a tripod, stand or boom if you prefer.
Unlike the Logitech C920 and others it doesn't come with its own software so I was unable to adjust the picture like I normally can. I couldn't zoom in or out and to centre my face I had to manhandle the camera a little bit. The lense does rotate on a ball joint but don't expect miracles. There is a privacy cover, too, for when it's not in use. As it's plug and play it was dead easy to set up, and the capture was clear if a little dark. You can adjust brightness, contrast, sharpness, etc via Streamlabs source settings.
Overall it's a very decent low-range webcam, but for me it loses out to my Logitech purely because it's harder to adjust and feels much less robust.

USB Microphone (AM310)
Secondly, the mic. Now, my usual mic is a Samson G-Track Pro with a cheap-ass pop filter I bought for about 7 quid on Amazon. It works perfectly well with SlObs, even better when just capturing audio for a voice over. The AM310 provided with the 311 kit is actually a very solid mic, just not as feature rich as the more expensive G-Track Pro.
It looks nice, and fixes to heavy base or a tripod / boom assembly. It doesn't come with a pop filter, though, so you will need to buy one seperately if you intend to do a lot of VO or chatting on streams. Again, the relatively small and streamlined design means it doesn't clutter a desk or workspace, and it connects through a USB which makes it super easy to set up. I had no issues using it in SlObs or to record via Audacity. It doesn't have a bunch of settings or features, but the sound quality is perfectly acceptable.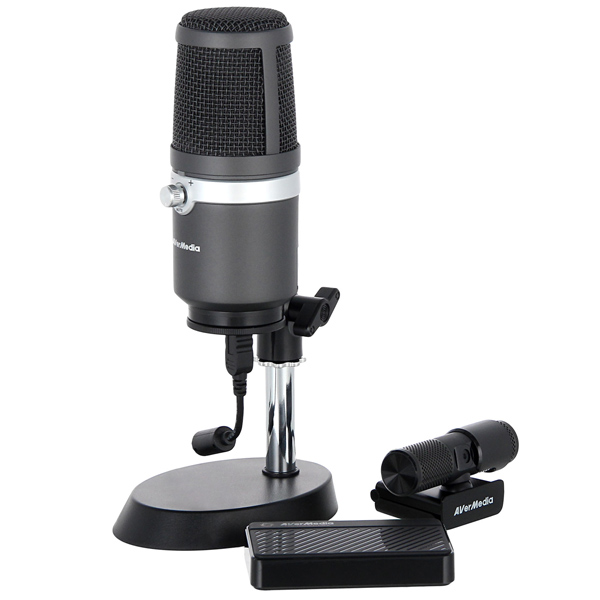 Live Gamer MINI (GC311)
Now, the capture card is a tougher sell for me personally. Not being a regular streamer means I'm normally content to use my Hauppauge Rocket to easily capture specific gameplay directly from my consoles. Being a capture card, the MINI runs through your PC or Laptop meaning you'll need that set up in place. That said, it comes with a dedicated hardware encoder, which means it doesn't steel memory from your laptop or pc to run. It also works very well with Streamlabs Obs.
Aesthetically, it's a tiny wee little thing. It's very lightweight and unintrusive, and looks more like a USB multiport adapter than anything else. It comes with a cord extension too, which is handy.
Overall the package is solid. For under £220 it is a decent value for what is essentially a trio of low to mid-range products. True to its spiel it certainly is everything you'll need to get started a streamer or YouTuber, but be aware that there are many better, and more expensive, alternatives out there for content creators.
That being said, the 311 Live Streamer Kit is easy to set up, very simple to use, and works well with 3rd party software like Streamlabs Obs. For someone just finding their feet, it's a good package and a relatively easy entry point.