Just a week away from the release of Kingdoms of Amalur: Re-Reckoning, THQ Nordic has released another gameplay trailer. After the first focused on the Finesse path, this one focuses on the sheer brute force of Might.
Check it out here.
The way of a true warrior, that's what the path of Might offers you. Wield a noble longsword, a giant hammer, or the brutal greatsword, and mow down your enemies. Might abilities will grant you more offensive power as well as allowing you to wear the sturdiest pieces of armor and have a strong constitution. Might is all about melee style combat – if you see your opponent standing from afar, throw your harpoon and invite him to a dance in close range.
Created by the impressive trio of acclaimed author R.A. Salvatore, Spawn creator Todd McFarlane and The Elder Scrolls IV: Oblivion creator Ken Rolston, Kingdoms of Amalur was originally a sprawling, open world action-RPG. Brought back to life by THQ Nordic, this remastered version has improved visuals and contains all DLC from the original release. There is also an entirely new expansion coming in 2021.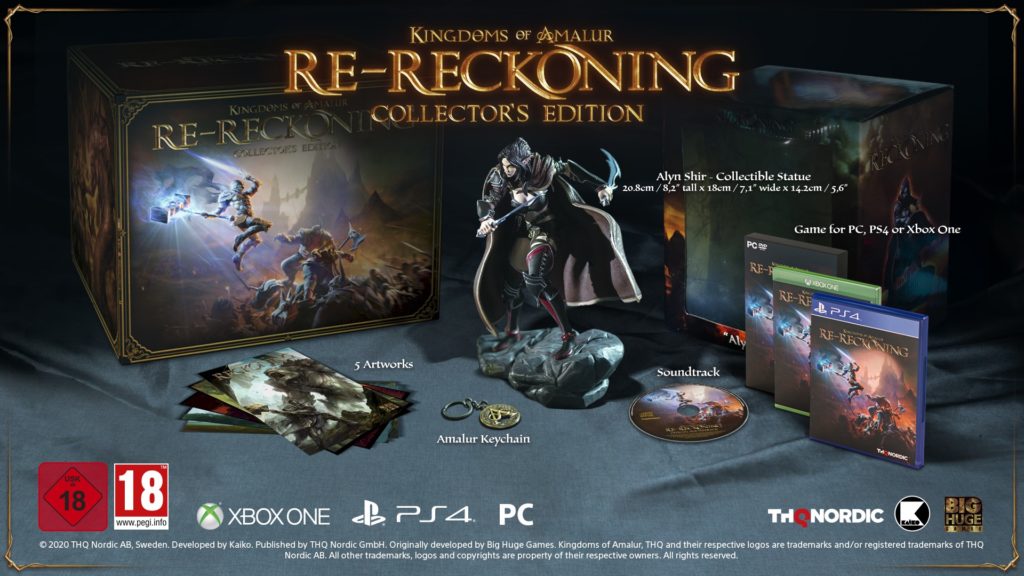 For mega fans, there will also be the Kingdoms of Amalur: Re-Reckoning Collector's Edition, featuring:
A highly-detailed Alyn Shir Figurine (20.8cm tall x 18cm wide x 14.2cm deep)
A custom Amalur keychain
Five pieces of original in-game artwork
The award-winning game soundtrack composed by Grant Kirkhope
A high-quality Collector's Box
The Collector's Edition will retail for the SRP of £99.99.
Kingdoms of Amalur: Re-Reckoning is coming to PlayStation 4, Xbox One and PC on September 8th.