2K has today officially revealed WWE 2K23, and furthermore, it will feature 16-time World Champion John Cena on all three of its covers. Along with the announcement, plenty of details have been revealed about what fans can expect from new and existing content, including music from Bad Bunny and the inclusion of WarGames.
"It is a pleasure to tell the story of my career through the WWE 2K23 Showcase," said John Cena. "2K has done a fantastic job capturing and invigorating the WWE 2K franchise through this concept, and I am honored to grace the cover of WWE 2K23."
"Much like our cover Superstar John Cena, the Visual Concepts team didn't back down from the challenge to prove that the quality of the WWE 2K franchise is here to stay," said Greg Thomas, President at Visual Concepts. "WWE 2K23 takes a winning formula and adds so much more. We're especially excited to see how fans react to the 2K Showcase and WarGames."
WWE 2K23 will include a 2K Showcase featuring John Cena, spanning his 20-year career in the WWE, improved gameplay and visuals, and the return of Cody Rhodes to the roster. Although details regarding which Superstars will appear, 2K has released plenty of information about what players can expect, including:
2K Showcase Starring John Cena: Conquering John Cena in the ring is an accolade few Superstars can claim. In an unprecedented twist on the 2K Showcase, players will step into the boots of several of Cena's toughest competitors with one goal in mind: defeat the man who will "Never Give Up." Spanning his 20-year WWE career and narrated by Cena himself, this interactive sports entertainment documentary uses 2K's unique Slingshot Tech for a seamless transition from gameplay to live-action footage to bring pivotal moments in each match to life;
WarGames: The fan-favourite, chaotic and action-packed WarGames makes its debut in WWE 2K23 and delivers heart-pounding 3v3 and 4v4 single player or multiplayer mayhem inside two side-by-side rings, surrounded by a double-steel cage;
MyGM: Now featuring more GMs to choose from – or a player's own custom GM creation – as well as additional show options, multiple seasons, expanded match cards, and more match types for up to four players. Players draft a roster, manage budgets, sign free agents, choose various match types, arena locations, production elements and more, with the goal of beating a rival GM in weekly ratings battles;
MyFACTION: Now featuring online multiplayer action, the team-building mode in which players collect, manage, and upgrade an array of WWE Superstars and Legends to create their ultimate four-person factions returns. Players can now take their faction online and compete for global dominance, or compete in Weekly Towers and Faction Wars, while new themed card packs and goals roll out regularly throughout the year**;
MyRISE: Aspiring Superstars walk through the curtain for their WWE debut in MyRISE and shape their career with the decisions made along the way. Featuring distinct men's and women's division storylines and the ability to import custom created Superstars, players journey from the humble beginnings of a Rookie, to being immortalized as a WWE Legend;
Universe: The ultimate WWE Universe sandbox that puts players in charge of their own version of WWE, from Superstar rosters, feuds, champions, weekly shows, and Premium Live Events! Updates to Universe include a reworked story system and more;
Creation Suite: A signature feature of the WWE 2K franchise, the creation suite returns with cross-platform community creations, including the ability to design custom Superstars, GMs, arenas, entrances, move sets, championships and more. Custom arenas are now playable online, and advanced customization has been added to created entrances.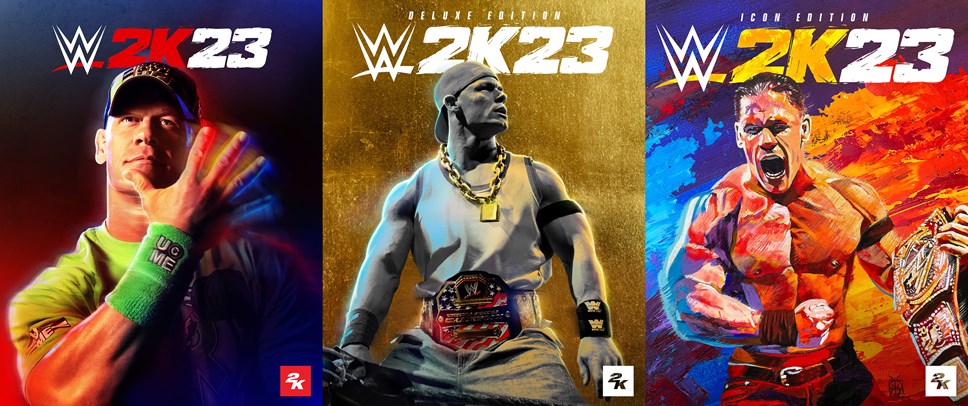 There will also be four editions when the game releases along with a pre-order offer featuring Bad Bunny, which are as follows (for full availability and conditions of purchase, check the official website):
The Standard Edition will be available for £49.99 on PC, for £59.99 on previous-gen platforms (PS4, Xbox One consoles) and for £69.99 on current-gen consoles (PS5 and Xbox Series X|S) in both physical and digital formats
The Cross-Gen edition will be available digitally for £69.99 on PlayStation and Xbox consoles. The Cross-Gen edition includes the Standard Edition across previous and current-gen platforms within the same console family and the same PlayStation or Xbox account
The Deluxe Edition will be available for £89.99 for PS4, PS5, Xbox Series X|S, and Xbox One in both physical and digital formats, and on PC in digital format. The Deluxe Edition includes the Standard Edition, Bad Bunny Bonus Pack, plus a Season Pass to all five post-launch DLC content packs; the MyRISE Mega-Boost and SuperCharger; Ruby John Cena MyFACTION Evo Card, Gold Edge MyFACTION Card, Emerald Bianca Belair MyFACTION Card, Gold Asuka MyFACTION Card, and three Basic Premium Launch MyFACTION Card Packs. The Deluxe Edition will be available from March 14, 2023 – three days ahead of Standard and Cross-Gen Editions!
The Icon Edition will be available for £104.99 for PS4, PS5, Xbox Series X|S, Xbox One, and PC, featuring original cover art by renowned WWE-inspired artist Rob Schamberger. In addition to the Standard Edition and all bonus content included in the Deluxe Edition, the Icon Edition includes the Ruthless Aggression Pack, celebrating 20 years of John Cena's WWE career by featuring John Cena's early "Prototype" character, as well as "Leviathan" Batista, developmental rookie versions of Brock Lesnar and Randy Orton, the John Cena Legacy Championship and WrestleMania 22 Arena. Additional bonus content includes an Emerald Paul Heyman MyFACTION Manager Card, and three Deluxe Premium Launch MyFACTION Card Packs. The Icon Edition will be available from March 14, 2023 – three days ahead of Standard and Cross-Gen Editions!
Bad Bunny Bonus Pack Pre-Order Offer: Players who pre-ordered the Standard Edition and Cross-Gen Digital Bundle will receive the Bad Bunny Bonus Pack, which includes Bad Bunny as a playable character, as well as a Ruby tier Bad Bunny MyFACTION card.* The Bad Bunny Bonus Pack is included in the Deluxe Edition and Icon Edition at launch
The brand-new trailer will be airing when Monday Night Raw goes live tonight, which will show off new gameplay.