Release Date
June 21, 2019.
Kart racers are my kind of bag, mainly because I'm pretty bad at actual racing sims. When I say bad, I mean I know nothing about cars – or how they function – and I couldn't tell you the difference between a piston and a spark plug. I mean, you put your foot down and car goes vroom vroom, right? Despite my ambivalence towards racing games, I bloody love ripping around on Mario Kart, and would go as far as to say I'm really good. Back in the day, Crash Team Racing was a great alternative, and with other Kart racers having somewhat of a resurgence as of late, it's a perfect time to see Beenox's full remaster of the 20-year old classic. What Nitro-Fueled does so well is encapsulate everything that made the original so good. Courses are familiar, but look a million times better, and the handling is both tight and responsive.
Like Vicarious Vision's Crash Bandicoot N.Sane Trilogy, it reminds you of how difficulty could do with a bit of a tweak to truly modernise older games. Within a couple of races, I was struggling to maintain first place – often dropping further down the ranks and getting slaughtered by power-up after power-up. And, if you take away the various weapons and speed boosts, it's still tricky to get in pole position. Once you get past the first few worlds, the courses get trickier and offer more corners and ramps to make use of your Power Slides and jumps, so it gets easier the further you progress, but there's always an underlying difficulty that you never quite get used to.
Handling is pretty good, especially when you get used to the Power Slide. It's nowhere near as precise as Mario Kart, but it's implemented differently. Not only do you have to get it right when to activate it, but you also need to then power your boost up at the right time or you'll either speed off into a wall, or have it fizzle out. Using a jump as you fly off a ramp gives you a boost when you land, so this is yet another way you can improve your speed and acceleration.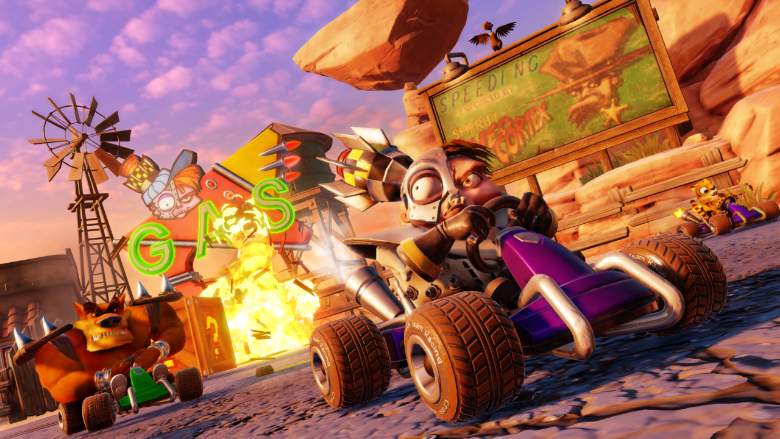 Power-ups are diverse, and whilst you get a nice range of them to use, you can also increase their effectiveness by collecting Wumpa Fruits. For example, a TNT crate can be thrown on the track, and once a player hits it, it'll land on their head and explode if they don't get rid of it in time. If you've collected 10 Wumpa Fruits, all TNT crates become Nitro Crates, so if a player rides into it the crate explodes on impact. These fruits also increase your boosting, so it's always worth collecting them for that.
I had plenty of fun in the Local Arcade – a couch co-op mode with plenty of race types. You can race like normal, or there's Capture the Flag, Time Trial, a last cart standing mode, and more. My daughters have become enamoured by it, and watching them compete for domination is doing a great job of entertaining me; I feel like a Roman Emperor overseeing gladiatorial combat and I'm loving it.
There's heaps of customisation in CTR Nitro-Fueled. Whether its a new kart, stickers, characters, or skins, you can unlock in a few different ways. By racing in the Adventure Mode you'll often find new stuff becomes available, and by entering the Pit Stop you can use Wumpa Coins you've earned to spend on whatever you want.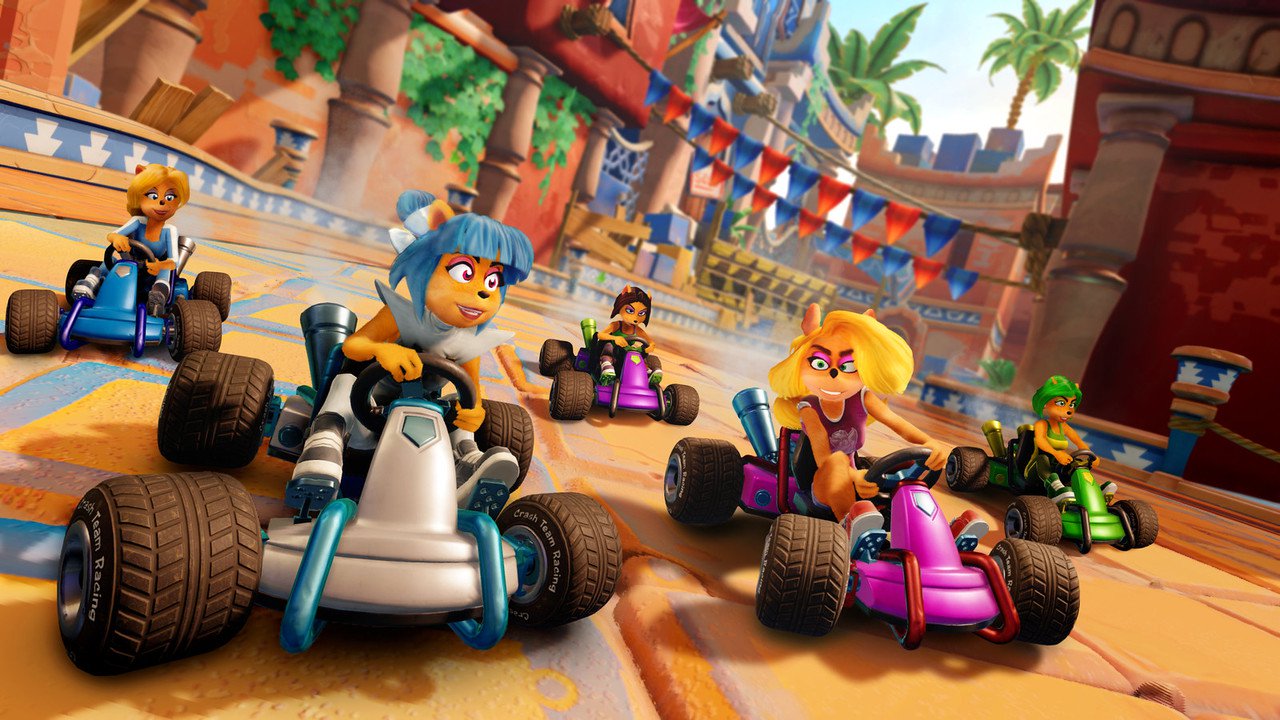 Adventure Mode is a mix of different worlds made up of a variety of different courses, and they're all filled with their own challenges. Once you've won every race in that world, you'll face the boss from in a 1v1 race. By the time you get to the end, you'll face the villain of the game – Nitrous Oxide – which doesn't take a long time to do. Thankfully the local co-op and online modes will give you plenty to do in the mean time.
Regardless of whether it's a short story mode or not, there's plenty of fun to be had in each course, and like Mario Kart you'll replay them all no end. When you get your hands on a kart racer like this, it's the perfect game to spend hours on just racing because it's great to play. My only gripe with the handling is reversing, as it doesn't feel implemented as well as it could be. I'd rather be able to press Square to reverse, but I'm restricted to the down button on the left Analogue stick.
Crash Team Racing Nitro-Fueled is a fantastic kart racer. The courses are colourful and detailed, the handling is more often than not a treat, and the level of customisation and unlockables means you can spend hours playing the same tracks over and over again. Even though the difficulty is unbalanced, I found no shame in changing to easy – though the reversing really could use some work.
Positives
Handling is excellent
Courses are diverse and gorgeous to look at
Plenty of replayability
Negatives
Reversing is awkward
Difficulty needs tweaking
Crash Team Racing Nitro-Fueled is a fantastic remaster, filled with great courses and plenty of replayability, even if the difficulty sometimes feels off.