Release Date
July 27, 2023
The level of detail in F1 Manager 2023 is staggering. If there's something you want to change about your team, from the pit stop crew to car parts, training programs and racing strategies, Frontier has refined last year's entry and put everything they know about Formula One and made a solid management sim. While the career mode feels wholly unchanged, there're small adjustments and additions that make the experience that little bit more impressive that the first entry, but if it ain't broke, don't fix it, right?
As a Team Principal of one of the ten F1 teams, you're responsible for every facet of your success. That's a lot of pressure on your shoulders, but there's a pleasant learning curve where you're introduced into everything you need to pay attention to, tweak, and improve. Jumping in straight away, it doesn't feel as though there are any major shake-ups to proceedings. Rather a couple of tweaks to race weekends such as managing tyre temperature and a new visor camera angle, and the confidence of your driver's impacting performance.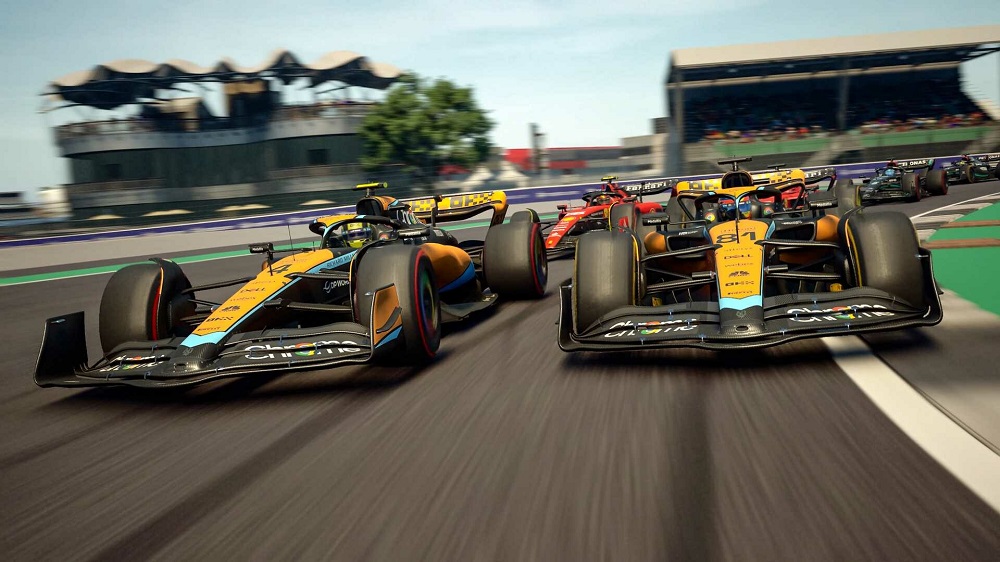 After a few races, it becomes more apparent how your driver's will suffer with a low morale. Failed pit stops and getting overtaken, or finishing lower than expected are all potential factors in confidence breaking down. This will affect their performance, and if it isn't addressed, your mid-table predications will start to drop. Race weekends are thrilling, and not having to worry about sitting behind the wheel, instead making sure your drivers are equipped to deal with every situation from the pits, makes up most of the enjoyment in F1 Manager 2023.
You're responsible for everything during a race. Making sure fuel consumption is monitored, tyre wear is treated, pit strategy, the implementation of ERS, and overcoming any unexpected situations that arise. It's easy to keep track of performance, from practice to qualifying, to the main race itself. You can switch between detailed breakdowns of your performance and the other racers on the track at any time, and while there's a ton of information to take in, it's presented in a clear way, giving you plenty of options that can be monitored without confusion seeping in.
Visually, F1 Manager 2023 is improved since last year. While the UI looks somewhat identical, both during races and back at base camp, it's still sharp and well-presented. The new visor cam during races lets you jump into the thick of the action, and the car and track animations are more varied. The instant replays of any lock-ups, overtakes, or collisions are quick to view and transition seamlessly with one another. It's one of the finest sports management simulations out there, and easily one of the best looking.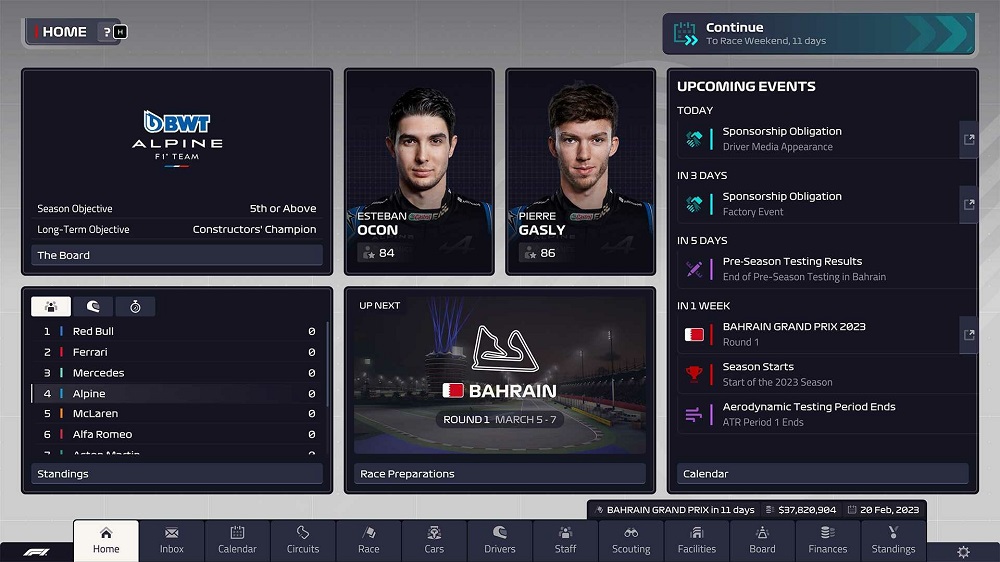 As Alpine's Team Principal, I was never going to compete with Red Bull, however, as the season went on, I started to find gains constantly. F1 Manager 2023 doesn't punish you for mistakes, and it rewards you for perseverance and patience. It's not a game where you can just forward to the next race weekend without paying attention to your team. Your pit crew can tire and make mistakes if they're pushed too far, obviously having an impact on your drivers and entire team. You have to think about everything, and there's always decisions to be made.
Another key feature to this year's title is the ability to scout future prospects in F2 and F3. This feature is for those who are playing for the long haul, but it's cool to know you've got plenty of scope for multiple seasons. The career mode might not be a huge leap forward, but these various additions help to make the mode its stand-out feature. F1 Manager 2023 does include a great pick-up-and-play feature this year in the form of its Race Replay mode. You can jump right into scenarios from the 2023 season and aim to do better than what actually happened in the real races.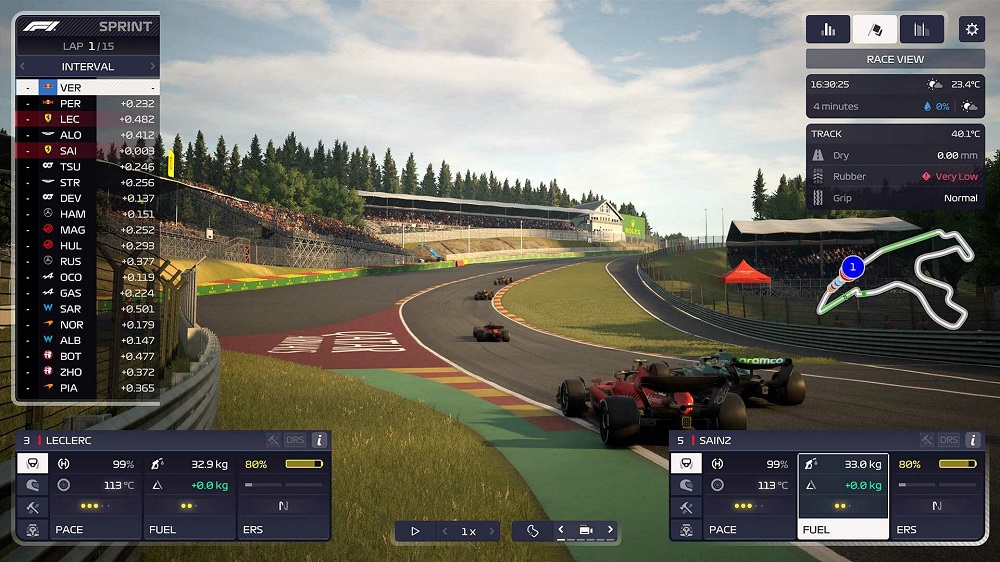 As I picked Alpine in career mode, I attempted to improve on Szafnauer's strategies during the Miami Grand Prix. Using what I new from career, I worked out how to optimise Ocon's pit stop while I was able to get a couple of positions up for Gasly. There're tons of these scenarios, and are a great way to experiment with different teams and tactics that can be carried over into the main career mode. F1 Manager 2023 is an impressive title, and these new modes add a quick fix for players who love the sport and want to experience different teams and drivers.
F1 Manager 2023 might not be a vastly different experience from last year, but it does provide an excellent F1 management experience, giving you complete freedom to manage your team exactly how you want. There's a ton of help on offer if you're struggling, and you can pass off some of your responsibilities to your team. The visual improvements are noticeable in its overall presentation in races and at the offices, with the new visor cam a great addition that highlights how fast and dangerous F1 can be. Race Replay is a great addition, too, offering fans a chance to relive pivotal moments and aim to do better than the pros.
Positives
Deep levels of management
Great visuals
Race Replay is a great addition
Negatives
Career mode remains largely unchanged
F1 Manager 2023 isn't hugely different from last year's entry, but it's still a solid sports management title with plenty to keep you busy.