Release Date
November 13, 2015.
As a Derby County fan, you can never be sure what is going to happen from year to year. In the last ten seasons, we've gone from the Championship to the Premier League in an unexpected whirlwind of success, only to make a spectacular and historic fall from grace. It is only in recent years that we have pulled our socks up and started to make a name for ourselves once more, as serious contenders to go back to the Premier League with the potential to actually stay there for a while. I say "we" because I live and breathe the white and black. The Rams are a part of me, and I love them with all the fiery passion of any loyal football supporter. In Football Manager 2016, we can now be more than just fans.
The stress of watching a game through your fingers from the stands or on the television has now escalated to watching it from the touchline. Every small detail that any manager has to consider is now thrust upon you, and you're no longer wishing about the changes you'd like to make – you're actually making them and praying they are good enough. After all, it's your well-being on the line.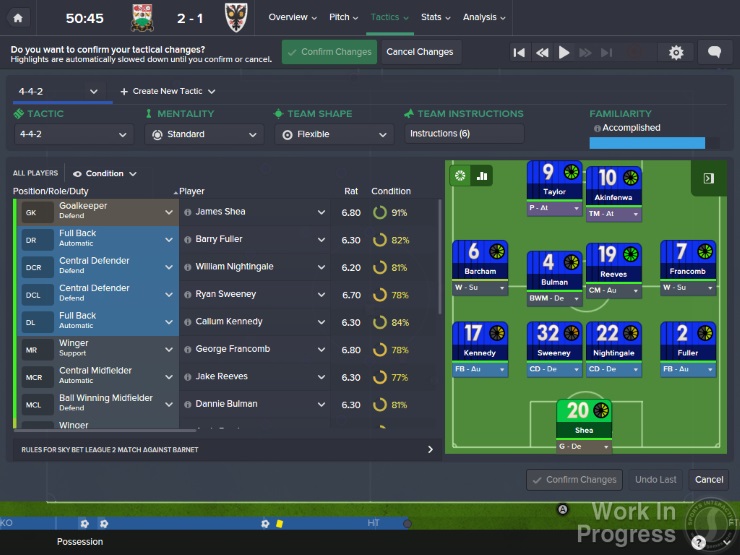 Football Manager 2016 does a great job of making the beautiful game about as realistic as it can be. Right from the start, you're expected to keep tabs on every aspect of managing a football club. Obviously, this has been the staple in all Football Manager games since Championship Manager, but the refinements and adjustments this year seem even vaster than before. The sheer amount of information and job requirements are more than overwhelming; however, Football Manager 2016 does a great job of keeping the layout and design well-structured, meaning it's easier to use and better to see what's going on. There's no doubt that the majority of players will have some experience of previous entries, but it doesn't feel ignorant to newcomers, especially with the ease of access to all its job options. The menus are clearer, and hovering over something gives you a brief outline of what it means so you know how to interact with it.
There are plenty of new features to Football Manager 2016; most come in the form of minor tweaks to certain features, such as improved team talks, set piece creators and an improved financial component. There are some better features though, like the highlights package, which lets you view all the goals from the rest of the league or cup competition. I also used the service to check out Jason Butterfield's phenomenal hat trick in a game for the Derby County U21s, leading to him getting a spot on the subs bench in a Sky Bet Championship match against Bolton Wanderers.
You are able to mold a personality for your manager, meaning you can be as calm and contained or aggressive and obnoxious. Depending on how you are, it will affect your team and the media's perception of you. In relation to the media, there are new improvement to the press interaction segments, with many more dialogue choices and different ways to say what you feel – think of it as a Falloutor Mass Effect style dialogue tree. As repetitive as they can be, they're a good chance for you to speak your mind and allow the media to paint a good picture of you. In turn, this gives the board and your team an overview of what to expect from the season ahead, either showing you respect or choosing to test the waters a little.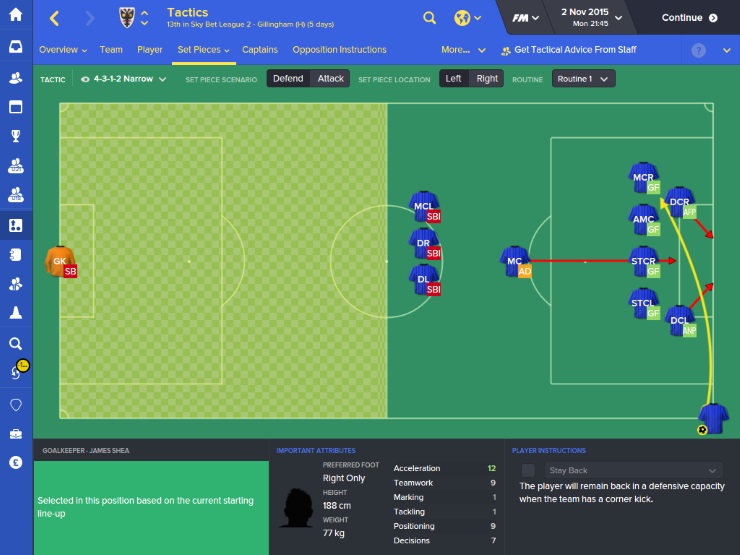 You're now given the option to create yourself in-game, but to actually resemble a human is something to be desired. It is in no way a game breaker, but to give you such bare bones creative leeway seems completely redundant. The layers are way off and the simplistic design (a few body molds, hair and face choices and wardrobe) means you have more chance of looking like Quasimodo than yourself. In all honesty, the only representation of your manager that you'll see often is the one at the touchline. If you choose to watch the 3D match play out as opposed to the classic 2D top-down view, your abomination (sorry, creation) can bark out orders at the team or players in a bid to mix things up.
Whilst on the subject of the 3D matches, they help to give a great overview of how your team are playing and can be incredibly insightful. After some time in charge of Derby County, I had an issue with my attack. I had been playing Chris Martin just behind Darren Bent, but for some reason there was no chemistry between the two of them. My midfield were told to feed the ball down the middle and try to refrain from the long ball. Watching the match play out helped me to spot that it wasn't the forwards causing me the issue – it was Austrian winger, Andreas Weimann. I had been sticking to the 2D view and had not seen him continue to be greedy and take more shots that play through a decent pass. I changed tactics, brought Martin to the right a little and in the next match, my changes proved fruitful and successful.
For those of you who want to analyse every intricacy of your result, the newly-introduced Prozone match analysis system has been put in place. If you can decipher the web of red, yellow and green lines, the pioneering statistics system will help you to fine tune every tactic at your disposal, but be prepared to spend even more hours checking out every detail. I rarely bothered with Prozone, because the normal summary of the match did a better job for me.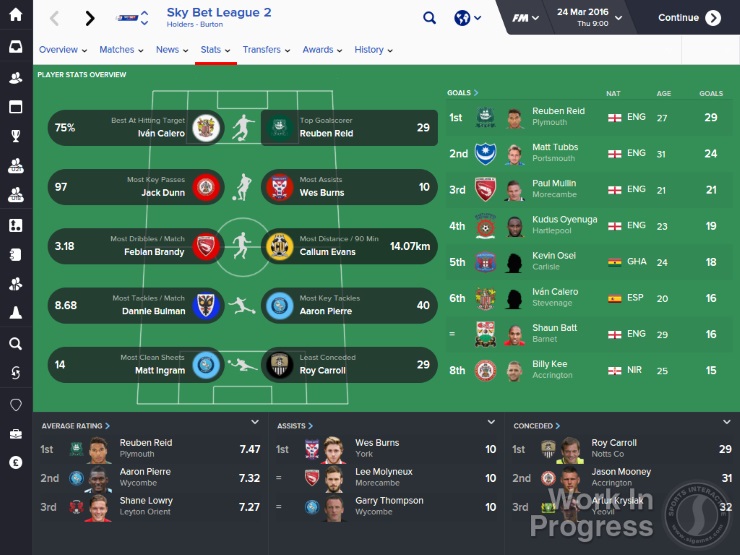 If you have a tablet or phone, the newly-named Football Manager Touch (previously "classic") allows you to take the important components of its main game and play a more streamlined version. The cross save feature allows you to go from PC to iPad, meaning that any decisions you make can be taken with you. It's a nice addition, but the diehard fans of the series will probably stay away from it, choosing to throw hours and hours into the full experience.
There is also a fantasy draft mode which lets you select your dream squad from a plethora of players with a set budget, and then enter a mini-league against other players. Similar to The Sun's fantasy football game, it's incredibly fun and helps to add more to the social side of Football Manager 2016, giving you something else to sink hours into.
I could go on for another thousand words or so about all the new features, but the main thing you need to know is that Football Manager 2016 takes everything from the last few years and refines it, creating a better interface and a heightened sense of realism and passion. You are the one making all the important decisions and they won't always be right, but when they are, Football Manager 2016 makes you feel like a hero. C'est football.
Review code provided by publisher.
Positives
Refined experience with clearer layout.
3D matches are really helpful in how you choose or change your tactics.
Better than last years in almost every way.
Negatives
Press interactions are superfluous at times.
Manager design is appalling .
Prozone isn't always needed.
Football Manager 2016 makes you care about your team just as much as in the real world, providing the most realistic football manager experience to date.