Release Date
April 19, 2023
Horizon Forbidden West was easily one of the best games of last year, but come December it felt massively overlooked due to the staggering work FromSoft did with Elden Ring, and that other small title with a big Greek fellow with a beard. Although it might not have gotten all of the attention from last year, it was without a doubt one of the most technically sound video games I've played, both in its visuals and gameplay, not to mention a story that more often than not kept me gripped until the end. Horizon Forbidden West: Burning Shores is equally as enjoyable, if a little familiar, and it mostly reaches the heights of the foundations it built upon.
Following on from the ending of Forbidden West, Aloy is summoned by Sylens (rest in peace, Lance Reddick) to investigate a thirteenth Zenith in the Burning Shores, formerly known as Los Angeles. And just like that, you're flying on the back of your Sunwing and heading towards LA, or BS, to find this Zenith called Walter Londra (voiced and acted superbly by Sam Witwer). Upon arriving, however, it seems like this isn't going to be some easy trek, and within minutes of landing you're thrown right back into the fight.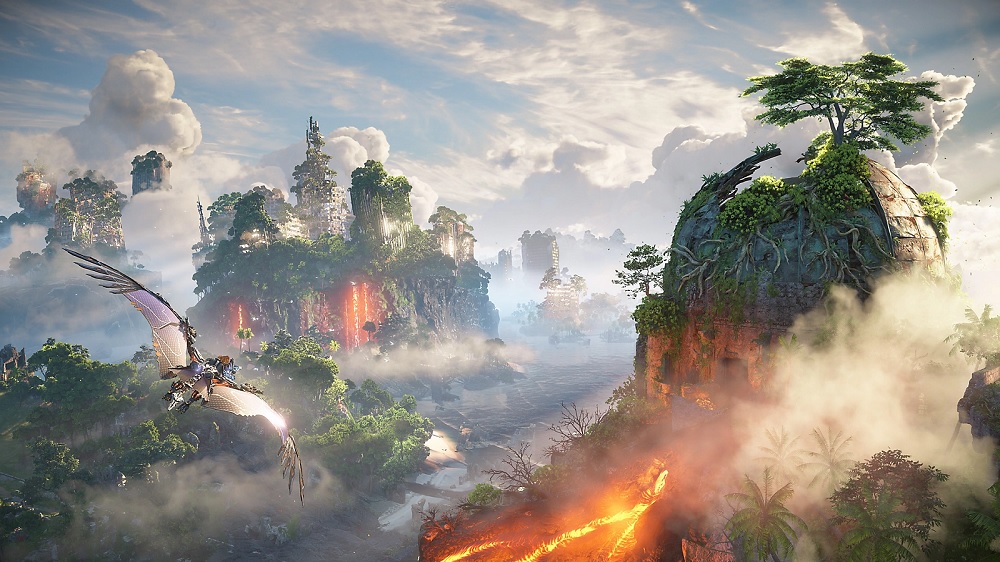 It took me a while to familiarise myself with the controls again in Horizon Forbidden West: Burning Shores. Having such variety in how you take down the machines meant I couldn't remember what did what. Even after fighting them off and exploring, I'd be damned if I could remember how to glide. There's no easing you in, and machines are relentless, especially the new Bilegut: a huge toad-like machine that jumps up and attempts to squash you, as well as spitting acid and God knows what in your direction. After a while, though, I was back in the swing of things, and there are moments when you get a breather, namely on the skiff that you can travel around in.
You'll also be able to use another new machine called the Waterwing to dive underwater for a short time, but much of the gameplay remains the same. Geysers can be utilised to stay on your glider for a while longer, and there's a new railgun gauntlet weapon, but ultimately, you'll be using the same skills as in Forbidden West. That's not a criticism, though. Combat was excellent in the base game, and Burning Shores carries on the tradition of superb fights that allow you to be creative with how you take machines down. As relentless as some fights are, you never feel out of your depth, and it's something that Guerrilla has kept up for the DLC.
Horizon Forbidden West: Burning Shores is gorgeous. The overgrown and dilapidated buildings manage to hold an ancient beauty. The orange skies, the glistening oceans, the Hollywood sign looming in the background. Nothing about its design is done in half-measures, and I adored every minute I spent at the centre of the stunning and extravagant landscapes. The lava flowing down mountains and natural movements of machines bring the world to life once more, and whenever I was riding on my Sunwing, I couldn't help but stare in awe of just how good everything looks.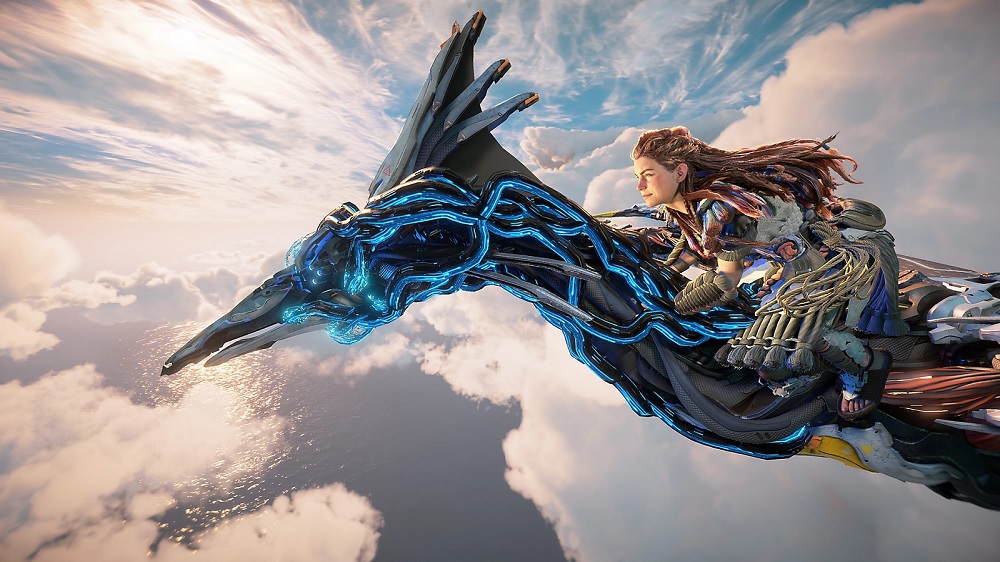 While not particularly long, Burning Shores culminates in one of the greatest boss battles in existence, at least in its scale. It can be frustrating at times (for reasons I won't ruin), but there's no denying this is the grandest fight you'll ever have. Seyka is a great addition to the DLC as well, giving Aloy someone to talk to and understand, helping to alleviate her need to constantly talk to herself every time you pick up something or wander around the environment. Some of the story feels a little rushed, but hopefully we'll be seeing Seyka again one day.
Horizon Forbidden West: Burning Shores offers a similar kind of experience in gameplay, so if you enjoyed the base game, you'll have a blast with this. All the small additions are noticeable, whether using ballistas to travel across unreachable terrain, fighting new machines, or diving underwater on the back of a Waterwing. It doesn't reinvent the wheel, but it also doesn't need to. Seyka is an excellent character, and it was fun to see her grow as the game went on. If you miss Aloy and want to see the PS5 in all its glory, Burning Shores is a solid expansion to an already wonderful game.
Positives
Looks stunning
Same great combat
Seyka is a great addition to the cast
Epic final boss
Negatives
More of the same
New additions don't add much overall
Horizon Forbidden West: Burning Shores offers more of the same with some new ideas, yet it's still well worth playing, and looks gorgeous.