Release Date
November 7, 2017.
Horizon Zero Dawn was really something, wasn't it? It had a rich and gorgeous open world bustling with life and colour, a story that made us question everything we thought we new about life and mortality, and a combat system that did a fantastic job of pushing the boat out. The Decima engine is a revelation, and Guerilla Games pushed it to its limit, giving us one of the contenders for GOTY, and potentially for the game of this generation.
It's not a surprise that we get new content for the game, but it was quite unexpected it came so soon. The Frozen Wilds is more of the same, which is in no way a negative. In fact, this expansion is a substantial extension of Aloy's journey into the post-apocalyptic world, and features more amazing machines, a new skill tree, a great story, and other nice additions to make it the complete package.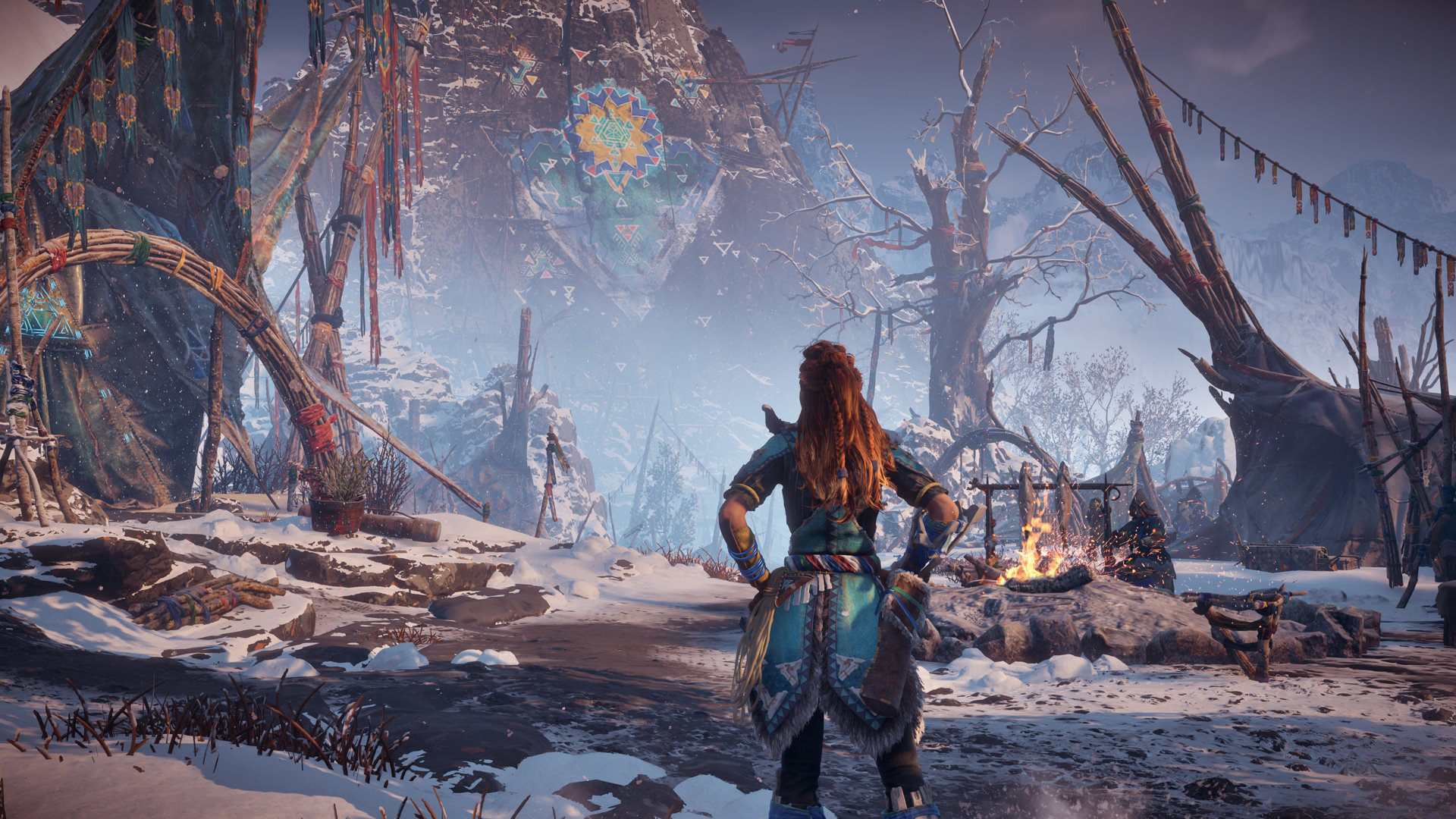 Starting The Frozen Wilds is accessible, and easy to do for saying certain DLC is hidden behind mysteries and menu screens. Once accepting the Side Quest, you find yourself North of the map in a bitterly cold region beyond the Northern Mountains. The location itself is isolated – full of vast plains of snow, and a constant snowstorm that makes the weather affect your vision and movement ever more than it has before. There are times when the snow stops and the weather breaks, allowing you to take in how breath-taking this new area is. If you loved Photo Mode before, you're going to be back at it, and the new snow angel pose will have you mucking about in the stuff for hours.
The story focuses on a new threat known as the Daemon, and your journey to help the Banuk Tribe quell this evil. There are new characters that help to move the story along, and the way things unfold are done so with great impact and style, much like the main game. My favourite part of the expansion is the range of new machines you'll encounter. The savage wolf-like Scorchers are fierce and rabid, and breathe fire whilst darting towards you, and the Frostclaws are giant machines that look like polar bears, firing rivers of ice spikes towards you, and using their huge arms to try and beat you senseless. There are more, but you should experience them for yourself because they're just as stunning as any of the other machines you've met before.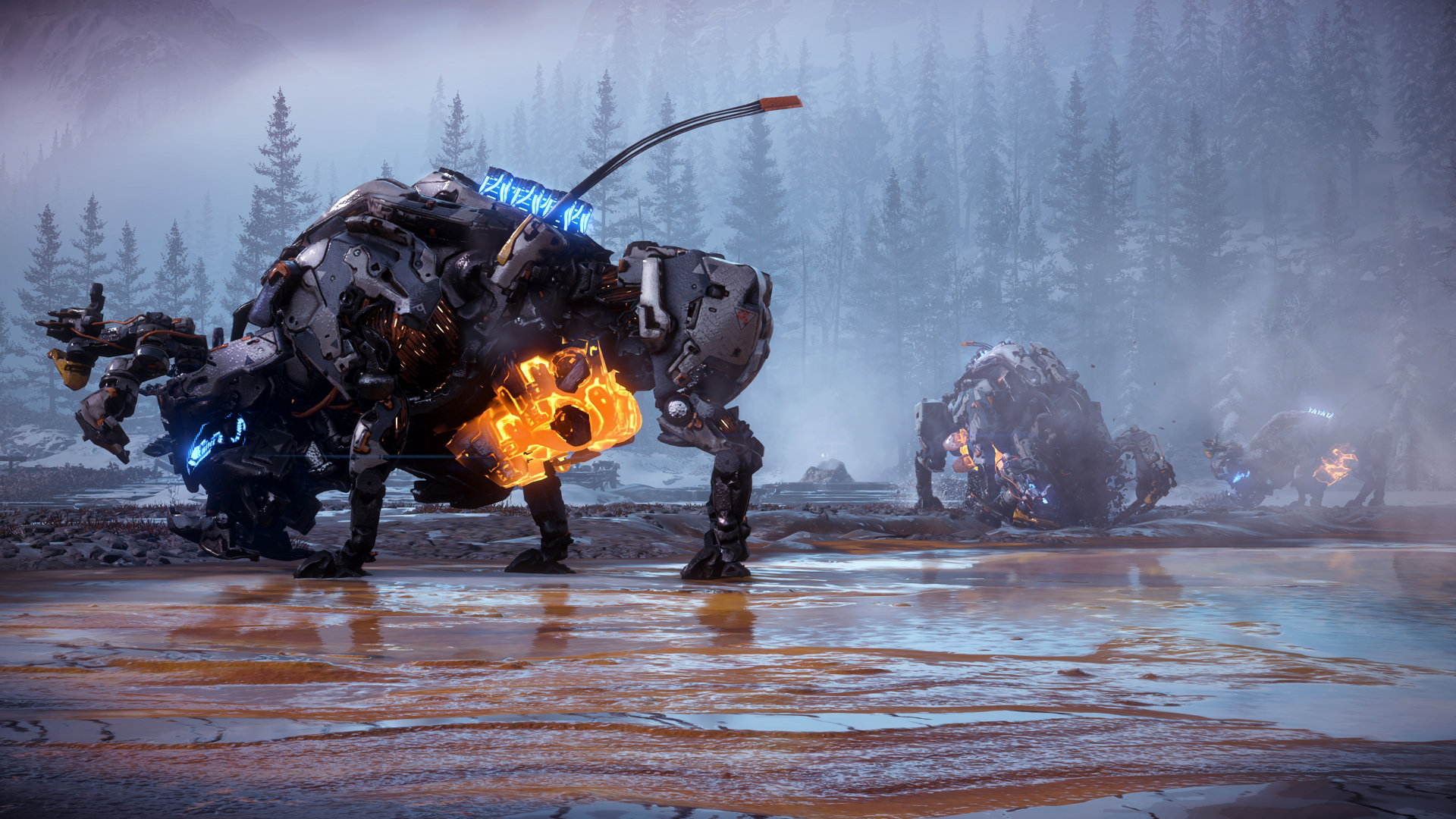 There are other new additions that expand your experience, such as the new skill tree and a new kind of currency known as Bluegleam. The Traveller skill tree doesn't make a huge difference to the way you play, but it tweaks your abilities to make things easier. You can unlock a skill that allows you to loot whilst on the back of a mount, as well as increasing the value of loot, and decreasing rare items. As for the Bluegleam, you can find it scattered around The Frozen Wilds, and can be used to buy exclusive weapons and items from merchants across the land. For the collectaholics out there, you'll certainly be interested in finding the cool range of stuff these Merchants have, and subsequently using the items to take down the new creatures you'll encounter.
It's a fantastic piece of DLC, and it's much more than a few hours of content. The new location is visually stunning, and the gameplay has been expanded through the way you vary combat against the new beasts, and tweaking your skills to incorporate the new skill tree. There are these mechanical pillars located across the Frozen Wilds that'll disable your armour and help nearby machines, new plant life for you to collect that'll improve your health faster than it has before, and loads of puzzles to solve and huge set pieces to get involved with. Guerilla Games has delivered on more great content for the best open world of the year, and it was a pleasure to step back into the Aloy's shoes.
Positives
Stunning location
New machines are great
Story is interesting
Negatives
Skill tree doesn't really add anything
It's great to have some new content for Horizon, and this piece of DLC certainly does it justice.