The MSI Titan GT77 brings together incredible speed and power to the world of laptops, with a great 4K, 120Hz display that produces a high quality viewing or gaming experience in general. Also included is a built-in mechanical keyboard that sounds great and feels even better. This is a laptop with performance levels that are extremely high thanks to the specifications, and furthermore has lots of features that benefit users such as its huge amount of ports/sockets. On the other hand though its price is incredibly high, ranging from £3,000-£5,300 based on the chosen specifications.
First looking in depth at the display. The 4K, 120Hz display allows for a crisp, high quality experience which cannot really be disputed. The inner workings of the Titan do aid this. The model we looked at had within a 3080TI, and a 12th generation Intel Core i9 processor: this is a serious bit of kit and allowed for very high performance without any dips impeding the experience when playing a game. However, like most laptops it greatly benefits from being plugged in while playing for it to maintain its top performance. Even so, its performance when on battery is still impressive, though it's best not to push it to full 4K with all the bells and whistles.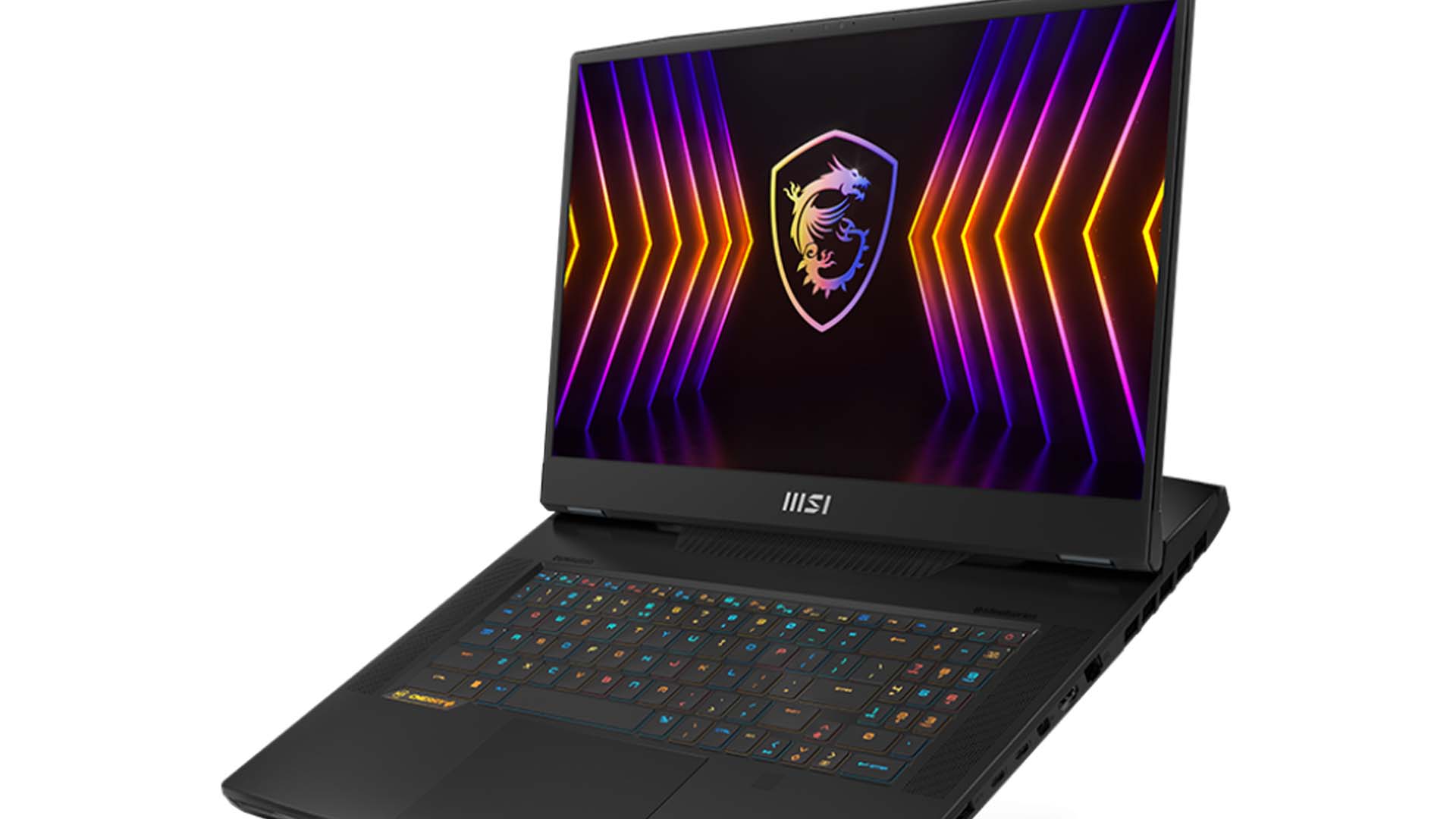 A downside though, is the noise it outputs when performing at a high level. For something so high-priced you would expect it to not be as loud when wanting to use it to its full extent to the point that you can physically feel it whirring and being as loud as it is when in use. However, the MSI Titan GT77 has the kind of power that is unlikely to struggle with any workload you hand it. Any design tools and multi-tasking is fine, you'll only find more capabilities in a desktop (and likely one you've built yourself), which could be bought for the same price or cheaper, but obviously is not portable like the MSI Titan GT77.
Looking at battery life, when doing day-to-day tasks its battery life is decent, at about six hours of life, but only if you stay away from anything gaming or high-intensity. Introduce a game you may want to play and it plummets to about an hour-and-a-half to two hours of use, which compared to elsewhere on the market, is pretty decent anyway. While it isn't recommended to use it to play games away from mains power anyway, 6 hours of use when considering the power of the laptop is fairly decent when you consider how much power it is likely to be using in that time. This isn't a laptop designed to be used for more standard activities, instead it is likely to be useful for slightly more niche activities like editing videos, podcasts etc.
In terms of built-in hardware, the speakers are above average. They're pretty loud but the top-end is slightly tinny and the bass is a bit of a let down, which is disappointing. As mentioned, the keyboard is great. The MX Cherry switches allow for a quiet but responsive experience holding the 45g actuation force of a typical Mx switch with its bottom-out being typically 65g of force. They are much more suited to gaming than to typing especially with the incredible light amount of force needed for actuation. In correlation to the keycaps being typical of a standard keyboard (what you would expect and that are necessary for a keyboard) it means that you may often press the wrong key which could get extremely irritating to some points. The largest disappointment, however, is its webcam. Being only 720p on a laptop with the Titan's price range feels like a bit of a slap in the face.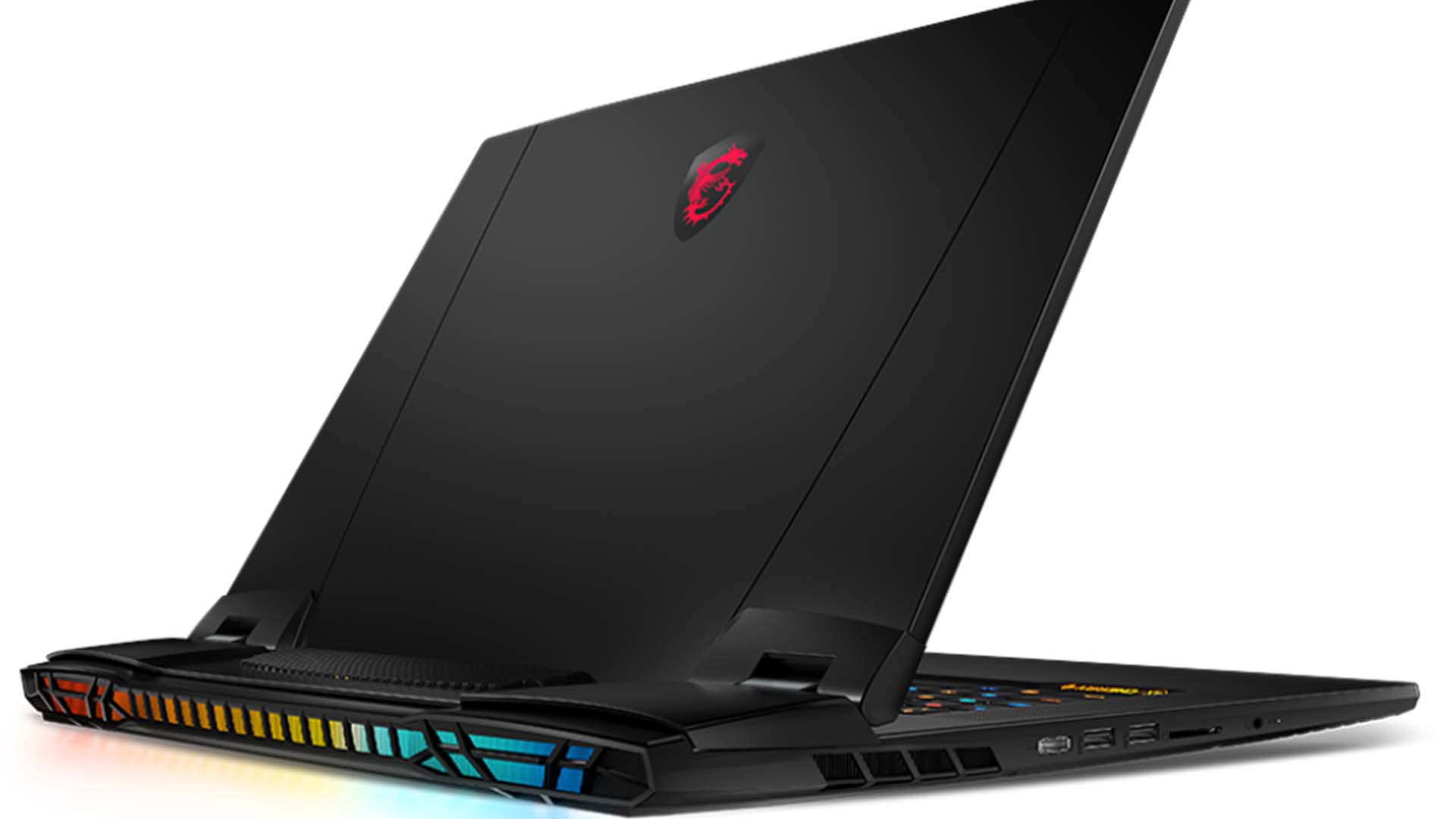 Its design is massive, being both heavy and incredibly thick, wide, and essentially everything it can do to be outrageously large. The heatsink and fans at the back measure to be about 70mm long and as wide as the laptop itself. It doesn't really try to be sleek or small and really just puts itself out there as a statement. Comparatively to other laptops or portable PC's, it isn't the standard shape either, due to the fans at the back of it. The huge chassis means it has plenty of ports, three full-size USB ports, two USB-C ports, a HDMI port, ethernet, the latter all you might expect from any laptop. It also has an SD Card slot for various reasons you may need it for. In terms of IO, the Titan really offers little to complain about.
The MSI TItan GT77 is a hugely powerful machine, and if you're looking for the fastest gaming laptop possible with no concern for cost, size, or how loud it may be sometimes, it is guaranteed to please. That said, if you're not looking to blast an eye-watering amount of money on a laptop, or need it to be slim, and quiet, the Titan might not fulfil your needs. Let's be clear, regardless of a few minor issues that aren't exclusive to laptops (webcam, speaks, etc), the only real downsize here is the price. Offering great performance and statement looks, you won't need another laptop for a long time should you choose this one, but it really is hard to fully recommended at that price point.
Positives
Built like a tank
Superb performance
Great keyboard
Excellent IO ports
Negatives
Ridiculously high price
720p webcam
Can get loud
Offering great performance and statement looks, you won't need another laptop for a long time should you choose the MSI TItan GT77, but it really is hard to fully recommended at that price point.