I'm a huge basketball fan, but when it comes to videogames, we're limited to the NBA 2K series and nothing else. Whilst it may be a fantastic series, I miss the fun of NBA Jam and the simplicity involved. You could always shove it on and sink many hours – and buckets – into the addictive gameplay and the satisfaction of scoring one hell of a dunk. NBA Playgrounds manages to bring back the basics of Midway Games' phenomenal sports series, but doesn't quite manage to capture the magic.
In NBA Playgrounds, the whole roster isn't available to you when you start. Instead, you have card packs to open (much like EA's Ultimate Team), with each one giving you five new players. You'll earn these when levelling up, or winning one of the tournaments. I'm a huge fan of this idea because it adds an element of surprise to playing, and makes you want to keep winning, just so you can get that player you desperately want. There are no listings to see who you may unlock, but there're enough current players and legends to fill up your collection, such as James Harden, John Wall, LeBron James, Jason Kidd, and Shawn Kemp.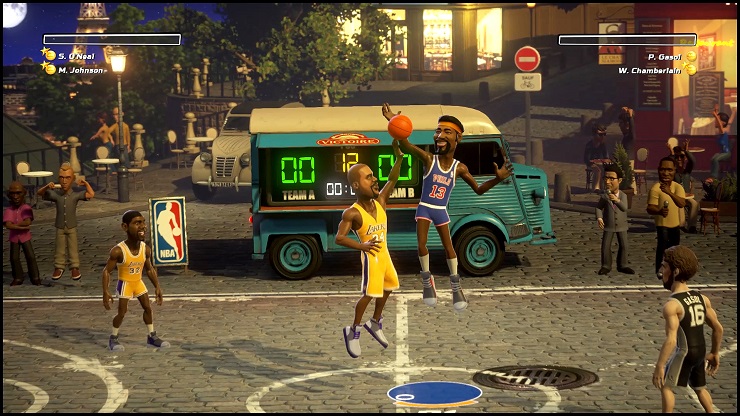 You play 2 v 2 matches in every match, whether that's in either the exhibition, online, or tournament mode. In exhibition, you can select any two players from your unlocks to face a friend locally, or the game's AI. Online allows you to face a stranger, but with the PC version, I struggled to find any opposition, and ended up giving up after five minutes each time I tried. Tournament mode sees you take two of your players to a different location around the world, such as Tokyo, London, New York, and Paris. You'll face four teams of two (including players you haven't unlocked yet) and upon winning the tournaments, you'll unlock new power ups, and a gold card pack offering a higher chance of snagging a legend.
The tournament mode difficulty ramps up after you've got to the third location, but by then you'll have a good idea of which two players you want to use. Different line-ups will suit different players, and it's always worth having a few combinations to choose between. I took David Robinson and Ray Allen (my hero!) into most of my matches, mainly because of Robinson's excellent blocking, and Allen's flawless 3-pointers, however, when I stepped into my first match in Paris, I was getting rinsed thanks to the speed and inside shooting of my opposition.
NBA Playgrounds encompasses the craziness of Jam, but it still has an air of simulation involved. The problem is, there's quite an inbalance there, and breaking down the court after the opposition scores doesn't feel smooth, or particularly speedy. You have a stamina bar underneath your player, but it seems to deteriorate rather quickly, even if the player has a high stamina stat; you can also use crossovers and other skills to try and break past your opposition, but their AI always seems to get in front of you, leaving you helpless to make a break to the net.
Shooting can be tricky at first, but once you've cracked it, shooting and dunking can be satisfying. I've always been a fan of scoring the trey, and managing to sink these at their optimum can add an extra point to the 3-pointer. Dunking – when successful, looks great, but again, breaking away from your opposition isn't easy. It's not even a case of difficulty; it's more a case of NBA Playgrounds' AI not allowing you to break away, and often managing to get in the way of your run.
Power-ups can turn the tides of battle, and much like real basketball, momentum can be the case of victory or failure. If you make a chain of baskets, your power meter will fill, and once full, you'll unlock a power-up that is selected randomly. One will give you the ability to score from anywhere on the court, another will give you an increased speed for a short time, and another will offer you x2 on each basket depending on where you're shooting from.
Visually, NBA Playgrounds isn't the best I've seen. Some of the players don't look quite right, with some of them not resembling who they're supposed to be. The locations are pretty, though, and the detail in what is going on courtside is impressive. The soundtrack is repetitive and annoying, mainly because the same song seems to be playing all the time, and commentary seems to have about ten phrases which quickly start to grate on you.
Whilst not reaching the heights of NBA Jam at its finest, NBA Playgrounds is still fun. The card system is a great addition, and other than some issues with breaking away from the opposition, gameplay isn't bad at all. It's certainly good to have an aracadey basketball game back in the public domain, even if we don't get to hear 'Boomshakalaka!' and 'She's on fire!' anymore.
Positives
Card packs are a great feature
Shooting is satisfying however you score
Negatives
AI can be frustrating
Visuals are a little weak
Commentary is repetitive
It's great to have a basketball arcade game back in the public domain, but it falls short of the successful heights of NBA Jam.