Switch Re:Port Review #32: FIFA 19, Disgaea 1 Complete, The Escapists: Complete Edition, Spider Solitaire F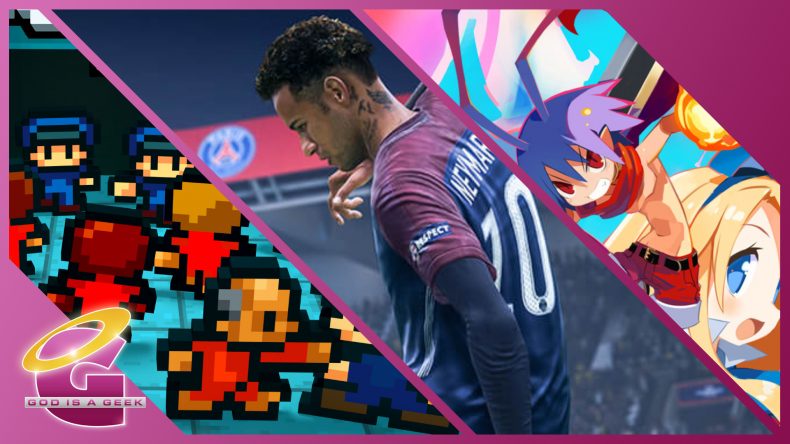 While everyone was choosing their own Odyssey or changing seasons, I've been playing loads of stuff on Switch as usual and have another Re:Port Review with Switch port reviews for three games alongside Adam's FIFA 19 port review. If you've been waiting to see how FIFA is this year, are into card games, enjoy tactical games, or even breaking out of prison, the 32nd Re:Port Review is now ready for you.
FIFA 19
Adam Cook
Simultaneously released on PS4, Xbox One, PS3, Xbox 360, Nintendo Switch, and PC platforms and scored 9.5/10
Calling FIFA 19 on Switch a disappointment might sound a bit harsh, but the word I want to use is "inferior" and that feels even worse. I'm not going to pretend it's anything other than a miracle that the game runs and is even passable on a Switch, mostly because I did that last year with FIFA 18.
Like last year, as well, Nintendo's version of the game doesn't look as good, or play quite the same as the "main" versions. The new shooting mechanic (timed shot) is present, as is the Champions League license, and all the wonderful presentation we've come to expect, so it's a bit strange that, while it's better, it's still not perfect. It's akin, roughly, to the fully patched and updated version of last year's game, and while that title was very average at first, it eventually ended up playing a good game of football, without the full control it feels you have in the PS4 or Xbox One game.
But the sad truth is that FIFA on Switch remains an inferior version of (in this year's case) a superb game. It's perhaps understandable that The Journey is missing (there's not much point in including part three of a story), it's definitely not forgivable to be missing UI changes, updates, and whole modes. Ultimate Team has come on leaps and bounds in FIFA, offering people who don't want to go online and play randoms for coins a chance to play single player within the always-online mode. The lack of that makes it hard to recommend, and given how huge FUT is now, the draw to that mode is ever larger. Basically, Squad Battles is a huge omission, and it pretty much only serves to show how far behind this version is, while simultaneously extolling the virtues of how far FUT itself, as a whole, has progressed for single player fans.
Elsewhere, the new House Rules Kick Off modes are here, too, which is a bonus for this version, as so much of it is best played with friends locally. The menus are still quicker and snappier than the big brother console and PC versions, but then, the Career Mode is still not up to snuff compared with the other current consoles.
Not including the shiny new UI changes also feels like a sign of intent that the Switch version will always feel like a halfway house between current and legacy iterations, and for that I can only say that, again, this year's FIFA on Switch is a great backup for when you're out and about, but it is nowhere near a good enough substitute for the real thing. Next year, assuming EA give us some new kind of "Journey" it'll be very interesting to see the Switch version, and, being honest, this is the best you've got if you want FIFA on the go, but again, this is a great backup version, but a largely inferior edition of a terrific game.
7/10
The Escapists: Complete Edition
Originally released on PS4, Xbox One, Xbox 360, iOS, Android, and PC platforms and scored 8/10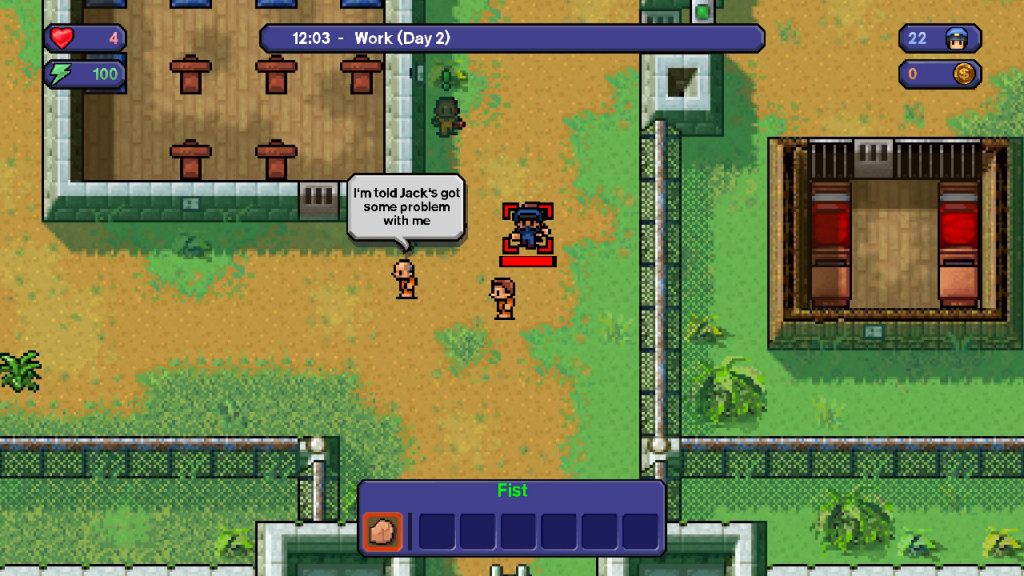 Overcooked and The Escapists were two franchises I had heard a ton about but I never got into the games for a variety of reasons. With Overcooked, I finally got deep into it and play both the Overcooked releases regularly on Switch. With The Escapists, it always seemed like I was waiting for either a new game or more DLC before finally playing the games. Despite owning The Escapists on two platforms, I figured the Switch version was the best time to check it out with all DLC included from the get go.
The Escapists: Complete Edition brings together everything from the base game, all DLC releases inclusing Santa's Sweatshop and one DLC that was only on PC before now. This easily is chock full of great content but the overall port leaves a lot to be desired. I feel like a broken record at this point when I talk about how a Switch port of a console game that also has a mobile version lacking touch support is such a missed opportunity. The Switch version of a game that exists on consoles and mobile usually has a chance to be the best because of the various control options supported. Sadly that isn't the case here. My biggest complaint barring the lack of touch screen support is the performance. It isn't horrible but never feels as smooth as it should be. This isn't even about not being 60fps. It just feels inconsistent with a stutter randomly while moving. Visually, the text could look better in handheld mode but the rest of the game looks nice both docked and handheld.
While it is great to see the most complete edition of the original game hit the Switch, there are some areas this port could've been worked on to make it the best version of the game. Even if touch support isn't added, the performance issues need addressing.
7/10
Disgaea 1 Complete
Simultaneously released on PS4 and Nintendo Switch and scored 8/10 on PS4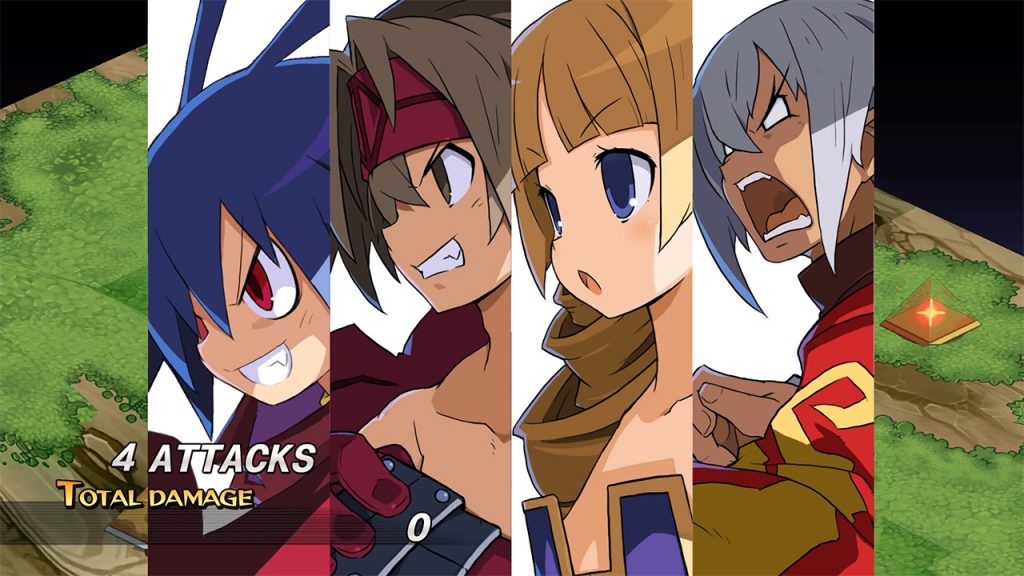 NIS America has slowly started bringing some of the games that released earlier on PlayStation and PC platforms to the Switch. Disgaea PC being a thing obviously meant it was going to hit newer consoles and that's exactly what NIS did with Disgaea 1 Complete for both the PS4 and the Nintendo Switch. On PS4, many fans who played Disgaea 5 likely had played earlier entries on older PlayStation platforms but I doubt many on the Switch played Disgaea DS. That's exactly where Disgaea 1 Complete comes into the picture.
Disgaea 1 Complete on the Switch looks great and runs at native resolution in both modes. The performance day one is also great and matches that of Disgaea 5 Complete after it got a few patches fixing the framepacing issues. NIS still didn't add any touch screen functionality which is disappointing given the grid based nature. If you've been on the fence for this port, it is a fantastic port on the Switch. The visual issues with a few textures and assets on the PS4 version are still present here but it is a great conversion and one that makes me hope they are working on the remaining Disgaea ports.
Coming back to Disgaea 1 from Disgaea 5 will always be a mixed bag. The cast is great here and the music is still catchy. The problem is the regression of gameplay systems. One would hope a newer port of an old game would see the newer game mechanics make an entry so the experience still feels fresh. That sadly isn't the case here. This is still a superb tactical RPG but keep that in mind if you've become a fan through any of the Disgaea 5 releases.
Overall, this is easily the best version of the Disgaea bringing in all the improvements and enhancements from other versious with a lot of polish. The only problem is the asking price. While the Switch (and often the PS4) is known to get overpriced late ports, it never stops being annoying because genuinely good games end up suffering. This isn't as bad as Ultra Street Fighter II but the asking price will definitely hold this back from being an easy recommendation. After playing it on the Switch and PS4, the Switch is easily the way to go since you can play the same great game on a portable and it runs great.
8.5/10
Spider Solitaire F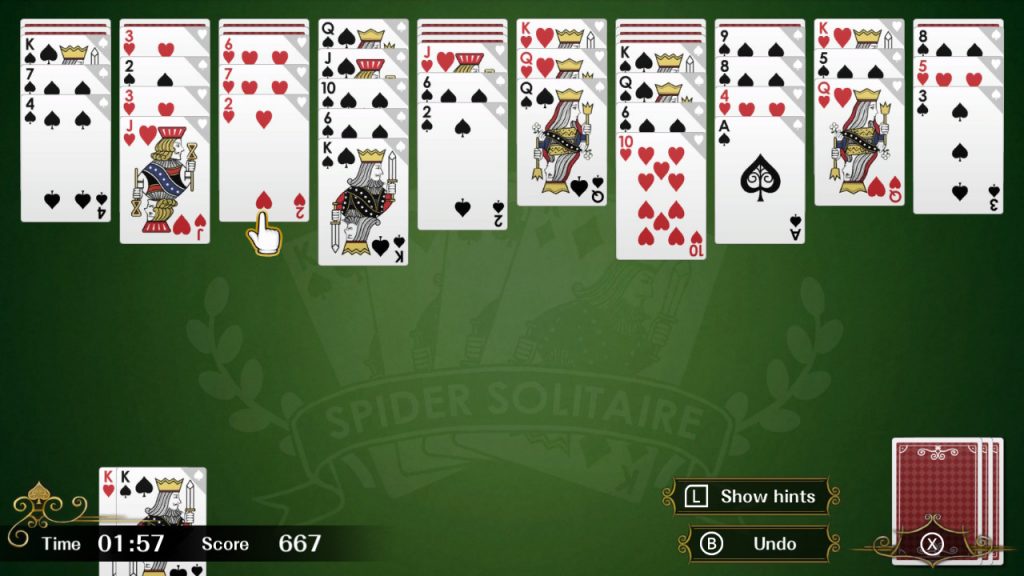 Spider Solitaire F
The Switch eShop gets loads of games each week across various genres. These games range from ports to new titles and even some smaller casual titles. A lot of the casual titles are often not polished enough to recommend even though the asking prices are usually low. Flyhigh Works has been publishing some great stuff on Switch since launch and Spider Solitaire F joins the list of nice bite sized polished titles on the eShop.
Spider Solitaire F teaches you the basics of Spider Solitaire with a nice animated tutorial before throwing you into the various challenge sets. These are split up by difficulties that decide how many card suits will be at play in the challenge. There are conveniences like a dedicated hint button or an undo button. You can unlock a few themes by completing a fixed amount of levels as well.
My only complaint is the lack of touch support. I know things might get a bit difficult with moving smaller stacks but card games work best with touch. I hope this either gets added in a patch or is present in the next Flyhigh series F game from the publisher. If you don't care about touch, this plays brilliantly in both docked and handheld modes. I know this shouldn't be a surprise given this is a card game, but I've played enough ports that should run a lot better than they do months after launch on the Switch.
I spent loads of time playing solitaire and pinball on Windows XP. Spider Solitaire F is a polished game with relaxing music that has been great to dip into for a few minutes each day. If you've wanted a nice traditional card game on the Switch, this is definitely worth it.
8/10