Release Date
March 28, 2017.
After a relatively strong start, episode 3 decides to fill out the characters and give credence to a story with lots of potential. We find out more about Clementine and what happened to her and AJ before the events of Ties That Bind, David and Javi's relationship is explored further, and you're left faced with the chance to exact revenge in the worst possible way. It's a solid episode; much of the violence and brutality is absent (the kind of human brutality we're not desensitised to, at least), but that's ok. It's that typical midseason episode with the purpose to give you more reason to care about the characters you're investing your time into, and to help formulate an idea of how it might all play out in the end.
In Above The Law, you spend much of your time finding out why David ended up with the New Frontier, and concurrently learning about the hierarchy that keeps them together. Joan, Clint, David, and the Doctor all form the leadership of the New Frontier, but as the episode goes on, you start to see cracks in the foundations, leading you to question the morals and the reasoning of the group. They don't seem all that fearsome – certainly not instilling that familiar discomfort as Negan would do, and so far there's not an unpredictability within the ranks, other than that of Badger and Max – two thugs that caused the deaths of two characters from Ties That Bind.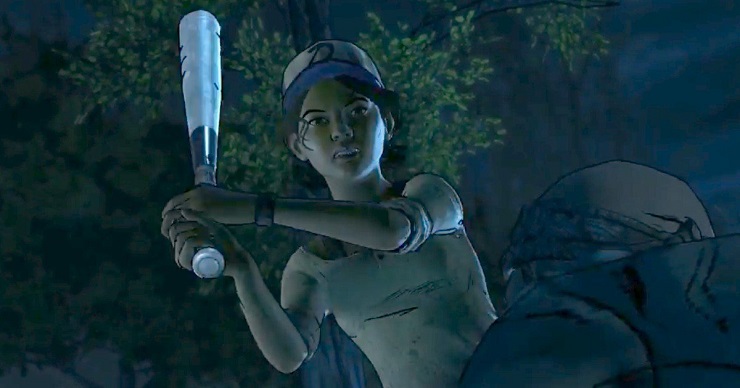 Javi becomes much more interesting, here, and as the player you're given much more of an opportunity to shape the person he's becoming. Will he have the humility and control your team needs, or will he lose his shit and give into the rage building inside of him? There's one choice in Above The Law that took its toll on me. At the time I was sure I was making the right call, but it felt wrong; I knew what had happened was immoral, but it was necessary for Javi, or in my head – in my thinking, it was 100% the right thing to do.
There's a succinct moment with Clementine's past, but it's enough to know why she's even further removed from her innocence and humanity. She's starting to become one of the best characters from The Walking Dead canon, whether that's the TV show, the comics or the games. There are so many layers, and when you've been through it all with her, you start to understand how she's arrived at where she has. She gives a brief speech regarding her understanding of something Javi may or may not do depending on one of your choices, and it exemplifies why it's sometimes necessary to take revenge – to kill with reckless abandon (providing long-time fans with a reference to something from Season Two). I suppose it all depends on what your morals are as a player, and Telltale has always been the master of pushing you to make the toughest decisions.
The post-apocalyptic love triangle that is Javi, Kate, and David becomes trickier in Above The Law, and as Javi you're going to have to decide whether blood is thicker than water. It's clear Javi has a soft spot for Kate, but that's going to be explore much further. As for David and Javi's relationship, there's a fantastic chemistry between the two, and a light is shined upon the many traits of sibling compassion and rivalry. Learning more about David, you're never sure what his deal is, and you're constantly asking yourself if this guy is telling the truth about how he ended up with the New Frontier, amongst other burning questions.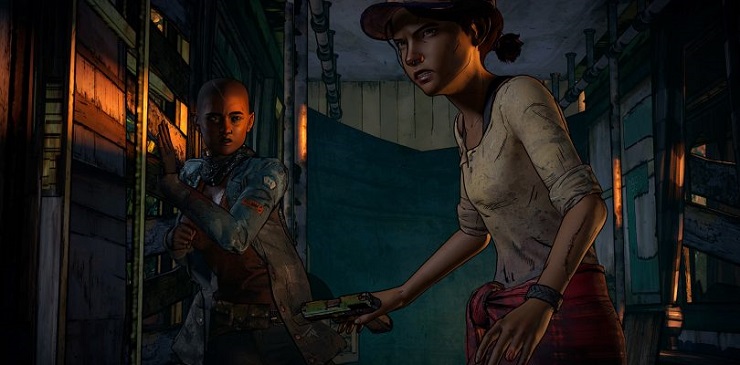 Visually, Season 3 continues to push the boundaries of what Telltale's new engine is capable of; there's so much detail in the environments, and character expressions are constantly improving. They still haven't got the eyes right, but it's a huge improvement from the times Lee's wandering peepers moved in the weirdest of ways.
Above The Law bridges the gap between Ties That Bind and the penultimate episode very well, and it'll be interesting to see where it goes from here. There's a very abrupt end, and I still feel like we haven't seen enough of Clementine, but there're two more episodes to go. Javi is growing as a leader and as a character, and whilst he may not be as interesting as Kenny or Lee, there are plenty of layers there that we're on the cusp of removing. Telltale has found its feet, and the progression of the story is starting to take shape; it may not have the same level of engagement you're used to, but there's plenty in Above The Law that'll make you want to keep playing.
Positives
Javi is growing as a character
Interesting relationship between the brothers
The option to relinquish your humility is portrayed well
Negatives
Clementine is seldom used
The New Frontier aren't as interesting as other enemies
Lacks some of the excitement we're familiar with
It may not have the same levels of engagement as previous episodes, but the character development is on point, and some of the busier moments are delivered with aplomb.