Release Date
July 18, 2023
Rarely does a game come along as smart as Viewfinder. Throughout the short yet fascinating playthrough, I used various images to transcend through a dreamlike world, where reality is constantly shifting through diversely artistic environments. It's fundamental in its gameplay, yet you're constantly challenged through well-thought out levels across mind-bending puzzles that feels as though you're in some part-Escher, part-The Matrix existence. It's been some time since I've been this impressed with a single player puzzler, and that's thanks mainly to the ingenuity carefully poured into each challenge you face.
Viewfinder sees you transport between levels in a variety of ways. Sometimes you might need to locate a couple of batteries to power up a portal; use sound to initiate a path of electrical current; or stand on platforms to charge the gateway to another world. Much of the early stages see you finding photographs or paintings to then place in the environment, allowing you to pass into them and use whatever might be present in them, such as walls and ceilings as bridges to the end portal. These early levels aren't particularly challenging, but they give you an idea about how the fundamental mechanics work.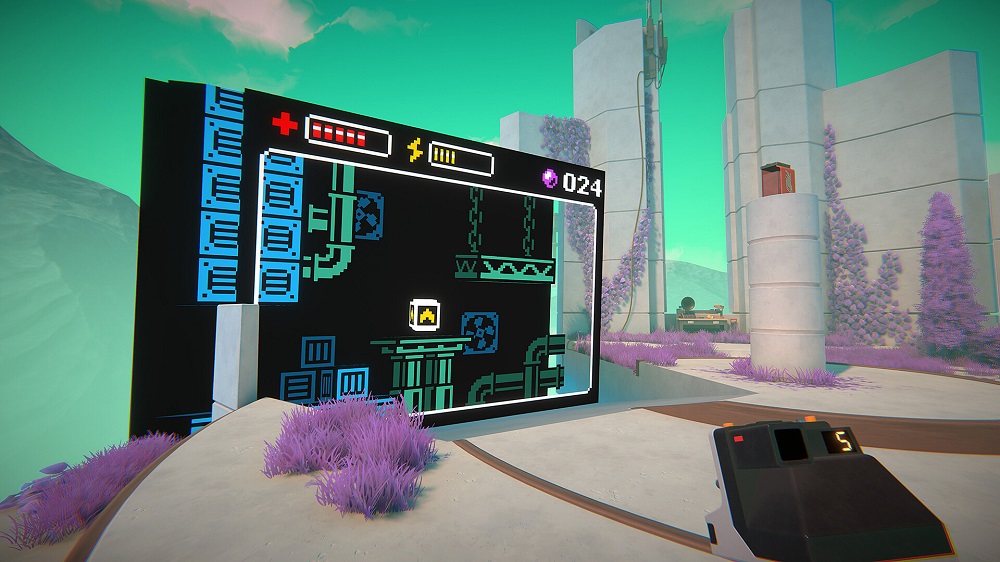 Once you get to grips with how Viewfinder works, it decides to step things up and provide you with a camera that you can take your own pictures of the world with and then utilise them to find the right path to your goal. You might need more than one battery to power a panel, but by taking a photo of a battery or using a nearby photocopier, you'll gain access to a second one, thus allowing you to complete the puzzle. Things get even wilder when parts of the environment disappear after taking a photo, or the negatives you gather start to play with the environment.
It starts to get more complex as you play, with some levels pushing your own creativity of what is possible. There are often multiple ways to solve something, and that was something I loved about Viewfinder. Much like it celebrates art in multiple forms, it also wants you to experiment and find your own way through the game. When it combines different styles of artwork by allowing you to travel through watercolour paintings, sketches complete with crosshatching, children's drawings, and even cartoons, it becomes so fascinating you'll often wonder how it was possible. It feeds on creativity, both in the designs of its puzzles and the ever-changing aesthetics of its world.
I never felt overwhelmed by the challenge, giving off similar vibes to Portal in how it layers new mechanics, however, the final puzzle, without giving anything away, requires both speed and creativity, forcing you to make use of everything you've learned up until that point. It's the toughest part of Viewfinder, but it's not without success if you have remembered everything up until that point. Scattered throughout the levels are telephones where someone called Jessie is communicating with you, offering some background to the narrative.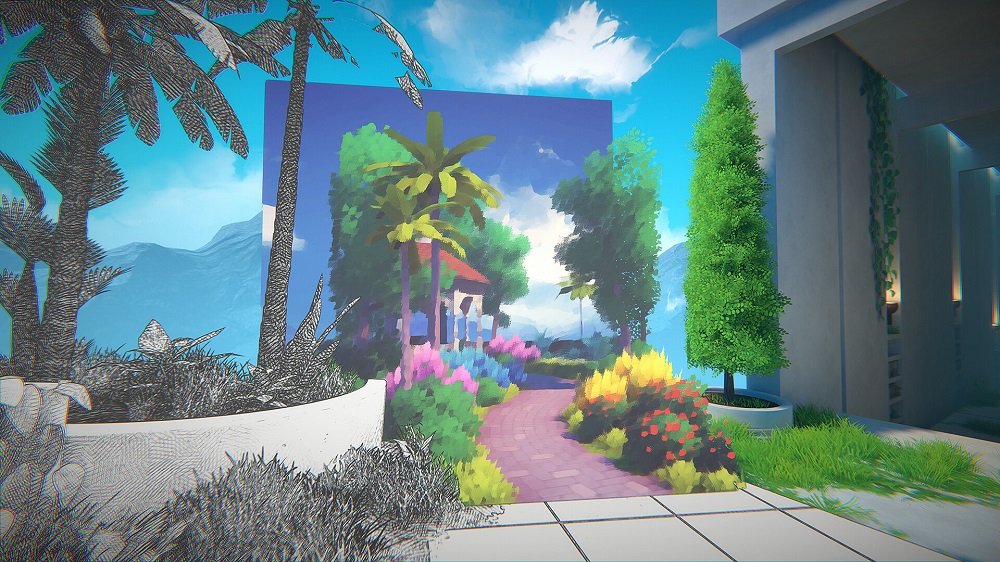 You'll also meet a digital cat called Cait, who feeds you with little bits of the story until you realise what is going on, and there're also gramophones that offer sound files from various characters who play a role in its tale. Viewfinder also has collectables scattered across the levels, and there are even optional puzzles that don't need to be completed to progress from one hub to the next, but they add to the length of your playthrough. Once you've solved all the necessary puzzles, you'll hop in a cable car and head to the next hub. It gives you a nice pacing between the worlds, and a brief respite before putting your brain to the test once again.
I was impressed with Viewfinder, especially with how it blends a variety of art with its puzzles. You're constantly tested with new mechanics and ideas, yet it never throws too much at you. It looks incredible, and there're also a few secrets and moments of warm silliness that further add to the charm of its gameplay. You will be challenged, especially towards the end, but it's well worth playing if you want something that dares to push the boundaries of what's possible within the single player puzzle genre. The story might be a bit hard to follow, but the world is filled with wonder.
Positives
Great use of art
Layered and challenging
Sublime mechanics
Multiple ways to solve puzzles
Negatives
Tough towards the end
Story is a little confusing
Viewfinder is a smart puzzler that pushes the boundaries between reality and challenge, building both beautiful and creative levels.