PlayStation Vita to launch 22nd February in Europe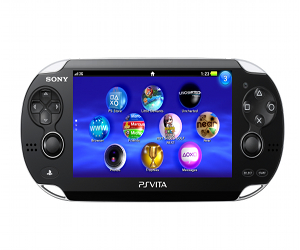 Sony have announced that their new handheld console, the PlayStation Vita, will be available for purchase in Europe from 22nd February 2012.
Two version of the PS Vita will be released that day: the Wi-Fi model, which has an RRP of £229.99, and the Wi-Fi/3G model, which will set you back £279.99 (RRP).
Jim Ryan, President and CEO of Sony Computer Entertainment Europe, had this to say:
"PlayStation Vita is an incredible device that offers the best possible portable gaming experiences. Its revolutionary mix of features combined with social connectivity, delivers a platform for gamers to play games in a whole new way and to connect with their friends and the world around them.

We're very excited to launch a portable gaming device that goes beyond anything available on the market and is positioned to deliver the uncompromised gaming experiences consumers have been asking for."
The PS Vita includes an OLED front touch screen and rear touch pad, dual analog sticks, motion sensors and dual cameras. Applications such as Facebook, foursquare, Skype and Twitter will be available on the device allowing gamers to connect with each other with ease. It's bascially an electronic swiss army knife, but shinier and with 3G support.
Whilst the launch line-up for the PS Vita outside of Japan hasn't been announced yet, Sony have said that over 80 games are currently in development for the system by both first and third party studios. Games such as LittleBigPlanet, WipEout 2048, Resistance: Burning Skies, Uncharted: Golden Abyss, Assassin's Creed and Call of Duty have already been confirmed, and you can expect many more to be announced in the coming months.
I've been quite impressed with what I've seen so far of the PlayStation Vita, and although the £229.99 price tag may seem a bit steep in comparison to the 3DS (which you can pick up for £129.99) this is just the RRP. With an invetiable price-war come launch day, the PlayStation Vita may just be worth the money.
Those are just my two cents though, what does everyone else think? Sound off in the comments below.