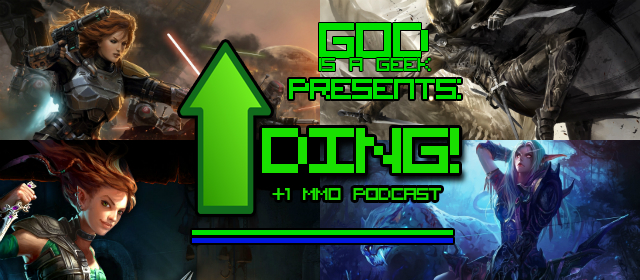 It's Friday morning and that means that there's a new episode of your favourite MMO podcast available. Are you ready to Ding?
On the 36th episode of Ding! (despite Calvin saying it's the 26th episode at the start of the show *shakes fist*), we join Calvin, Martin and friend of the family – and series regular – Trey Douglas as they talk about absolutely anything they can think of that's happened within the world of MMO's over the last week or so. The discussion starts with Trey, who's been playing a lot of Star Wars: The Old Republic in anticipation of it going free-to-play, then moves on to Calvin and Martin who have been playing a lot of World of Warcraft, particularly the in-game seasonal events. The gang then glossed over some news, mostly about the new Defiance TV show trailer and the Transformer Universe trailer for Jagex, both of which can be seen below.
Defiance "Something New" Trailer:
Transformers Universe Trailer:
If you want to get in on the discussion, or just leave us some questions to talk about on next week's show, then comment in the box below, and don't forget to rate and review the podcast in iTunes!
See you next week!
You can subscribe to Ding! on iTunes and Feedburner, Stitcher or follow the show on Twitter, @DingPodcast. If you just want a simple download of the show to put onto whichever MP3 device you own, right click here and choose 'Save as'.
Ding! is a part of the GodisaGeek Podcast Network. Every Friday there will be a new episode.