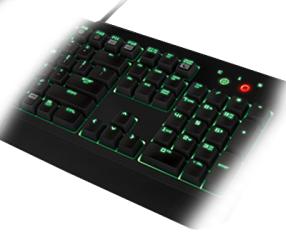 Product: Razer BlackWidow Ultimate Keyboard
Manufacturer: Razer
Price: From £118
Razer have a penchant for making devices and peripherals you just love to use. Join us as we take a look at the latest incarnation of the BlackWidow Ultimate Keyboard.
Devices. Gadgets. Peripherals. Things you can plug in. They are brilliant right? The general rule is that the more you spend, the more satisfaction those gadgets will bring. That is a fact that Razer, a computer peripheral maker based in San Diego USA, have been making money out of for 15 years now. Razer products are made "For Gamers, by Gamers", according to its company slogan, something that really shows in every product they produce, with the BlackWidow Ultimate Keyboard being no exception.
Before we get down to the nitty gritty, let's go over the BlackWidows key selling points. It features a mechanical key set-up akin to a 1940's typewriter, backlit keys so you can game worry-free in the dark, five programmable keys you won't find on a standard keyboard, and all the features outlined in the handy list below:
Full mechanical keys with 50g actuation force
Individually backlit keys
1000Hz Ultrapolling / 1ms response time
Programmable keys with on-the-fly macro recording
Gaming mode option for deactivation of the Windows key
Unlimited customizable profiles
5 additional macro keys
Gaming optimized key matrix for minimized ghosting
Multi-Media Controls
Braided fibre cable
Audio-Out / Mic-In Jacks
USB-Passthrough
Approximate Size : 475 mm / 18.70" (Width) x 171 mm / 6.73" (Height) x 30 mm / 1.18" (Depth)
Approximate Weight: 1500 g / 3.31 lbs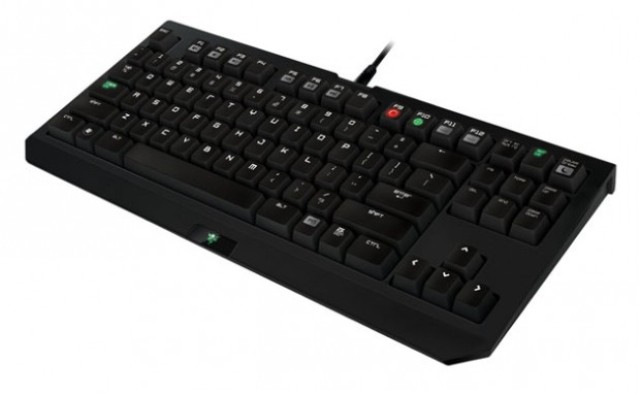 The first thing I want to talk about is how the keyboard feels. I don't mean to the touch; I mean how it feels to type on this thing. I'm doing it right now, believe it or not, and every keystroke sends a ripple of sound around the room I'm sitting in, as the mechanism behind the key is depressed and lets out a loud "clank" sound. The space bar is the loudest and most satisfying of the bunch, making every world seem like some sort of accomplishment. First impressions of this device are of immense build quality.
Each key is individually illuminated, and the level of illumination is adjustable from the Synapse 2.0 software that is the de facto tool panel for all of Razer's product line-up these days. You can adjust the brightness with the press of a couple of hardware keys, too, with the option to go super dim, or if you feel like it, glaringly bright. Our test units lighting came in an eerie-looking Alien Green, and is suitable since it isn't a distracting or particularly strobing colour choice.
From the Synapse 2.0 software you are able to set up dedicated profiles for numerous game titles, all switchable and customisable on the fly from your keyboard. I had a go at setting up a couple of dedicated keys for the multiplayer in Lara Croft's latest outing, Tomb Raider. I set about trying to set up the keyboard to let me change my weapon with the press of one of the five extra macro keys the keyboard comes with (M1 – M5), and found the process to be delightfully simple. The extra keys sit to the left of the Shift and Caps Lock keys, and are easily accessible from the comfort of the traditional WSAD movement keys. I found these extra keys were much preferable and easier to reach than the pre-set Tomb Raider keys, and are simply placed in a better location for my little finger to reach out and depress.
One of the other nifty features of this keyboard is the inclusion of 3.5mm headphone-out and mic-in ports, as well as a USB-Passthrough port. These are easily set up: all you have to do is plug the relevant cable into the relative port on your PC, and the sound / USB signal is passed through to the keyboard. I didn't find use for the Headphone of Mic facility in my time with the keyboard, but the USB-Passthrough is most useful as I'm always swapping pen-drives in and out.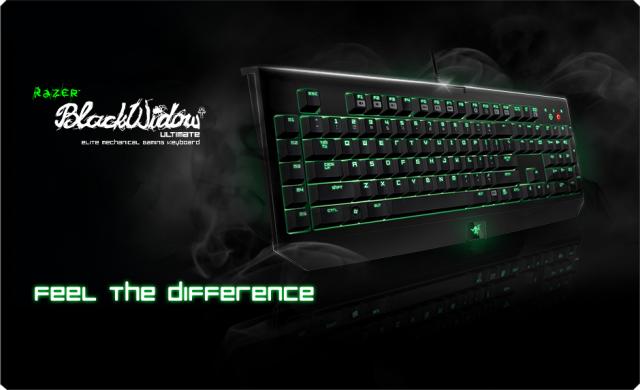 As for setting up the keyboard itself, I had all systems running fully within about 5 minutes of getting it out of the well-constructed packaging, the only hassle being a required trip to the Razer website to download the Synapse 2.0 software (if you haven't got it installed already, that is)  The unit itself is fairly weighty, which gives it a feeling of robustness, but I don't see this thing going wrong or losing keys anytime soon.
Additional functions are handled by a FN button, which acts as a sort of Shift key for functions. You will have seen a key like this on many laptops, and I was surprised to see it here. Holding the FN key, you can then access any of the functions displayed on the F keys at the top of the keyboard (volume up /down, mute, Skip back, Play/Pause, Skip forward, Gaming mode, Macro and lighting adjustment). I may sound greedy, but I would have preferred at least some of these functions to have dedicated keys. Yes, this is a gaming keyboard and the gaming features are top-notch, but gamers use their PC's for a lot more than just fragging, and dedicated media keys are a big miss on the BlackWidow. Having to press two awkwardly placed keys just to skip track is a glaring faux pas in an otherwise exceptionally executed product.
VERDICT: Razer have produced another device you'll want to own in the form of the BlackWidow Ultimate Keyboard. Its incredible tactile keys, endless customisation and alluring looks will see you typing longer than normal emails to your boss just so you can have the pleasure of using it for a little longer. The lack of dedicated media keys is a blow, but isn't nearly enough to detract from what is a superb piece of kit. If you are looking to invest in a keyboard to complete that gaming rig you just threw together, you'd better consider the BlackWidow.