Alienware M11x Review
Manufacturer: Dell
Price: ~ £800 / ~ $800
Available: Out now
'Gaming-on-the-go' has a whole new meaning, thanks to the Alienware M11x from Dell. Find out what we think of this micro gaming machine after the jump.
AESTHETICS: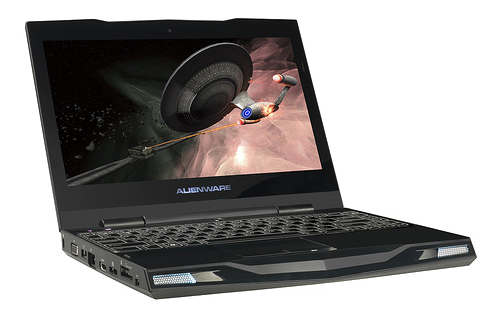 It's tempting to use the word cute, but that wouldn't do this bad boy justice. The M11x may be sub-12 inches, but much like the Alienware M15x and M17x, the M11x has intense chiselled features that are there just to remind you that this laptop means business.
Basically it's an Alienware in your bag – a truly portable gaming laptop that you can take with you anywhere. In fact I think the premise is that you can whip it out and get your game on, wherever you are.
With customisable lighting schemes throughout, you get the full Alienware experience you'd expect from it's bigger brothers. Amazingly, they didn't leave anything out.
PERFORMANCE: You wouldn't be called a cynic if you were expecting a few sacrifices from this miniaturised gaming laptop – but I have to tell you, you'd be completely and utterly wrong. The M11x is surprisingly powerful.
I was half expecting to be reviewing this laptop based on playing Facebook games from the likes of Zynga or Playfish. I had no idea I'd be able to hammer our Star Trek Online and Crysis in High Definition. I'm still shocked, to be honest. I open the M11x to check my Twitter stream before bed and end up killing Klingons into the early hours.
Don't get me wrong, the M11x won't run Battlefield on high graphics at 1920×1080, but it'll sure do a fine job on medium at 1366×768. As long as you're using the laptop for portable gaming, you're good to go. If you plug in a bigger monitor for some higher resolution gaming, you'll start to see the frame-rates dropping. This isn't a desktop replacement – but it's very good at doing what it's supposed to do.
SPECIFICATIONS: This model comes in only two base colours, Black and Silver.
– Intel Core 2 Duo Processor
– 11 in screen (1366×768 (720p) native res))
– 4gb RAM
– 256GB SSD
– 8-cell Battery
– 1GB GeForce GT 335M 1 S Graphics Card
– and Windows 7 Home Premium
(These are Dell's recommended hardware specs. These can be down/upgraded on the website, price will be affected).
VERDICT: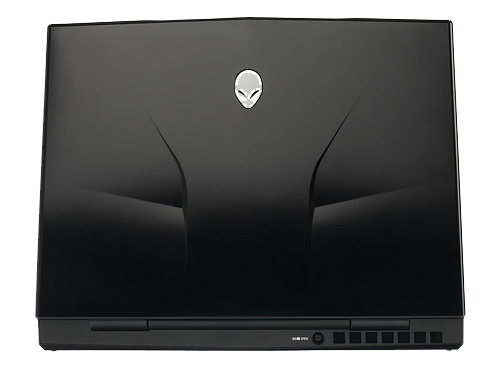 When I first got this laptop, I had a big problem getting my head around it – what genre does it fit into? It's not powerful enough to be a hardcore gaming computer, or a desktop replacement, so I figured it'd be for casual gamers. But then I released there's no optical drive (which is a huge shame), rendering it next to useless for casual gaming – let's face it, my sister doesn't know how to install The Sims without a DVD drive.
Then it clicked. The M11x brings forth a whole new method of portable gaming. We have our handheld gaming devices and very soon we'll have our Tablet computers – but with the M11x you can play "proper" games on the move. Jump into your favourite MMO or FPS in a different way.
So this really is for the hardcore gamers, after-all. If you'd rather be playing Modern Warfare 2 when you're at your Grandparents' for Sunday lunch, than squinting at some tower defence game on your Smartphone – the M11x is for you.
You never have to stop gaming, with the Alienware M11x.
Customise your own M11x at Alienware.com (UK Link | US Link).