Alienware M17x Review
Manufacturer: Dell
Price: ~£2,000.00
Available: Out now
Alienware have done it again with their most powerful portable gaming machine, the M17x. We recently got our hands on this gargantuan gaming machine and put it through its paces. Hit the jump and check out what we thought of the M17x.
AESTHETICS: Now let's not mince words, this beast is absolutely gorgeous – and it is a beast – not for the weak, this laptop offers everything you'd expect from an Alienware PC. It's a big, fat, gaming machine and we love it! The M17x weighs about the same as a small child, but it's proud of that fact. Like a bodybuilder, the M17x shows off, with a bulky case that's cut just right.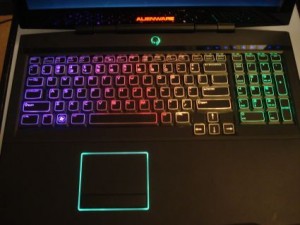 It's hard to call this computer a laptop, because nobody in their right mind would use it as such. The M17x for all intents and purposes is a desktop replacement – a portable gaming pc. Don't get me wrong because this is undoubtedly a good thing. No laptop could support the power the M17x carries, but we'll get to that later.
The bulky-but-sexy 'Alienware chic' design is complemented by the crazy lighting system. I call it crazy, because the configuration is like nothing you've seen before – only Alienware would think to offer this amount of customisation. Not only can you adjust the colours of the badges on the back & front, the mouse trackpad, the 'headlights' (front fans), you can also set the keyboard to display upto 4 colours at once. So whether you're in the mood for a rasta flag, or totally gaming blackout, the M17x can conform.
PERFORMANCE: There's no question here about about whether the M17x can perform. This is arguably the most powerful 'laptop' on the market. It quite comfortably ran Call of Duty: Modern Warfare 2 and Battlefield: Bad Company 2 on high graphics settings. MMORPGs with their high GPU calculations weren't a problem either, it ran World of Warcraft and Star Trek Online like a dream.
SPECIFICATIONS: This model comes in three base colours, Black, Red or Silver.
| | |
| --- | --- |
| | Intel® Core™ i7 Processor 820QM (1.73Ghz, 8MB cache) |
17-inch WideUXGA 1920 x 1200 – Beyond HD (1200p) – Dual CCFL
6144MB 1333MHz Dual Channel DDR3 SDRAM [1×2048 + 1×4096]
500GB (7200 RPM) Free Fall Sensor Raid 1 "Mirror" Dual HDD – (2x500GB)
1GB ATI® RADEON™ HD 4870 Graphics Card
8X DVD+/- RW Optical Drive (DVD & CD read and write)
9-cell 85Whr Lithium Ion battery
(These are Dell's recommended hardware specs. These can be down/upgraded on the website, price will be affected).
A couple of areas this laptop could be improved in are hard drive space and weight. The hard drive disk was kind of disappointing for a gaming computer, but I understand the weight is unavoidable – it's a trade-off we make for the power.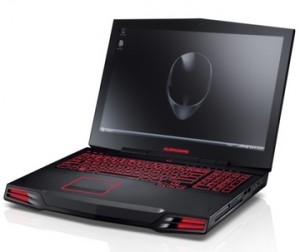 VERDICT: In all honesty, the weight of the M17x is the only aspect keeping it from getting a 10/10. This is by far the best laptop I've ever used, nevermind gamed on. If you're into LAN parties this could be especially useful, due to the portability. If your computer never leaves home though, you may consider getting an actual desktop PC – there may not be much difference in specs at the moment, but you do gain the option of upgradability.
If you're looking for a new computer, and you'd appreciate some portability… Buy one! (UK Link | US Link).