Champions Online Is A Year Old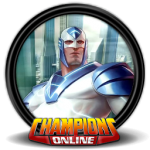 It is time to break out that MMO super hero birthday cake as Atari and Cryptic Studios celebrate the one year anniversary of the massively multi-player online game, Champions Online.
How can you join in on the celebrations? Simple, new players can claim a free 7 day trial whilst current players of the game get 20% off merchandise at the C-store. Full details after the jump.
Champions Online Anniversary Free Trial: New customers can play Champions Online for FREE beginning Wednesday, September 1 at 6 pm BST / 7pm CET to Tuesday, September 7 at 6 pm BST / 7pm CET.  Players can access this exciting opportunity here: http://champions-online.com/play_free
Champions Online Anniversary Sale: All C-store merchandise will be 20% off with the exception of the new "Millennium Costume Set" from Wednesday, September 1 at 6 p,m. BST / 7pm CET to Tuesday, September 7 at 6 pm. BST / 7pm CET.  Visit the store at: http://champions-online.com/store