God is a Geek Podcast Season 2 Episode 1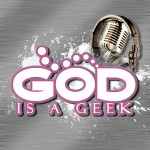 Welcome to season 2 of the GodisaGeek podcast! We are back with a whole new season of podcasts for your listening pleasure. It is a great week to kick off season 2, Call of Duty: Black Ops has got the whole gaming community in a fit, Microsoft's Kinect has the casuals jumping up and down in their living rooms, plus all the gaming news and a whole lot more in season 2, episode 1 of the GodisaGeek podcast.
Topics
Vanquish, the crew have played it, the site has reviewed it but how fun is sliding about in a rocket suit?
Kinect has launched but how good is Microsoft's motion controller? Adam Cook spills his casual beans!
Fable III, Asim talks about his review and Calvin explains why the game has drawn him in like no other.
Rock Band 3 gets a GodisaGeek 10/10 but Calvin is not impressed.
Call of Duty: Black Ops is also discussed.
News
FIFA 11 gets a new patch
Assassin's Creed: Ascendance Revealed
Gran Turismo 5 has a new release date!
Call of Duty Black Ops released
Microsoft launch Kinect
Subscribe to the GodisaGeek podcast via Feedburner or iTunes